Background and Financial Analysis
Gartner (NYSE:IT) is one of the leading firms in the IT research sector providing data analytics and business intelligence services to over 13,000 organizations across 85 countries. The company has seen a high level of growth over the reported five-year period; having significantly outperformed the S&P 400 Mid Cap Index, along with its peer group. In addition, the company has succeeded in growing earnings by an average of 15% annually from 2008-2013.

Source: Gartner Annual Report (2012)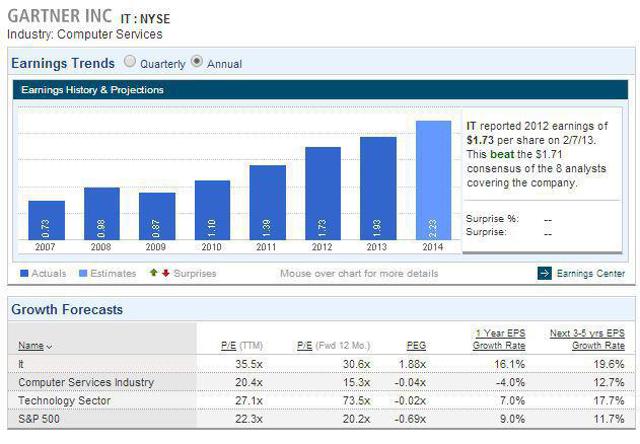 Source: CNBC
The company operates in three distinct business segments; 1) Gartner Research, 2) Gartner Consulting and 3) Gartner Events. Respectively, these businesses seek to provide IT research services through the mediums of direct research, direct client consultation and hosting of global IT events. According to the firm's Annual Report 2012 (latest available report), Gartner Research accounts for the lion's share of revenues, having reported contract value for 2012 of $1.3 billion, a personal record for the company. In addition, Gartner Consulting reported revenue of $305 million in the same year, with $103 million of backlog. Gartner Events also increased its revenue by 20% in 2012 to $173.8 million.

Source: Gartner Annual Report (2012)
In the IT Research sector, Gartner's main competitors are Forrester Research (NASDAQ:FORR) and International Data Corporation (IDC), who collectively control 60% of this industry. All three firms compete on the basis of offering predictive analytics and market intelligence services to top-tier clients. For the purposes of this article, the author compares the financial performance of Gartner with that of Forrester Research (given IDC is a subsidiary of IDG, and a private company).

Source: Yahoo Finance and Author's Calculations
As can be seen from the above ratios, Gartner Inc. has outperformed Forrester Corporation on all major measures, having vastly higher growth in free cash flow, earnings and ROE, along with a higher operating margin and more attractive valuations on a price-to-book basis.
Valuation
Following on from the above, an examination of Gartner's Historical Price-to-Book Ratios over a 1 and 5-year time frame reveals that the firm is currently trading at fair value relative to its 1-year average, and is undervalued by a potential 50% given the firm's current P/B ratio of 17.38 relative to the 5-year high of 34.34.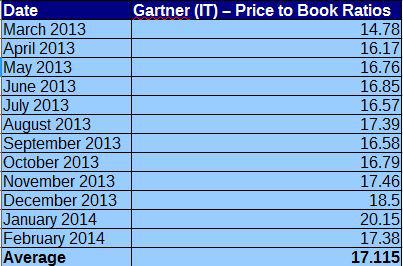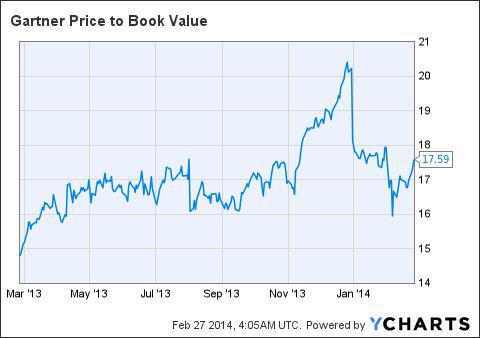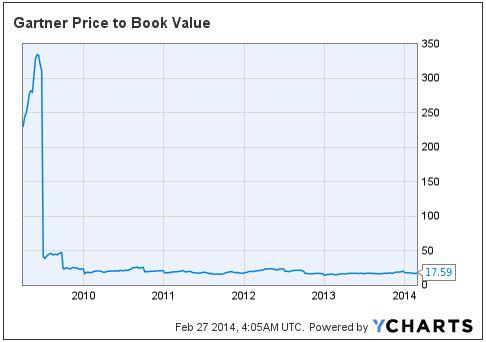 Source: YCharts
Over a one-year basis, we can see that the firm is trading in line with the average, i.e. this indicates the firm is trading at fair value. At a price of $68.96, an investor could lock in a margin of safety of 20%-25% by buying the stock at a price of $55. For Forrester Corporation, we can see that while the firm is undervalued on a similar 5-year P/B basis, the stock does not have as much potential upside as Gartner.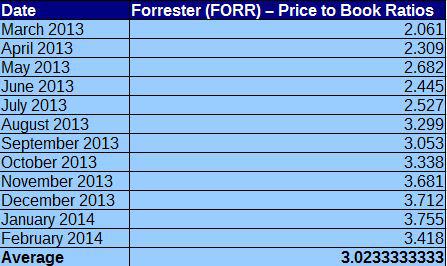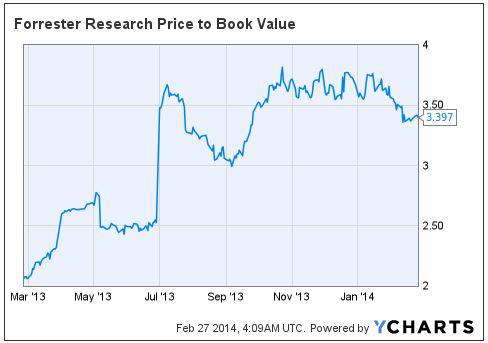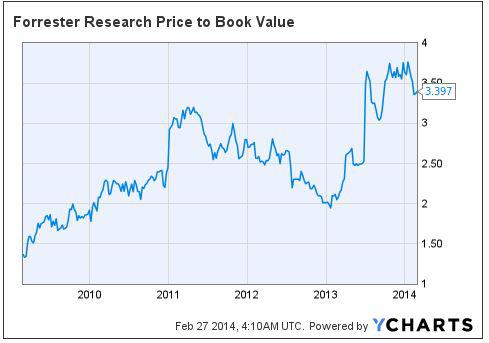 Source: YCharts
Free Cash Flow Growth Model
The author has determined a price target of $140 for Gartner Inc. through to 2018, meaning a 150% upside if an investor initiates a position at $55. At the current price of $68.96, there is a potential 103% upside through to 2018, assuming the free cash flow projections below prove accurate.
Gartner Inc. has witnessed an impressive growth in its free cash flow from $40.28 million in 2009 to $137.86 million in 2013, reflecting an average growth of 48.62% per year. It is the author's opinion that growth in free cash flow will continue, and projects a more conservative, yet still vibrant estimate of 20% per year. In tandem with the CNBC 3-5 year estimate of 19.6% earnings growth, the author also uses this forecast through to 2018 in the below EPS calculations. Given that Gartner Inc. is not a dividend-paying company, the author uses a free cash flow growth model as an estimate of the company's growth prospects over the next five years. In line with the traditionally accepted historical average return on the S&P 500, a 7% discount rate is used. Additionally, the price-to-book ratio is used in lieu of the traditional price-to-earnings ratio used in the dividend discount growth model. As technology companies typically have high price-to-earnings ratios, it was deemed more appropriate to use the price-to-book ratio as a more accurate estimate of valuation.


Sources: Marketwatch/Business Insider



Sources: Author's Calculations
Business Prospects
Gartner Inc. is a financially stable company, with a proven ability to continually grow its business under a range of market conditions. According to the firm's 2012 Annual Report, the firm's Research business delivered double-digit growth across all geographies despite weak global economic growth during this period. This was particularly evident in the European and Chinese markets, where the business continued to grow at double-digit rates. Given Gartner's global presence, it is in an adequate position to continually grow its business in emerging countries such as China for the foreseeable future.
The firm's contract value (a key metric used by the firm through measuring the value attributed to subscription-related products to forecast return sales) measured a wallet retention of 99% in 2012, along with an 83% client retention rate. According to these measures, the firm's increasing rates of revenue are reported as being "highly likely to recur over a multi-year period".
According to the global consulting firm, McKinsey & Company, the demand for "big data" skills is set to increase greatly through to 2018, with demand for analytical talent projected as being 50 to 60 per cent greater than supply by this period. Therefore, given Gartner's competitive advantage in the business intelligence industry, the company has a myriad of opportunities to further build its client base across a wide range of industries, including healthcare, the public sector, manufacturing and retail, among others.
Conclusion
In conclusion, Gartner Inc. is a firm with immense growth prospects over the next five years if it can continue to maintain its competitive advantage and grow its revenues across a wide range of businesses and geographies. According to the author's calculations, the stock is currently priced at fair value and investors could potentially enter at a price of $55 for a margin of safety within the 20%-25% range. Given a continued and robust increase in free cash flow, the stock certainly has the potential to reach higher levels given its current valuation.
Author's Notes: This article covers a mid-cap stock with a market capitalisation of $6.23 billion. Please note that the information offered in this article is on an "as is" basis only, and all investment decisions should be made in consultation with a qualified financial advisor. Any recommendations offered in this article reflect the author's own opinion, and should not be taken as direct investment advice. While the author has made every effort to ensure accuracy of the facts contained in this article, investors are responsible for conducting their own due diligence.
Disclosure: I have no positions in any stocks mentioned, and no plans to initiate any positions within the next 72 hours. I wrote this article myself, and it expresses my own opinions. I am not receiving compensation for it (other than from Seeking Alpha). I have no business relationship with any company whose stock is mentioned in this article.