By Stuart McPhee
Over the last week or so the GBP/USD has received solid support from the key 1.66 level after it retraced strongly from the resistance level at 1.68 and in the last few days it has been placing upwards pressure on a short-term resistance level at 1.67. In early February, the pound enjoyed a very healthy time moving well from the support level at 1.6250 through 1.6450 before pushing on to the multi-year high above 1.680. In late January the pound fell sharply and experienced its worst one week fall this year which resulted in it moving to the six week low near the support level at 1.6250. Over the last few months the pound has established and traded within a trading range roughly around the key level of 1.6450, whilst moving down to support at 1.6250 and up to 1.66 and beyond.
The 1.66 level has become quite significant and has loomed large throughout this year providing some resistance to higher prices. This level has resurfaced again as one of significance and it is now providing solid support. In late November it did well to break through the long-term resistance level at 1.6250 which had established itself as a level of significance over the last few months. This level continues to play a role in providing support. In early November, the pound bounced strongly off the support level at 1.59 to return back to above 1.6250.
Towards the end of October the GBP/USD slowly drifted lower from the strong resistance level at 1.6250 and down to a three-week low just around 1.5900 which was recently passed as the pound moved down towards 1.5850 only a week ago. For the week or so before that the pound moved well from the key level at 1.60 back up to the significant level at 1.6250, only again for this level to stand tall and fend off buyers for several days. Throughout September the pound rallied well and surged higher to move back up strongly through numerous levels which was punctuated by a push through to its highest level for the year just above 1.6250 several weeks ago. In the first week of October the pound was easing back towards 1.60 and 1.59 where it established a narrow trading range between before surging back to 1.6250 again.
The Bank of England would never give "time-specific" guidance on the U.K's first interest rate hike, Ben Broadbent, Bank of England monetary policy committee member - and rumored leading contender for the deputy governorship - told CNBC. Broadbent told CNBC that there is "too much focus" on the interest rate hike amid speculation that the central bank could raise rates in the first half of 2015. "We have never given, would not want to give, and are not giving time-specific guidance about when this happens. I might also say that I think there's too much focus on this particular date," Broadbent told CNBC. Improving economic data in the U.K. since last year has increased expectations the Bank of England will look to raise its main interest rate. This measure is a benchmark for mortgages and savers all over the U.K. and was originally tied to the unemployment rate. The U.K.'s official statistics office on Wednesday confirmed the country's gross domestic product rose 0.7% in the last three months of 2013 from the previous quarter, while business investment picked up sharply in the same period.
(Daily chart / 4-hourly chart below)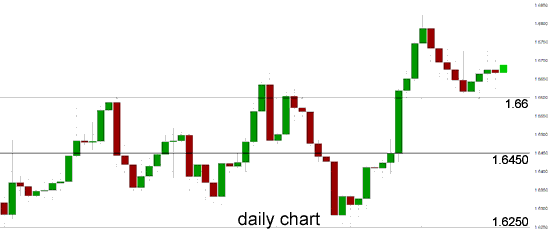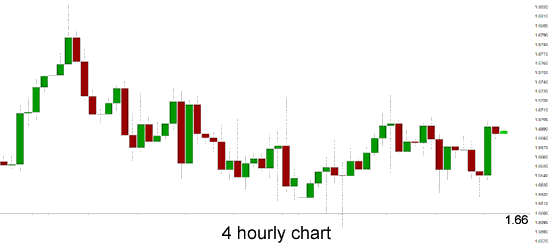 GBP/USD February 27 at 22:25 GMT 1.6689 H: 1.6699 L: 1.6616
GBP/USD Technical
| | | | | | |
| --- | --- | --- | --- | --- | --- |
| S3 | S2 | S1 | R1 | R2 | R3 |
| 1.6600 | 1.6300 | 1.6250 | 1.6700 | 1.6800 | - |
During the early hours of the Asian trading session on Friday, the GBP/USD is placing upward pressure on the resistance level at 1.67 after its recent climb higher from the support level at 1.66. Current range: Right around 1.6690.
Further levels in both directions:
• Below: 1.6600, 1.6300, and 1.6250
• Above: 1.6700 and 1.6800.
OANDA's Open Position Ratios
(Shows the ratio of long vs. short positions held for the GBP/USD among all OANDA clients. The left percentage (blue) shows long positions; the right percentage (orange) shows short positions.)
The GBP/USD long positions ratio has moved right back above 30% as the GBP/USD continues to rest on the support level at 1.66. Trader sentiment remains in favour of short positions.
Economic Releases
23:30 (Thu) JP CPI Core (Nation) (Jan)
23:30 (Thu) JP CPI Core (Tokyo) (Feb)
23:30 (Thu) JP Unemployment (Jan)
23:50 (Thu) JP Retail Sales (Jan)
00:05 UK GfK Consumer Confidence (Feb)
00:30 AU Private Sector Credit (Jan)
05:00 JP Construction orders (Jan)
05:00 JP Housing starts (Jan)
10:00 EU HICP (Flash) (Feb)
10:00 EU Unemployment (Jan)
13:30 CA GDP (Dec)
13:30 US Core PCE Price Index (2nd Est.) (Q4)
13:30 US GDP Annualised (2nd Est.) (Q4)
13:30 US GDP Price Index (2nd Est.) (Q4)
14:45 US Chicago PMI (Feb)
14:55 US Univ of Mich Sent. (Final.) (Feb)
15:00 US Pending Home Sales (Jan)
*All release times are GMT