Best Buy (NYSE:BBY) is an embattled electronics retailer whose stock I recommended to contrarian investors after the share price collapsed in January 2014. In November 2013 I was quite cautious with respect to Best Buy (I advised against buying the turnaround at $39 at the time) because of its comparatively high valuation, a heavy reliance on promotions that cut deep into profits and intense rivalry in the retail industry. In January 2014, Best Buy was literally thrown under the bus as it issued a disappointing sales update which sent shares a whopping 35% lower. Given the extreme sell-off driven by fearful investors, I radically changed my position about Best Buy and initiated a Long position. I argued at the time:
While negative comps in the retail sector meet the forceful reaction of shareholders, investors should ask themselves whether a 2.6% decline in total revenues and 0.9% negative comparable store sales growth justify a 35% evaporation in Best Buy's equity valuation. The market massively overreacts to Best Buy's results and I would venture to project that Best Buy will recover large parts of its lost market capitalization over the coming month.
Rational investors needed to realize that the hysteric market reaction was out of sync with Best Buy's actual results (slight y-o-y sales decline and negative comp). Not surprisingly, after a sell-off driven by emotions, Best Buy has recovered nicely and currently quotes at $25.57.
Retailers are great contrarian bets in 2014
J.C. Penney's (NYSE:JCP) top notch quarterly results released on February 26, 2014 likely contributed to positive momentum in the retail sector yesterday. J.C. Penney reported positive comparable store sales growth of 2%, a solid liquidity guidance that put discussions about another capital raise in 2014 to rest and an upbeat margin- and sales outlook for 2014. In other words: J.C. Penney's turnaround is in full swing. Another retailer, another recovery.
J.C. Penney and Best Buy have something in common: They are both largely avoided by investors. I think both retailers, even though they face a harsh price environment in their respective operating segments, exhibit exceptional risk/reward ratios. J.C. Penney's stock, for instance, has been driven so low, that I think investors can still earn multiples of their capital -- this is especially true if J.C. Penney is capable of sustaining its sales momentum in 2014. In fact, J.C. Penney has lost 82% of its market capitalization over the last two years which makes the department store chain so much more interesting as a contrarian investment. Nevertheless, Best Buy still has substantial rebound potential, too - both from a fundamental, cash flow-based perspective and from a technical perspective. I think Best Buy could trade at $35 per share in 2014 if the retail sector can produce just slight q-o-q improvements. Consequently, Best Buy has approximately 35% rebound potential.
(Source: Finviz.com)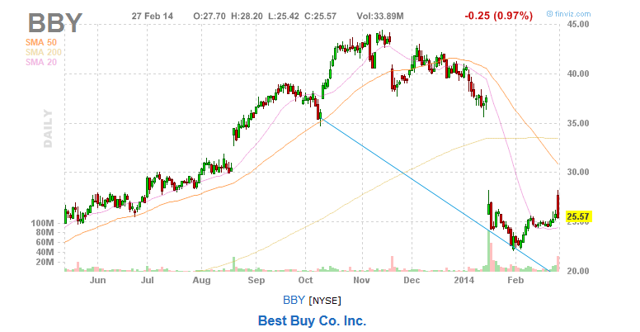 Technical picture
Yesterday's results certainly have caused a short-term boost for Best Buy's share price. While I am a long-term oriented investor who wants to benefit from the full recovery in share price (I have positioned myself with long-dated warrants with a strike price of $30), I think that Best Buy's share price could run up to $35 this year in order to close the yawning gap opened up in January. From a technical perspective, Best Buy has still meaningful short-term upside potential to recover the massive losses sustained at the beginning of the year.
Free cash flow valuation
Though Best Buy has presented solid fourth quarter results, I see little reason to revise my original cash flow outlook for the company. I still estimate Best Buy to deliver a free cash flow to equity per share of $2.31 in 2014 which will increase by growth rates of 4.44% in 2015, 3.49% in 2016 before settling at a terminal growth rate of 3% in 2017. With equity cost of capital of 10%, the free cash flow discount model yields an intrinsic value of approximately $35 per share.
Best Buy's fourth quarter results
Fourth quarter results revealed revenues of $14.5 billion vs. $14.9 billion in the year ago quarter (a decline of 3.0%). For the full fiscal year 2014, Best Buy reported revenues of $42.4 billion compared to $43.9 billion in fiscal year 2013 (a decrease of 3.4%). Best Buy's diluted EPS of continuing operations came in at $0.88 vs. a loss of $1.36 per share in the fourth quarter last year. Adjusted diluted EPS of continuing operations stood at $1.24 compared to last year's $1.47 and analyst estimates of $1.01 -- a handsome earnings beat.
Comparable store sales declined 1.2% in the most recent quarter vs. a decline of 1.4% in the fourth quarter of fiscal year 2013. A comp break-down per segment is provided below.
(Source: Best Buy Fourth Quarter Results News Release)

Best Buy also reported that it intends to materially step up its efforts to cut more fat off its cost structure: The retailer increased its cost reduction target to $1.0 billion from $725 million outlined in 2012. More aggressive cost cutting initiatives should allow the company to mitigate the adverse profitability effects that come with a cut-throat pricing environment.
Final thoughts
Though retailers did a little better this week (in the case of J.C. Penney a lot better), I still believe that contrarian investors can find top value in Best Buy. The free cash flow valuation model suggests that Best Buy's intrinsic value is still substantially higher than its current quote of $25.57 and the model specifically predicts further upside potential of 35%. In addition, the technical picture looks highly appealing. Best Buy's chart pattern reminds me of potash firms that were demolished in 2013 as companies like Potash Corp. (NYSE:POT) or Mosaic (NYSE:MOS) also lost staggering amounts of market capitalization in a very short period of time due to panic selling. Contrarian investors who took advantage of fear-driven selling in the potash industry last year are now benefiting from a broad recovery in the share prices of potash firms. Best Buy remains an outstanding, contrarian BUY and I hold a 2014 price target of $35 on its shares.
Disclosure: I am long BBY, JCP, POT. I wrote this article myself, and it expresses my own opinions. I am not receiving compensation for it (other than from Seeking Alpha). I have no business relationship with any company whose stock is mentioned in this article.