Now that Citigroup (NYSE:C) has a few years of recovery under its belt after the financial crisis, I wanted to look at how the company compares to its competitors. The banks are currently looking to continue to increase revenue as the economy picks up steam. The housing market has improved and interest rates are still historically low. This should create a positive catalyst for the mortgage market. However, interest rates have edged higher, which had a slowing effect on mortgage demand. The tapering of the Federal Reserve's bond buying program is causing a slight increase in interest rates. Overall, the banks should benefit more from increased demand due to an improving economy. I think that this will offset any lowered demand due to modest increases in interest rates.
I put together a comparison table that compares Citigroup with its peers. Let's see how they stack up.
| | | | | |
| --- | --- | --- | --- | --- |
| | Citigroup | Bank of America (NYSE:BAC) | Wells Fargo (NYSE:WFC) | JPMorgan (NYSE:JPM) |
| Dividend Yield | 0.10% | 0.20% | 2.6% | 2.6% |
| Trailing PE | 11 | 18 | 12 | 13 |
| Forward PE | 8.5 | 10 | 11 | 9 |
| PEG | 0.50 | 0.59 | 1.20 | 1.65 |
| Price to Book | 0.74 | 0.79 | 1.6 | 1.07 |
| Price to Sales | 2.13 | 2.03 | 2.97 | 2.21 |
| Total Cash | $742B | $582B | $297B | $974B |
| Total Debt | $484B | $531B | $207B | $642B |
| 2014 Expected Revenue Growth | 0.7% | 1.2% | 0.68% | 0.60% |
| 2015 Expected Revenue Growth | 3.4% | 3.9% | 4.5% | 4.5% |
| 5 -Yr. Expected Annual Earnings Growth | 19.55 | 20.7% | 9.6% | 5.8% |
Investors aren't attracted to Citigroup for its dividend yield - they could earn that rate in a money market account. Investors are attracted to the company's low valuation and high potential earnings growth. Citigroup has the advantage of being the lowest valued bank among the large U.S. players. Bank of America is not too far behind in terms of valuation and expected earnings growth. Given these current valuation metrics, you would think that Citigroup and Bank of America would experience similar stock performance. However, Bank of America has outperformed Citigroup by a significant margin over the past five years.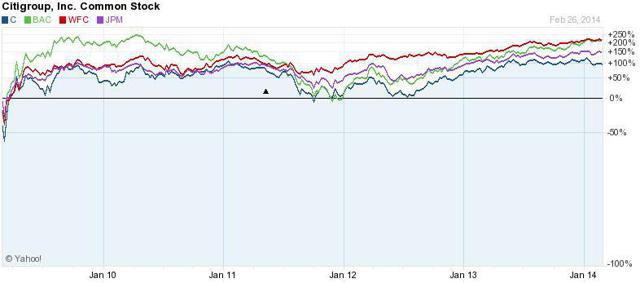 Citigroup has actually been the laggard among the banks over the past five years. However, its expected growth over the next five years combined with its attractive valuation make it likely that the stock will perform better going forward. JPMorgan and Wells Fargo outperformed on earnings in the past five years which drove their stock prices to outperform Citigroup and Bank of America, which had negative earnings growth for the past five years. Looking forward, I think that Bank of America and Citigroup will outperform the large banks as their valuation and expected earnings growth are more attractive. I don't really see anything wrong with Wells Fargo and JPMorgan as investments, but their lower expected earnings growth may lead to a slower stock appreciation over the next few years as compared to how they performed in recent years. One positive aspect for JP Morgan and Wells Fargo is that they pay a more generous dividend than Citigroup and Bank of America.
Over the next five years, I think that Citigroup's stock will appreciate more in relation to the other banks. Bank of America will probably trade closely behind, but Citigroup's slight edge on valuation is likely to give it the edge on stock appreciation. Bank of America and Citigroup have some catching up to do as they're trading under their book value per share. Given, Citigroup's valuation and expected earnings growth, the stock can reasonably hit $60 in one year. Looking out longer term, the stock is likely to be trading over $100 in five years. Citigroup's revenue and earnings growth should be driven by higher demand for loans as the economy continues to improve. Overall, I think that higher loan demand will offset increases in interest rates over the next five years.
Disclosure: I have no positions in any stocks mentioned, and no plans to initiate any positions within the next 72 hours. I wrote this article myself, and it expresses my own opinions. I am not receiving compensation for it (other than from Seeking Alpha). I have no business relationship with any company whose stock is mentioned in this article.