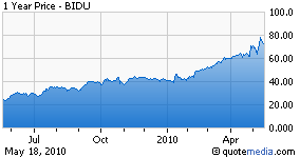 In my weekly newsletter EPIC Insights, I aim to uncover solid companies selling at cheap prices. This search is often difficult, but it will uncover stocks that bewilder me. One example is Chinese search engine Baidu (NASDAQ:BIDU).
I know this comment will anger many and unleash calls questioning my sanity, but BIDU is among the most overvalued companies I have ever seen. Trolling investing blogs the past week, the true believers were shouting down anyone who questioned the wisdom of owning BIDU's shares. The familiar story of scalable business models and exponential growth reminded me of the dot-com bubble and crashing stocks.
Realizing that those who have owned the stock during its march higher have done wonderfully, I decided to crunch some numbers. Based on 2009 earnings per share of $0.63, BIDU trades for a P/E of 114. Assuming a 60% future growth rate, BIDU's current price discounts 10 years of earnings. I would never buy a company with so much future growth discounted at such a high growth rate, but when you dig deeper into the math it shows how absurd the assumption is.
In the most recent fiscal year, BIDU earned $218 million on sales of $652 million for a margin of 33%. Assuming the company can achieve a 60% growth rate for 10 years (as its stock price assumes) and maintain the same margin (highly improbable), BIDU's 2020 revenue line should total $71.7 billion. That amount is twice Apple (NASDAQ:AAPL) and three times Google (NASDAQ:GOOG). Further, if we assume that China's economy can grow at 10% for the next ten year, its gross domestic product (GDP) will approach $9.3 trillion, making BIDU's revenue nearly 2% of GDP-an amount in-line with Wal-Mart's (NYSE:WMT) contribution to US GDP.
If you believe BIDU can continue its monstrous growth and be as important to China's economy as WMT is to the US economy, buy the shares. In my view, this bubble of a stock will eventually burst and the shares will move lower.
The difficulty is predicting when such an event will occur. Having carved out an island reversal, the shares may indicate weakness. However, all weakness has been fleeting. Markets can remain irrational longer than we can remain solvent, Believing this price is set to decline, a concrete trade idea does not emerge. Some will short and others will use put options, but for me, I will steer clear as calling tops is a risky business.
Disclosure: No positions