At what point do you give up on a losing trade or investment? Do you set a certain loss level ahead of time, or do you continue to watch your losses increase, hoping that the stock will eventually turn? These are questions that those short in Tesla Motors (NASDAQ:TSLA) must be asking themselves almost every day. The stock rallied into earnings as expectations were high, but yet shorts really didn't cover in large amounts. Now that shares have rallied even more, is it time for shorts to finally give up? Today, I'll take another look at where Tesla stands and digest the most recent news.
A quick comment on my latest article:
In the article linked above, I provided a note of caution for investors going into Tesla's earnings report. After the report, I received a bunch of comments and some e-mails that showed people missed my overall point. My pre-earnings warning was based on the notion that the stock had rallied too much, and that the earnings report was too risky to play for the average investor. At the same time, I've stated in multiple Tesla articles that I thought the stock would go higher going forward. I also did not recommend a short position, and in fact advised against it in my conclusion. My article was published with a prior day close of $203.70. Three days later, two days after earnings, the stock was at $209.60. I stated in my warning that the wrong earnings news could lead to a $40 decline in Tesla shares. So my warning was actually fair. The stock ended up $6 in three days, versus what could have been $40 of downside. The risk/reward just wasn't there. Again, I've been bullish for a while, and I just wanted to clear up this point because a lot of comments I have received seemed to miss the point.
The latest short interest update:
Those that have followed my coverage of Tesla know that short interest is one thing I really follow. I really pushed the case for a short squeeze in mid January, and that was right before the Q4 deliveries pre-announcement. At that point, more than 25.8% of the outstanding share count and 37.7% of the float (according to Yahoo! Finance share numbers) was short. Then we got the positive news, and shares were off to the races. You would normally think that many shorts would have covered on that news. Well, we got the latest update on short interest recently, and you can see what happened in the chart below.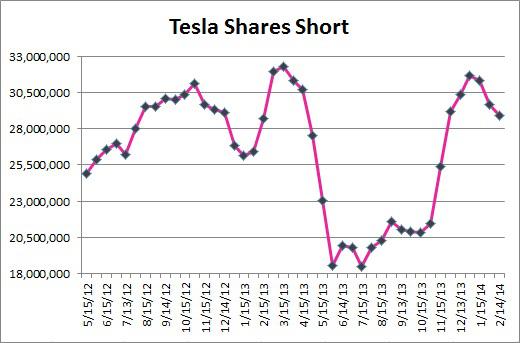 In the first few weeks of February, just over 716 thousand shares short were covered, about 2.42% of the prior update total. Tesla short interest hit a recent peak at the end of 2013, at 31.65 million shares. So far in 2014, almost 2.73 million shares were covered, about 8.61% of the recent peak. Short interest at the latest update was at a three month low.
You would have thought that the Q4 deliveries pre-announcement would have chased a ton of shorts away. That announcement came just after the mid-January short interest number. The net change in short interest was a decline of less than 2.4 million shares over the next month, as the stock ran from $140 to $200. That's a small portion of the total.
So will the recent run to a new high of $265 chase shorts away by the end of February? We'll find out on March 11th. But for now, Tesla continues to be a heavily shorted stock. Based on the current share numbers, more than 23.5% of the outstanding share count and 34.4% of the float is short. Tesla's outstanding share count will continue to rise going forward, especially as some of the convertible debt gets pushed into equity.
Estimates going higher and higher:
It's been a little over a week since Tesla announced its large Q4 beat. The fact that Tesla beat was not surprising, given the deliveries pre-announcement. The huge revenue beat probably wasn't as surprising either, but the big earnings beat was impressive. Going back to the prior quarter, Tesla had a huge revenue beat but earnings were not as impressive. That led to analysts putting a lower bar on Q4 earnings, and Tesla smashed those estimates. Well, as you can probably expect after such a large beat, and good guidance that I'll get to in a minute, analyst estimates have been on the rise. In the following table, I've compiled analyst estimates going back to the end of 2013. The 2/19 column is where estimates stood going into the Q4 report. As a quick reminder, all of these estimates are non-GAAP.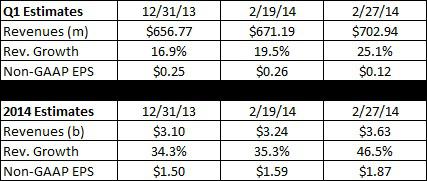 All but one estimate in the table above has risen, and that was due to Tesla's guidance in the recent investor letter. Tesla expects to deliver more than 35,000 model S vehicles in 2014, up 55% plus from 2013 levels. The company says that battery cell supply will constrain production in the first half of the year, but get better in the second half. Tesla guided to lower Q1 2014 deliveries than Q4 2013, which is why Q1 revenue estimates are below the Q4 number. Tesla will also be spending a bit on the operating side, which is why analysts have reduced Q1 EPS numbers for now. But as margins improve throughout the year, analysts have upped their EPS numbers, also helped by the Q4 beat.
Analyst estimates will continue to rise for 2014 as analysts continue to re-work their numbers. We have also started to see a major rise in 2015 estimates. The day after Tesla reported Q4, analysts were looking for $4.33 billion in 2015 revenues and $2.97 in 2015 EPS. Those estimates now stand at $5.12 billion and $3.80, respectively.
The debt news and battery factory:
After the bell on Wednesday, Tesla investors got the big news about the battery factory that they were waiting for. Here are some of the highlight numbers:
Factory should provide enough batteries in 2020 for 500 thousand vehicles.
Company expects facility will drive down its per-kWH battery cost by 30% within a year of volume production.
Construction will begin in 2014-2015, equipment installation in 2016, and initial production in 2017.
Tesla and its partners will invest $5 billion in the factory, of which Tesla will invest $2 billion.
Along with this news, Tesla announced $1.6 billion in convertible notes, $800 million due in 2019 and $800 million due in 2021. Underwriters will also have the ability to purchase another $120 million for each maturity, meaning the total offering could be $1.84 billion. We are still waiting on details regarding interest rates, equity conversion rates, and any other pertinent information.
It will be interesting to see who partners up with Tesla on the factory. Of course, the biggest rumor is a partnership with Apple (NASDAQ:AAPL). Everyone knows by now about the talks between Tesla CEO Elon Musk and Apple. The above linked article does reiterate that Apple needs lithium-ion batteries for computers and tablets, albeit in different form factors. An Apple-Tesla partnership might even help those worried about Apple currently. Apple is receiving lots of criticism for not doing anything new, and with Tesla leading this "new car revolution", Apple could be in line to benefit. We'll see how this all plays out.
Some recent analyst comments:
Tesla's dramatic rally this week began when Morgan Stanley more than doubled its price target from $153 to $320. The analyst believes that Tesla could disrupt both the vehicle industry and also be able to unhinge related industries, like grid storage. The analyst believes Tesla could sell 1.1 million vehicles by 2028, and the bull case assumes a $500 target. This wasn't the only recent piece from an analyst, so here are some other quick summaries:
The one ultra-bear in the room seems to be Merrill Lynch, which reiterated a $65 price target.

A Baird analyst reiterated a Buy and $245 price target thanks to the convertible debt raise easing some dilution concerns and the gigafactory price being lower than expected.

Wedbush raised its price target from $225 to $295 based on the gigafactory being able to improve margins.

Goldman Sachs reiterated a Neutral but raised its price target from $118 to $170. The firm also cut its 2014-2016 EPS estimates due to dilution.
Outside of the one analyst, most opinions are pretty positive right now thanks to the battery factory news. I do question the one analyst who reiterated a buy recommendation on a stock that was $8 above his price target, since his target was implying a decline in shares. Maybe that target will change. Right now, the mean and median targets are in the low $200s, but I expect we'll get a few more changes as the battery news is digested and once we have the final terms of the debt deal.
What are some risks?
When pointing out a number of good things with a company, it's always wise to discuss the potential risks. Obviously, the two largest risks involve the company's growth scenario. First, is the company able to produce everything it believes it can? Second, does consumer demand match supply? Remember, we're talking about $100,000 cars (on average) at the moment for Tesla. While demand has been solid so far, this is a luxury item. The company doesn't exactly make $20 children's toys.
Perhaps the biggest concern from the bear camp is the stock's valuation. Tesla currently is a very expensive stock. Investors are hoping that the growth story plays out over time. But when you compare Tesla against industry giants such as Ford (NYSE:F), General Motors (NYSE:GM), and Toyota (NYSE:TM), Tesla is expensive. In the chart below, I've compared these four names on a price to sales basis using current analyst estimates. Remember, those analyst estimates are non-GAAP for Tesla.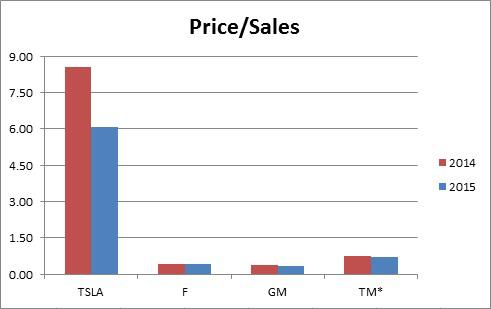 *Toyota fiscal year ends in March, so "2014" period ends in March 2014 and "2015" period ends in March 2015.
All three of the established names trade for less than one time their expected sales for the respective fiscal year. Even if I were to give Tesla $4 billion in sales this year (current estimates are for $3.63 billion), that's a price to sales of about 8. For Tesla to get to the average valuation of the three names, the company would need revenues of about $60 billion right now. That's a long way off, which is why the valuation argument is tough to make.
Tesla had a market cap of $31 billion at Thursday's close. If you assume further dilution the rest of the year plus the possibility of some convertible debt, the company is valued at about $1 million per car delivered this year. That's a lot considering the car itself sells for a fraction of that. If the valuation stays exactly where it is today in 2020 and the company sells 500,000 cars for example, you're looking at a valuation of $70,000 per car. Again, Tesla is likely to face a lot of dilution in the future, meaning the market cap will continue to rise even if the stock stays exactly where it is.
Final thoughts:
Tesla had a solid Q4 and guidance for 2014 was strong. The stock rallied strongly on a huge price target upgrade from Morgan Stanley, hitting new highs. Recently, a convertible bond sale was announced to help fund the new battery factory. Despite a high valuation, the company is expected to show high growth for a number of years, and those that are bullish certainly see this name going much higher. The key question for the next few weeks is how short interest fared in late February. Have short sellers finally given up, or will the next round of short covering push this name even higher? I certainly wouldn't be opposed if investors waited for a pullback, but I wouldn't be surprised if $300 is hit at some point. I've included a chart of Tesla below.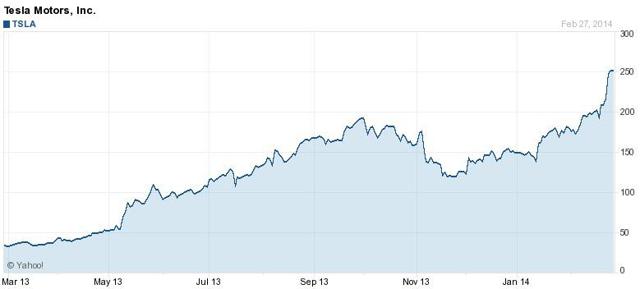 (Source: Yahoo! Finance)
Disclosure: I have no positions in any stocks mentioned, and no plans to initiate any positions within the next 72 hours. I wrote this article myself, and it expresses my own opinions. I am not receiving compensation for it (other than from Seeking Alpha). I have no business relationship with any company whose stock is mentioned in this article. Investors are always reminded that before making any investment, you should do your own proper due diligence on any name directly or indirectly mentioned in this article. Investors should also consider seeking advice from a broker or financial adviser before making any investment decisions. Any material in this article should be considered general information, and not relied on as a formal investment recommendation.