Linn Energy (LINE) and sister stock LinnCo (LNCO) fell nearly 5% yesterday as a result of a lukewarm reception to its recent earnings report. While the production and DCF numbers came in strong, there are concerns regarding the increased share count resulting from the Berry merger. In addition, an analyst downgrade added to the bearish sentiment.
Q4 2013 Overview
Production of 889 MMCFE/D

Net loss of $785 million, or $3.15 per unit

Net loss includes a $790 million, or $3.16 per unit, non-cash charge related to changes in the value of derivative contracts

Oil, natural gas and NGL sales of $585 million

Distributions paid to unitholders of approximately $171 million

Excess of net cash of approximately $31.5 million
On the surface, Linn Energy's results were not too bad. While the net income number looks horrendous, do note that this was impacted by non-cash charges related to hedges.
Production grew by 11%, to about 889 MMcfe/d. However, when adjusting for Berry's contribution, production was about 845 MMCFE/D. Linn Energy's production numbers were somewhat lower than expected, thanks to severe winter weather, impacting production in both the Granite Wash and Hugoton Field plays.
As I predicted in a recent article, Linn Energy saw major improvements in its realized prices for natural gas and NGLs. In fact, NGL prices were at their highest level since mid 2012. However, the pace of the increases were somewhat softer than anticipated due to wider prices differentials and higher transportation expenses. Pipeline and related midstream capacity was stretched during the quarter as demand for natural gas was elevated due to colder temperatures.
A look at Linn Energy's DCF
When analyzing Linn Energy's distributable cash flow, or DCF, one must remember that the company its methodology in 2013, making comparisons to prior years much more difficult. However, the company's "cash available for distribution" still is a good estimate for the sustainability of the distribution.
For the quarter, Linn Energy posted an excess of net cash provided by operating activities after distributions to unitholders of about $31.5 million. As a result, the coverage ratio for the quarter was around 1.19x.
However, this metric is very misleading. Linn Energy benefited from Berry's production in Q4 yet did not have to pay distributions ("dividends") to the former shareholders. As a result. Linn Energy's coverage ratio will be much tighter in 2014.
How much tighter you may ask? According to the supplementary material provided by the company, the excess in net cash in 2014 is projected to be only $12.0 million. At the same time, distributions are expected to total $961.0 million. This results in a razor thin coverage ratio of 1.01x in 2014.
Needless to say, an increase to the distribution this year seems highly unlikely excluding any possible accretive acquisitions. It also seems as if the Berry merger result in little to no accretion for the company on a per unit basis.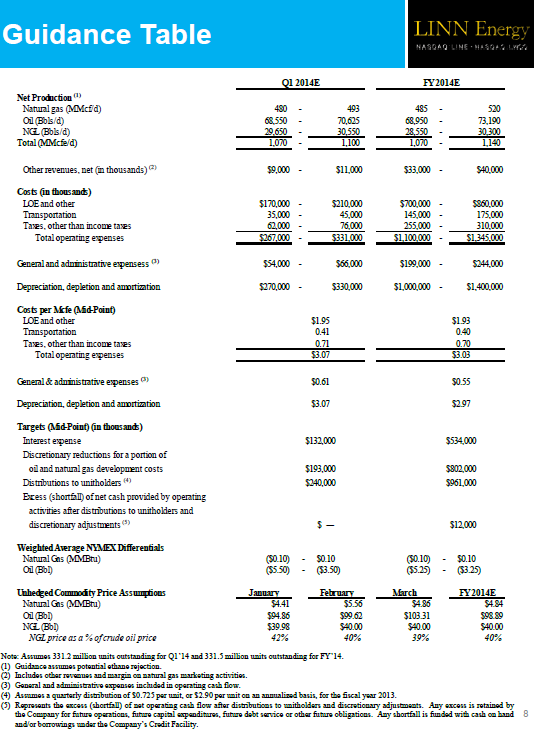 Possible Midland divestment?
An interesting nugget from Linn Energy' press release are its plans for its Permian basin Midland assets. The company noted that it is looking to replace these assets with lower capex mature production in order to increase its DCF.
The company has retained RBC Richardson Barr to assist it with evaluating multiple strategic alternatives to maximize value for the Midland Basin portion of its Permian position. Alternatives include potential asset trades, a cash sale of the position, pursuing an active drilling program and joint ventures. LINN's current position for prospective horizontal Wolfcamp consists of approximately 55,000 net acres with approximately 630 gross operated potential locations with a 95 percent working interest, 87 percent of which are held by production. Additionally, the Company has approximately 455 gross potential locations with approximately 50 percent working interest, which will require forming a unit. The number of prospective horizontal locations primarily includes the Wolfcamp A and B benches. The potential for future delineation of additional benches could provide further upside to the Company's estimated drilling locations. Of LINN's total current Permian production of approximately 26 MBoe/d, 17 MBoe/d is associated with 1,275 wells in the Midland Basin with an 88 percent working interest.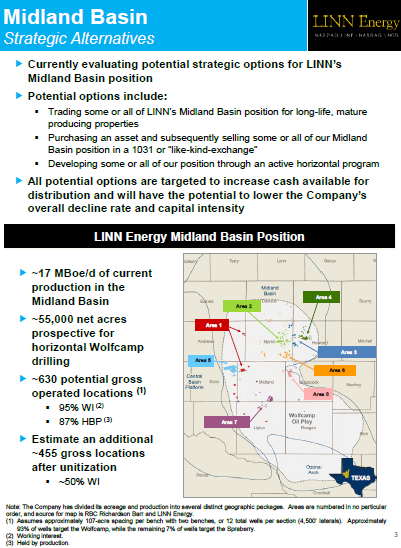 Conclusion
I am beginning to turn somewhat neutral towards Linn Energy. As noted in the Howard Weil downgrade, Linn Energy's results did not meet expectations.
While the company will benefit from the price surge seen in certain production (namely NGLs), its ability to capture these gains is hampered by lousy infrastructure, resulting in higher expenses and wider price differentials.
Hedges will protect the company somewhat. However, these also have associated costs and may limit potential upside. In addition, Linn Energy's projected tight coverage this year will likely result in flat distribution growth.
Disclaimer: The opinions in this article are for informational purposes only and should not be construed as a recommendation to buy or sell the stocks mentioned. Please do your own due diligence before making any investment decision.
Disclosure: I have no positions in any stocks mentioned, and no plans to initiate any positions within the next 72 hours. I wrote this article myself, and it expresses my own opinions. I am not receiving compensation for it (other than from Seeking Alpha). I have no business relationship with any company whose stock is mentioned in this article.