The tech and business world should once again be concerned regarding the after-effects of the NSA leak. Today, it was reported that Yahoo (NASDAQ:YHOO) was the next victim to surface; millions of webcam-chat users were photographed by the NSA as well as the British spy agency GCHQ. These pictures, many of them intimate and explicit, were (and very possibly "are") stored in the spies' databases. Many webcam users are outraged and have deleted their Yahoo accounts. And, as can be imagined, Yahoo stock may be taking a very slight, but still significant short-term hit.
The main factor is consumer-faith. Logically, when someone feels insecure about the service being used to share sensitive information (in this case pictures, which can be just as incriminating as documents), the person will think twice before using it again. The Snowden leak has:
The great potential for doing serious damage to the competitiveness of U.S. companies. The trust that's threatened is essential to these businesses.

-- Richard Salgado, Google's director for law enforcement and information security (told to a U.S. Senate panel on Nov. 13)
While the average American, though not taking too kindly to it, may not lose complete loyalty, one of the world's largest emerging tech-markets is. Cisco (NASDAQ:CSCO), the world's largest producer of equipment for computer networking, says that orders in China fell 18 percent in three months.
It's certainly causing people to stop and then rethink decisions. And that is, I think, reflected in our results. --Robert Lloyd, Cisco's president of development and sales
Overall, Cisco fell 10% this quarter: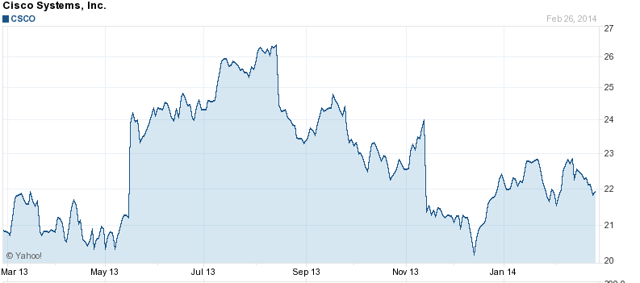 IBM (NYSE:IBM), the world's largest technology services company, had a 22 percent drop in China revenue, which translated to a 4 percent decline in third quarter profit. These two companies in specific are technological vehicles to gain access to the larger world--something that the Chinese government doesn't exactly want. As soon as the NSA scandal arose, they pounced immediately and discouraged using foreign--especially American--tech companies, in favor of using national Chinese brands.
Yahoo has over 80 million monthly users in Southeast Asia alone, as well as a 24% stake in Chinese e-commerce giant Alibaba. Yahoo Japan posted 20% revenue growth in its fiscal third quarter, as well as 20% growth in its quarterly net income. So in other words, Asia is a big deal for them.
Yahoo is in danger of becoming a part of the prediction that:
Disclosures of spying abroad may cost U.S. companies as much as $35 billion in lost revenue through 2016 because of doubts about the security of information on their systems, according to the Information Technology & Innovation Foundation, a policy research group in Washington whose board includes representatives of companies such as International Business Machines and Intel Corp. (NASDAQ:INTC).

--Nicole Gaouette, Bloomberg
This privacy-infringement scandal has the possibility to deter the company in its long-term goals. To be fair, Cisco has regained around 30% of its lost revenue already (as per the above chart), showing that investors tend to "forget" about certain events after only a few months. However, the company is still 7% down and this hit will not be easy to recover from entirely. The initial scare and shock as the story travels can very well cause a slight dip in Yahoo. If consumers lose faith (not investors) in the Asia region specifically (Westerners will most likely keep using the service despite the hiccup) then Yahoo can be in some trouble. As it is now, they have major growth and big plans for the region, which thanks to Mr. Snowden, are being threatened.
Disclosure: I have no positions in any stocks mentioned, and no plans to initiate any positions within the next 72 hours. I wrote this article myself, and it expresses my own opinions. I am not receiving compensation for it (other than from Seeking Alpha). I have no business relationship with any company whose stock is mentioned in this article.