Back in 2009, I was as bearish on housing as anyone. For example, I wrote two pieces pointing to massive insider stock sales at Toll Brothers (NYSE:TOL) as evidence that company executives did not really believe their own words about an imminent housing recovery (see "Spring Home-Selling Is So Good that the Tolls Are Selling" and/or "Insiders At Toll Brothers Continue to Dump Shares Ahead of Reported Housing Recovery"). Indeed, solid signs of a recovery did not appear for another two years or so. Although TOL's stock mainly traded in a wide range from 2009-2011, I felt vindicated. However, looking back on the data from my bullish vantage point, I have realized that in the larger scheme of things, these stock sales were practically meaningless. If anything, the tens of millions in dollars sold by the Toll brothers and other corporate insiders demonstrate how much money there is to be made as a shareholder in a public home builder.
Robert Toll and younger brother Bruce Toll are the largest individual shareholders in TOL. Robert has the lion's share with 10.1M and Bruce has 0.5M. Robert's massive stash is only outmatched by Goldman Sachs (NYSE:GS) with 13.1M shares amongst all major holders. At current prices Robert Toll is worth about $394M on paper. So, even with all the stock sales, Robert in particular still has a major stake in the company he co-founded with Bruce. Moreover, both men are now in their seventies. There are plenty of reasons for them to sell and sell often at this age and at this point in their careers, reasons that have little to do with trying to time the housing cycle.
The weekly chart below shows select episodes of insider selling by the Toll brothers (the vast majority of it by Robert of course). Note that the sales are large, regular, and frequent. In particular, the 2009 sales occurred at what we now know were very low prices. Thus, current sales likely do not say much about the likely future direction of the stock either.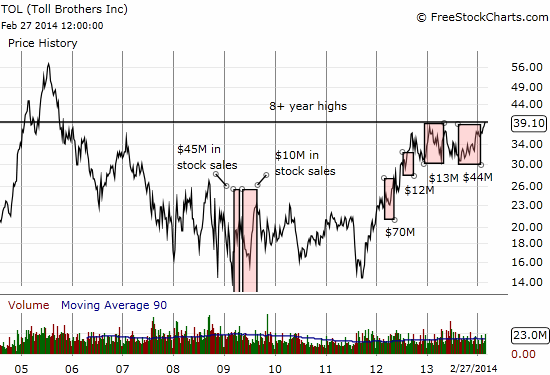 Select episodes of insider stock sales by the Toll brothers
Source for chart: FreeStockCharts.com. Source for stock sales: Yahoo Finance.
The 2009 data come from the articles I referenced earlier. Once I stopped being so bearish on housing (more on that below), I unfortunately stopped tracking the data. Yahoo Finance only goes back two years, thus the gap in my representation of sales in 2010 and 2011. If you are REALLY hungry for the data, you can go directly to the SEC filings for insider transactions.
My recovery from housing bearishness was almost an accidental one. It was my youngest brother who shook me up and eventually convinced me to start looking for the positives rather continue to dwell on the well-known negatives. In September, 2009, he first put the bug in my ear for a housing bottom as early as April, 2010 and as late as 2013 in an absolute worst case scenario. I remained largely skeptical. A year came and went and housing managed to stabilize. Amazed at my brother's insight, I hopped aboard the housing bottom soapbox and pleaded with my brother to update his analysis which I posted in "Still Expecting Housing to Bounce Along the Bottom Until 2013." As you can tell from the titles, we were not bullish enough and that showed when I pounded the table for homebuilders by making a call in January, 2012 to buy the dips in homebuilders. I should have instead said buy now and buy often!
Now, I have select holdings in home builders that I have written about over the past two years; all short-term trades have been from the bullish side. TOL has not been one of my holdings or trades, but, as I said, I have not been nearly as bullish as I should have been in the early phase of the housing recovery. 2012 turned out to be an extremely fast reversal in negative housing sentiment; it was like all the imminent good news for 2013 was priced in 2012. 2013 became a year of consolidation. In early January, I pointed to what I thought were signs of a breakout for home builder stocks. That breakout seems to be unfolding…no matter how many shares the Toll brothers are selling in their golden years.
Be careful out there!
Disclosure: I have no positions in any stocks mentioned, but may initiate a long position in TOL over the next 72 hours. I wrote this article myself, and it expresses my own opinions. I am not receiving compensation for it (other than from Seeking Alpha). I have no business relationship with any company whose stock is mentioned in this article.