The first known humans to ever show improvement in ALS...
Neuralstem's (NYSEMKT:CUR) phase 1 intraspinal cord injections of neural stem cells has shown remarkable early results. In the phase 1 trial Neuralstem was testing the safety of the therapy to find out whether or not their cells were safe to inject into their patients with ALS. They also needed to test the surgical procedure as it had never been done before. It is truly a groundbreaking procedure that could have major ramifications on the way we treat diseases of the central nervous system. Neuralstem tested 15 patients consisting of 5 cohorts in phase 1. In the last cohort, 3 patients received both lumbar and cervical injections.
Without rehashing material that has already been displayed in a Seeking Alpha article, I would like to refer you to an article by Zacks analyst Jason Napodano. He displays in great detail the overview of the phase 1 trial according to the peer reviewed study featured in the Annals of Neurology. It displays each cohort in detail, and discusses injection amounts, early progression data, patient survival, and an overview of each patient in regards to procedure.
Below are some very important charts that display each cohort and also show the 3 patients that were in the final C/E cohort that have shown very positive results. The graph below shows each patient that participated in the trial. It lists the patients age at surgery, status of disease duration at surgery, survival months after surgery, and whether the patient is in an ambulatory (mobile) state or not. It also covers the type of injections that each patient received and I must note that each one of these patients were dosed at 100,000 cells as per FDA dosing regimen.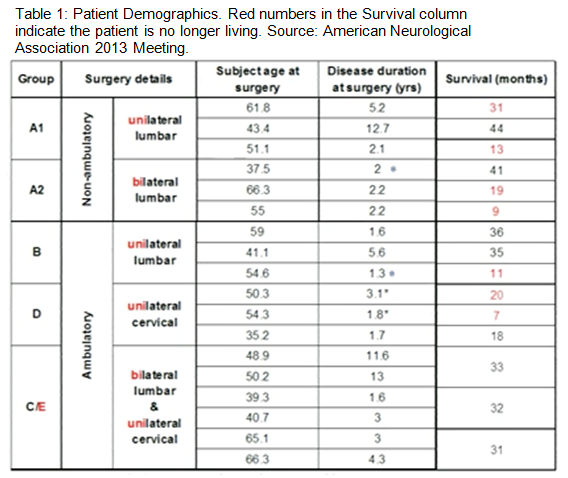 (click to enlarge)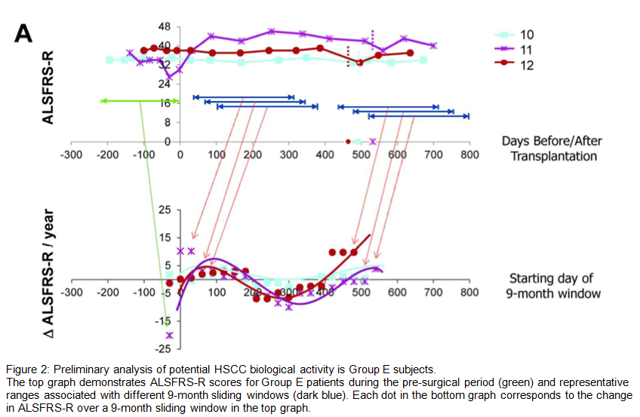 These 3 patients each received 5 lumbar and cervical injections each of 100,000 cells. They were also all ambulatory and considered early stage. As you can see, these 3 patients have gone over 700 days now with little to no disease progression, and that is unheard of in ALS.
Phase 2 could be showing even better results...
We now have positive confirmation that Neuralstem's phase 2 trial is showing some early positive results as well. April Moundzouris, a test patient in the 2nd cohort has been blogging about her experiences and recently shared the most important information of all. Her blog entry from February 11th is striking.
Also, something to think about regarding April is that she was in the 2nd cohort of the phase 2 trial. Meaning that she was not given the full therapeutic dose. The dosing in each cohort is being expanded upon until the 5th and final cohort being what CEO Garr has stated will be the maximum tolerated and therapeutic dose. CUR's thought here is that with their NSI 566 cells, more is better.
What we can learn from the past...
Through the rise in social media, we have seen a new platform for patients to use for advocacy, especially in the orphan disease arena. Sarepta Therapeutics (NASDAQ:SRPT) recently saw their stock go ballistic back in 2012 after the patients parents were posting YouTube videos and tweeting about results their children had seen in the companies phase 2 study for Duchenne Muscular Dystrophy. Here is another great article written by Jason Napodano discussing this topic in more detail. It really shows us that these results should not be looked upon as just anecdotal evidence. Remember that ALS patients do not get better, its a disease that progresses at a rapid pace month after month. So to have patients coming out and telling the public that they are seeing improvement could lead to the FDA giving CUR a Breakthrough Therapy Designation for NSI 566 in ALS if phase 2 results do indeed show solid improvement. It is interesting to note that last February the FDA met with patients, caregivers, health providers, and advocates about drug regulation concerning ALS. I believe it is a priority of the FDA to find a solution for these patients in a timely manner. And from the looks of Neuralstem's very fast moving phase 2 trial, this may have been the start of the FDA's action.
So what is the value of CUR's ALS indication?
For fear of sounding cold-hearted, I must say that this valuation assumption is merely for an investment thesis. I really pray that these cells will be able to help all ALS patients as this disease is horrific for patients and their families.
According to the ALS Association there are approximately 30,000 patients living with ALS in the United States alone and roughly 5,600 new patients diagnosed each year. According to Neuralstem, they may not be able to treat patients with bulbar symptoms (which affects approximately 25% of the ALS community) as they did not respond to treatment in the first phase. However, that is still to be determined as they have not treated enough patients to make that assumption just yet. But just to take a conservative approach, I will not count bulbar patients in the mix. So what we end up with is a patient population of approximately 23,000, and around 4,000 new diagnoses a year in non bulbar cases.
Before we dive into what Neuralstem may charge, lets take a look at what ALS patients pay per year to live with the disease. According to an August 2013 study by the MDA, it was revealed that on an annual basis, ALS patients pay approximately $63,600. The study also noted that these numbers are very conservative, so its conceivable that these numbers are likely much higher. If Neuralstem were to treat a patient early in the disease before the onset of some of the symptoms that require breathing machines and other devices, it could be shown that their treatment could save these patients a lot of money in Medical expenses going forward.
To get an idea of what Neuralstem might charge per procedure we can look at other companies and get a rough estimate, but ultimately there is no guarantee.
Let's take Provenge for our first example to get an idea of what NSI 566 may go for on the market. Provenge's IMPACT trial was found to improve survival of prostate patients by a little over 25 months, compared to 21 for placebo and the treatment cost is $93,000 per full dosing. So, Provenge essentially costs $23,000 a month for survival. If we compare data that is out from Neuralstem we can see that they have effectively extended life by over 30 months so far in three patients. I think it would be absurd to believe that Neuralstem would charge anywhere near $23,000 a month for survival, but I just wanted to point this out as I believe it is relative to the subject.
A new therapy for the treatment of arthritis and injuries by Regenexx should be noted as well so you can establish an idea of the spectrum of cost and indication. Their treatments range from $4-6000 per procedure basically to fix a bum knee. They have different treatment indications but that is not really the point here. It is to show what the market potential is for NSI 566.
A look at competition...
Right now there is only one drug approved for the treatment of ALS called Rilutek. Rilutek upon approval was shown to offer ALS patients about 3 months of extended survival, at a cost of $1200 a month in out of pocket costs or $14,400 for a years dose. The average life expectancy of ALS patients is around 5 years. Now if a patient takes Rilutek for 5 years after they have been diagnosed then they essentially have paid $24,000 a month for extended survival over a 5 year period. 5 years times $14,400 a year would come out to about $72,000. If you divide the 3 months of survival for taking this drug for 5 years at a cost of $72,000 it comes out to approximately $24,000 per month of extended survival. To put it better, these patients are essentially paying $72,000 in their 5 year life span or $14,400 a year to stay alive an extra 3 months. There is just not much to offer these patients in the present unfortunately.
I am willing to speculate that if and when Neuralstem receives approval for NSI 566 for ALS they could capture this entire market at a very rapid pace. An interesting thing that CUR has going for them is that since this disease is such a death sentence in a short amount of time, the need to market the product should be quite minimal. Doctors treating ALS so far have been frustrated with this disease as they have not had many answers for their patients. Here is a good example of the way the diagnosis and treatment process works presented by Emory University's Dr. Glass and Neurosurgeon Dr. Boulis.
As of now there is little to no competition that would require CUR to have the need to hire a major sales staff. A good example of what we may see if NSI 566 is approved is a drug for Cushings Syndrome called Korlym produced by Corcept Therapeutics. Here is an intriguing article about the company's product and an interesting take on rare disease treatment in general. An excerpt from the article that is very pertinent: "Corcept's VP, commercial operations, Steven Lo finds an added bonus in drawing such a small customer base: "I don't have to hire an army of sales reps," he tells MM&M."
CUR will obviously need to get the procedural products to doctors across the country, so that will require some logistical expenses. Other expenses I foresee after the approval will be in manufacturing CUR's floating cannula that attaches to the patient before surgery to help stabilize the needle. Training neurosergeons how to do the procedure will also be an expense. What this could mean though is that Neuralstem's bottom line could grow rather rapidly as expenses should be minimal for the procedure. I am awaiting to hear from Neuralstem's Investor Relations on other possible expenses incurred from each procedure and will update this article when I hear back.
Another competitor is Cytokinetics, with their phase 2b drug Tirasemtiv. I must stress though that there have been a number of failed drugs for ALS in the last few years including Trophos's Olesoxime, and most recently Biogen's Dexpramipexole. It is interesting to note that CYTK has gone through 10 trials and are still in phase 2b. I find this pretty compelling and leads me to be very leery of this drug. Especially when you consider that CUR ran 1 phase 1 trial and then was approved for a very rapid phase 2 that will come to a close in the coming months after just commencing in September of 2013. After digging through some of the ALS forums for Tirasemtiv trials I also came across some fairly discouraging patient results, 2 of which dropped out because of the terrible side effects. These patients complained of extremely low blood pressure which could be connected to the dizziness explained by the company as the most common side effect. Cytokinetics will release phase 2b data in April so we should get a better picture of whether or not this drug will in fact be a competitor. But according to Larry from Smith on Stocks, he suggests that Tirasemtiv may actually be taken in conjunction with NSI 566 if it is approved. Just from a historical perspective and the fact that it has taken CYTK 10 trials and they are still in phase 2 does not bode well for the future in my opinion.
The Numbers...
After scouring through many documents on prices for cell therapies and other types of procedures I believe that Neuralstem should be able to get at minimum $100,000 per procedure. This is an estimate based on my opinion and I have given specific data to back up why I believe they could get this amount. Patients from the phase 1 trial have now gone over 30 months of progression free survival. Lets say for example that these patients were early stage and that they had not yet endured the burden of the expenses of $63,000 a year for treatment. If NSI 566 is keeping these patients from progressing, why wouldn't CUR be able to recover the majority of those costs over that amount of time? If NSI 566 just shows 2 years of progression free survival, and they are charging $100,000 per procedure then they would essentially be saving each patient around $25,000 for a 2 year period. The longer these patients stay progression free, the better return on investment, if you will.
So to get what I believe to be a conservative estimate of sales from NSI 566 I will use the $100,000 estimate. If CUR receives approval in the 2nd half of 2015, which could be likely if the company receives an accelerated approval or a breakthrough therapy designation. There are no guarantees that CUR will receive such designations, but if they do we could start to see sales by 2016. My estimate is that uptake should be extremely rapid as there will be little sales and marketing costs involved (explained above) in the procedure given that there will be little competition. I think CUR could see full uptake in 2-3 years given that doctors will be on a mission to get this procedure done for their patients.
I wont assume that every patient with non bulbar disease will get this treatment as I believe that would be nonsensical. So to be conservative, we will stick to 80% of the 23,000 patients explained earlier which gives us around 6,100 patients a year to treat for 3 years. This does not include new patients which would add another 4,000 per year. With over 5500 neurosurgeons in the US, I believe this number should be easily achieved. 6,100 procedures a year times $100,000=$610 Million dollars in sales a year not even including new patients. The value of this treatment is enormous, and remember this is only for sales in the US. The patient population expands 3 fold over the rest of the world.
What the shares of CUR could be worth...
If we use our conservative estimate of $610 million a year in sales and we give a P/S of just 1 we reach a per share price of approximately $6 with an average of 100 million shares outstanding. Obviously if the company is expanding that rapidly, the shares will never trade at that low of a valuation as it does not include earnings as a factor.
A fast growing biotech that CUR could have the possibility of trading similarly to if approvals and revenues start to develop in a few years could be JAZZ. Jazz currently has a $10 billion market cap with a P/S at roughly 12 and a P/E in the high 20's. If we value CUR similarly, with a P/S of 10 we would be in the range of $55-60 a share with the possibility of a slightly higher share count before they get there. Remember there are no guarantees that CUR will ever have as many drugs approved as JAZZ or ever pull in as much revenue. I am simply giving you a look at a fast growing biotech firm and the possible performance derived from that growth as it pertains to the stock.
This value assumption is only bringing into account CUR's ALS indication and only current patients. CUR also has multiple trials ongoing in other very large indications seen in the graph below.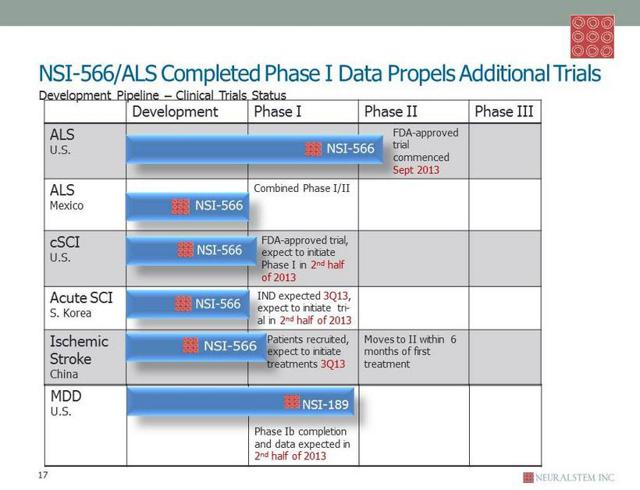 This graph does not include the more than dozen preclinical indications that are in Neuralstem's pipeline also in extremely large indications. Having an approved therapy for the treatment of a major disease will relieve some major risk on the rest of CUR's pipeline which should offer up a better share price for investors as well.
The Risks...
As in any biotech company, there are always a number of obvious risks. The biggest risk involving CUR I believe is their clinical program. Neuralstem is literally on the forefront of a very new technology involving clinical trials. Meaning, the things that CUR is doing in their Cell Therapy programs have never been done before and there is always a high amount of risk associated with new biotechnology programs. At this point in the trial, it would be highly speculative to say that NSI 566 will be approved for use of CUR's ALS indication. But, I believe that you could speculate from the data presented in the phase 1 trial, that these cells are having a therapeutic effect on this horrific disease.
Another risk is dilution to investors. However, CUR just raised approximately $13 million dollars through a direct offering, along with a sizeable amount of warrants at an exercise price of $3.64 that could further bring the company cash. As of November 12 2013 the company had approximately $17 million in cash at a burn rate of around $3 million a quarter. So CUR should be able to operate for the foreseeable future before the need to raise more money.
Final Thoughts...
Overall, I believe that the reward that CUR offers to investors here far outweighs the risk, as I believe my analysis points out. It all depends on your level of risk tolerance as an investor.
With an advancement in Neuralstem's cell therapy programs, they could literally begin a paradigm shift in the way we think about healthcare in society today. CUR is not looking to throw a patch onto patients diseases while also causing other horrific side effects, they are looking to start a revolution in medicine. And that is something worth investing in..
Disclosure: I am long CUR. I wrote this article myself, and it expresses my own opinions. I am not receiving compensation for it (other than from Seeking Alpha). I have no business relationship with any company whose stock is mentioned in this article.