What are the first brands you think of when speaking about smartphones and tablets? Most of you would say Apple (NASDAQ:AAPL) and Samsung (OTC:SSNNF), no doubt, maybe confusing which comes first. In fact, despite they dominate both markets, the competitive arena is quite different in terms of market concentration, volumes and participants. Amazon (NASDAQ:AMZN) is among the key players in the tablet market, thanks to its Kindle products, while its brand is not present in the smartphone business. Anyway, many factors seem to favor a more aggressive presence in this field for the leader of online retailing. Last year the company acquired Liquavista, an innovator in screen technology. At that time, many argued that Amazon would profit from their know-how by improving the quality of its e-books. They were right: the retailer has already launched its first color Kindle. But that seems not to be enough to justify those deals and the stellar performance of Amazon stock in the last year.
Let's see why.
1. The smartphone market
According to recent statistics, Samsung is still the leader, accounting for 31.3% of 2013 market share; Apple is following at 15.3%, while the third competitor (Huawei) accounts for just 4.9%.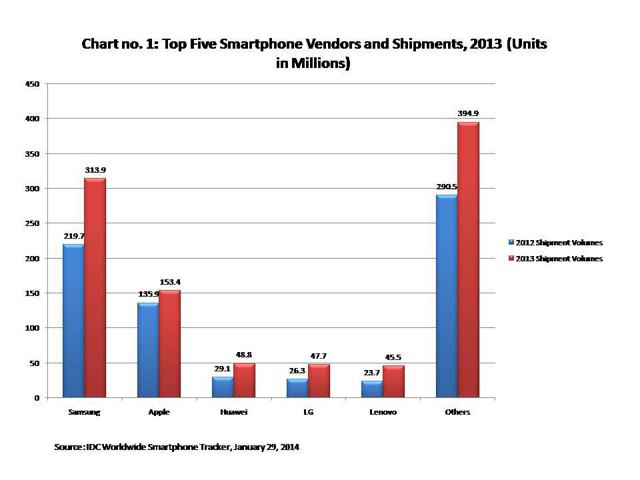 Click to enlarge
The business is juicy, as smartphone sales picked one billion units in 2013 for the first time. Competition between the two leaders is fierce, with Samsung increasing its market share by 42.9% versus 2012 and Apple following with +12.9% for the same period. Minor brands are also trying to conquer more room in the market, with Huawei, LG and Lenovo (OTCPK:LNVGF) fighting for the third position.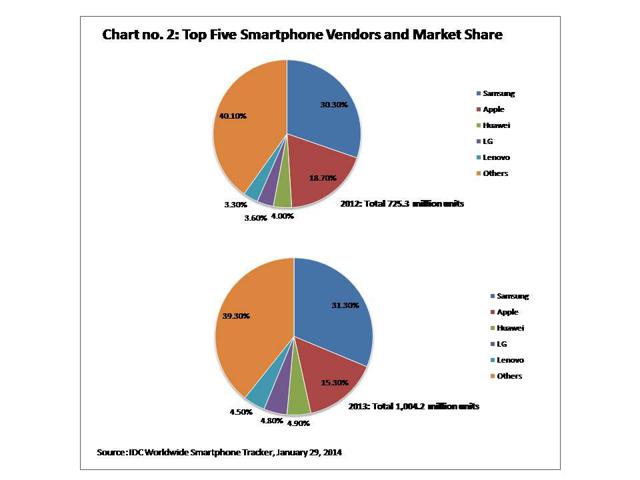 Click to enlarge
Samsung and Apple strategies are different. The Korean manufacturer offers reliable, advanced and affordable devices: Galaxy S3, S4 and Note models are conquering the mid-range and entry level markets. As JK Shin, President and Head of IT and Mobile Communications at Samsung said, "We are committed to innovation. We have taken technology and innovation forward to help us get closer to what matters in life, to help us live a richer, simpler and more full life."
On the other side, Apple has always appealed youngster and trendy guys with spectacular product presentations: its iPhone 5S targets high-end buyers, while 5C is an appealing but cheaper iPhone for developing markets, especially the Chinese one where the Cupertino company has recently signed an agreement with China Mobile (NYSE:CHL).
When looking at market profits, Samsung and Apple are still the leaders: They contributed operating income in Q3 2013 of 53% and 56%, respectively, while competitors continue losing money.
In terms of competitive advantage, here are some important elements in the Samsung - Apple battle:
shorter time-to-market, thanks to supply chain direct control (Samsung)
user-friendly software (Apple)
price (Samsung)
brand awareness (Apple)
software platform (Samsung)
app-store appeal (Apple).
2. The tablet market
According to some experts, smartphones are becoming a commodity. As Henry Blodget pointed out, Apple's competitors have caught up while another smartphone platform, Google's Android, has taken over, making Apple's iOS a niche platform. In fact, one of customers' main advantages in having a smartphone is the possibility to count on the same platform for all their devices. It's not surprising that leaders in the smartphone business are also top performers in the tablet segment.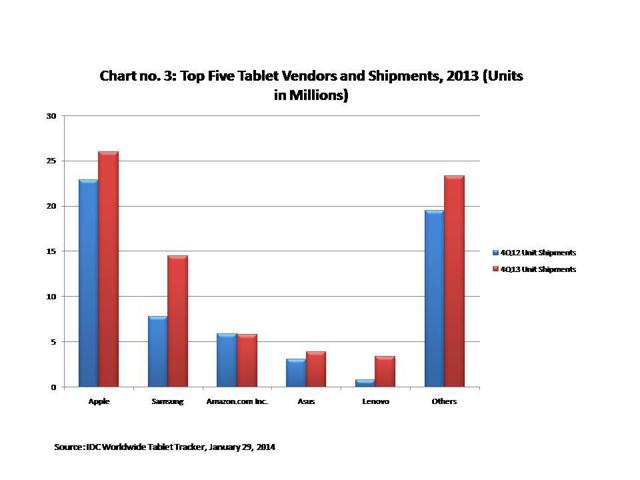 Click to enlarge
Data from Q4 2013 show that Apple dominates the market with a 33.8% market share, Samsung has a strong second place (18.8%) and it's surprisingly growing (+85.9% vs. prior year). The significant difference versus the smartphone business is represented by Amazon, which holds the third position with a respectable 7.6%, but is losing market share (-1.7% vs. 2012) and was the only one who performed poorly in 2013.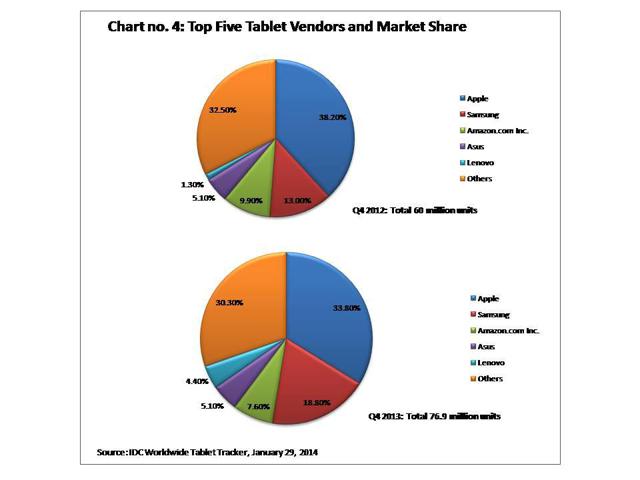 Click to enlarge
The tablet market is still a promising one, with volumes that picked 217.1 million units in 2013, up 50.6% versus 2012, even though the market growth rate is down dramatically when compared with 2012 (+87.1% versus 2011). This is particularly true for matured markets like the US, while developing countries continue being appealing. It's not a case that Lenovo, with a strong presence in China, celebrated a year-over-year growth of 325% in 2013.
So, why wasn't Amazon able to catch up with its competitors? According to some Wall Street gurus, Amazon tablets are mainly a tool to push video and entertainment products from "Amazon ecosystem": profits should come more from contents than from tablet sales. Even the new Kindle Fire HDX might have been conceived with this purpose. The Kindle Fire has been called the "fruitcake of tablets": people buy it as a Christmas gift, thanks to its competitive price. When the Company launched the Kindle Fire HDX In Fall 2013, it aggressively advertised the product comparing it with the iPad Air in terms of lightness and price.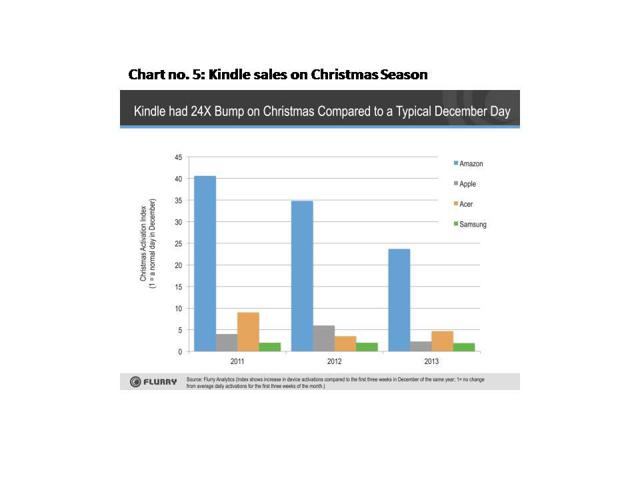 Click to enlarge
3. Which opportunities for Amazon?
So smartphones are becoming a commodity and the tablet market is slowing its growth pace.
But there is still something which could make the difference in this market, apart from platform, app-store and all the rest: ever been able to work with your smartphone or tablet in the sunlight? Almost impossible.
And that's where Amazon may enter the story. Last year the company made a relevant acquisition: Liquavista, which has been the first to introduce the electrowecting technology, useful to the development of the first color Kindle: Amazon acquired the company just from Samsung and it took less than a year to launch a product using this new technology. Many were wondering whether the shopping was aimed to improve the Kindle reading experience: e-books can be read almost in any light conditions, even in open air with sun exposure. But something is still missing: because of tablet competition, e-books have recently lost part of their appeal, showing a contraction of sales in the last two years. On the other side, why did Samsung decide to sell Liquavista? The company said that the high screen resolution required by smarphones and tablets can't be reached with the present electrowetting technology provided by Liquavista.
So, what's the true story? One may argue that Amazon holds all what is really needed to launch its own joint platform for smartphones and tablets. Here is why:
- An exclusive in-house screen technology, thanks to Liquavista as a true competitive advantage. Even technology experts say Liquavista will not be ready to extend its technology to high resolution screens in the short time, we may think of a dual resolution in future smartphones and tablets: one running indoor and the other applying "on demand" when environment conditions may require it. If this seems something unreasonable to you, think of your PC or laptop, where you can set different screen resolutions
- A strong and efficient retail system, to easily market its new products: that's always been Amazon's core business. Christmas peaking sales of its products are a tangible proof of its powerful e-commerce channel
A faithful client base, as recent Amazon Prime data show (amazon.com)
Easy access to smartphone and tablet parts suppliers, thanks to its increasing worldwide presence and its manufacturing experience with Kindle products
Experience with Android, the leader operating system used by Amazon Kindle as well
Significant penetration in the entertainment sector, with Amazon Prime Instant Video and Amazon studios
A pile of cash: the latest results announced on January 30th, 2014 showed that net cash from operating activities increased by $5,475 million in FY 2013, which let the company make new investments and acquisitions, apart from debt reimbursement.
Both Apple and Samsung have proven able to make profit from this business and that's no reason to think Amazon could not achieve that goal, given the above strengths, especially technology and sale channel. The superior technology, if exploited, would give the company the opportunity to sell this kind of products at premium.
We are just imagining how the future might be of course, but what about the stock price? On February 27th it quoted at $360.13nd no DCF methodology seems to justify the current values, even considering the high revenue growth rates that the company have celebrated in the last years (2009-2012 CAGR at 32.02). By using optimistic assumptions, we may arrive at a target price of $310, as Prof. Robert A. Weigand correctly pointed out in his analysis. The adoption of more realistic assumptions that I made in terms of growth rate and operating margin could easily justify last year quotations around $250.
So, my believe is that the market seems to partially anticipate a new course of action for Amazon. Should it take place, even the current market price might be just a starting point of a new growth phase.
Bottom up: long strategies on Amazon can be justified only if you bet the company could aggressively enter the technology sector in 2015; otherwise the long-term trend for the business-as-is scenario could only be bearish.
Disclosure: I have no positions in any stocks mentioned, and no plans to initiate any positions within the next 72 hours. I wrote this article myself, and it expresses my own opinions. I am not receiving compensation for it (other than from Seeking Alpha). I have no business relationship with any company whose stock is mentioned in this article.