February has been a month categorized by elucidation in the U.S., polarized with apprehension in the Eurozone, China, and emerging markets. On the legislative front, Congress has passed a debt ceiling suspension that will last through March 15, 2015. Furthermore, Congress already has a fiscal 2014 budget in place and has agreed on the general outlines of a 2015 budget. The market risks of a government shutdown have been mitigated. The market has also garnered clarity on monetary policy. Fed Chair Janet Yellen squashed the possibility of altering the tapering of QE3 based on the sub-par labor market reports. Yellen opined that the weak numbers were a function of bad weather and stated that it would take a "noticeable change" in the economic outlook to alter its current tapering course. Growth estimates in China are falling as estimates of debt currently sit at 215% of GDP. China's central bank is seeking austerity and singled out property developers as borrowers most at risk of decreased lending. Elevated violence in Ukraine has caused a concern for debt default contagion and has pulled down emerging markets. In Europe, Mario Draghi hinted at the possibility of implementing QE to assuage deflation concerns and to buoy many Eurozone countries still in recessions.
The U.S. stock market has rallied amid increased M&A activity and strong Q4 earnings results. The notion that economic data has been gloomy due to bad weather seems to have been accepted by the market.
The U.S. 10 year notes remain in a bounded range as the Fed reiterates its' conviction on winding down QE3. Disinflation concerns are preventing a rise as the December core PCE deflator at a very low level of +1.2 y/y. The clearing of legislative issues and monetary policy transparency will take interest rates higher in the coming months.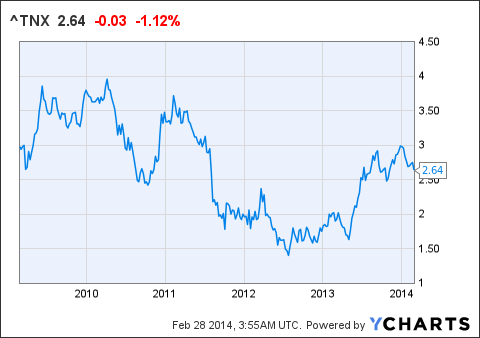 The dollar has strengthened of late with the expectation of continued tapering. Further strengthening has come as the ECB discussed the possibility of boosting stimulus to curb deflation and increase growth. The weak Q4 GDP result from Japan along with the sustained aggressive QE program by the BOJ has been positive for the dollar.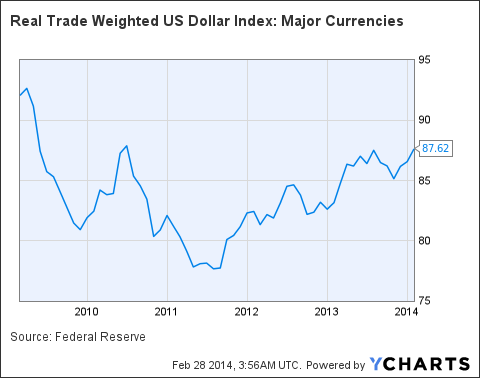 Gold prices have proved to be choppy over the month. Gold's rally with the extension of the BOJ lending programs was attenuated by the Fed's advancing tapering. Gains from the surging physical demand in China were hampered by the 4 year low of long gold positions in ETFs. Growing debt default contagion concerns among emerging markets and the speculation of an ECB easing program has provided a positive catalyst of late.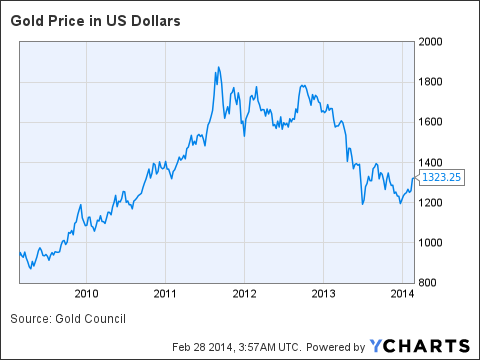 February marks an inflection point, in which individual markets are once again dominated by supply and demand fundamentals as opposed to legislative and monetary policy speculation that has been in control for the past several years. The U.S. stock market has been rallying, risks from Washington have been mitigated, and the tapering of QE suggests the Fed believes the U.S. economy is once again strong. Although uncertainty in emerging markets, China, and the Eurozone remains prevalent, signs of a world-wide economic recovery are percolating and a U.S. recovery is apparent.
How to trade this trend-
Banks will benefit greatly from a combination of rising interest rates with a recovering economy. Bank of America (NYSE:BAC) is the most undervalued and once the litigation issues are resolved, it will thrive. Within the next couple of years, concerns over emerging markets will still be prevalent. A great hedge against this risk is to add a gold position to your portfolio. Moreover, the massive quantitative easing programs that many G7 countries have implemented certainly escalates the risk for inflation to increase past where central banks are aiming. Being long the USD/EUR and USD/YEN will also prove to be profitable as the U.S. is becoming a safe haven for investment and the massive easing programs by those central banks will greatly diminish the value of their currencies.
Disclosure: I am long BAC. I wrote this article myself, and it expresses my own opinions. I am not receiving compensation for it (other than from Seeking Alpha). I have no business relationship with any company whose stock is mentioned in this article.