Earnings season can be a very rewarding or depressing time for many investors as news can quickly send shares popping or dropping.
Fortunately for longs, shares of Dangdang (NYSE:DANG) were flying high early Thursday morning as the Company beat analyst expectations on both the top and bottom lines. The good news didn't stop there as management expects first quarter revenue to be higher than what it previously had planned. The table below shows the earning results.
| | | | |
| --- | --- | --- | --- |
| Dangdang's Earnings | Revenue | EPS | Guidance |
| Analyst Estimates: | $315.8M | -$0.07 | $256.6M |
| Actual Results: | $325.7M | +$0.04 | $282.9M |
As you can see, Dangdang absolutely killed it with its earnings report. Shorts seemed to be caught off guard which helped shares to soar more than 31 percent on the day, reaching highs that haven't been seen in years. Before yesterday's report, Dangdang's last three reports combined to give the Company an EPS of $-0.34. Clearly things are going in the right direction for the Company as it returned to profitability after struggling to do so the last couple of years.
Q4 Key Takeaways
Gross margin was 17.6%, compared with 13.4% in the corresponding period in 2012.
Active customers grew to 8.9M, including 3.1M new customers in the fourth quarter of 2013, representing increases of 18% and 21%, respectively, from the corresponding period in 2012.
Total orders were approximately 18.1M, a 13% increase from the corresponding period in 2012.
Average contribution per customer grew 32% to $60, up from $45 in the same period last year.
Media product revenue represented a 27.9% increase from the corresponding period in 2012.
General merchandise revenue represented a 12.8% increase from the corresponding period in 2012.
Other revenue including revenue from third-party merchants represented a 24.9% increase from the corresponding period in 2012.
Turnover days for accounts receivable were 2.6 days, compared to 3.3 days in the corresponding period last year. This was due to improved payment terms from the Company's advertising business.
Turnover days for inventory dropped to 88 days. This was a reduction of 10 days from the corresponding period last year. According to management, this was due to improving inventory control, better production and product selection.
Dangdang Looks To Keep Running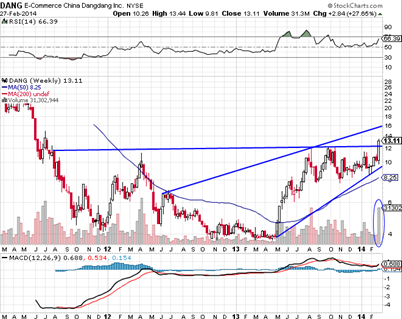 It's no secret that Dangdang has been one of Wall Street's darlings since breaking out last May. Since then, shares have climbed from $4 a share to over $13 a share, representing a return of more than 200%.
Last March, I wrote an article about Dangdang and told investors that picking up shares under $4 would be a great move, considering at that time more than 75% of the Company's stock value could be explained just by its cash on hand. With the turnaround well underway and producing results, I expect that shares of Dangdang will continue to run as the stock is just in the beginning of a breakout.
Conclusion
Yesterday's Fourth quarter results finally validated management's plans in which it grew from an online bookstore to an integrated online shopping mall. Here is what Co-Founder and Executive Chairwoman Yu Peggy had to say about the quarter.
"I'm happy to report that Dangdang has returned to profitability in the fourth quarter of 2013. This reflects our commitment to improving our financial performance and a solid execution of our strategies to transform Dangdang from online bookstore into a integrated online shopping mall targeting mid- to high-end consumers." ... "Our Flash Sales Channel continues to perform well and we recently added new categories, such as cosmetics, books, food and the consumer electronics to this channel. Combined general merchandise sales from both principal and marketplace surpassed those of books and media for the fifth consecutive quarter, increasing 80% year-over-year. We remained the dominant force in China's online books and media sector, generating revenue growth of 28% for the quarter."
The change to getting into the Flash Sales business and becoming an integrated online shopping mall has undoubtedly turned the Company around. This is what has led the Company to smash next quarter's guidance by more than $27M.
Another thing that investors should know about is the new tax rules that will benefit Dangdang. Last December, the PRC Ministry of Finance and State Administration of Taxation issued a new circular providing that for the period from January 1, 2013 to December 31, 2017, wholesale and retail book sales will be exempt from value-added tax.
Just when you thought things couldn't get any better in the report, it does. Talk about icing on the cake for longs. Management commented on the new tax ruling saying that it will have a positive impact on its financials over the next few years. With everything that we learned about from Dangdang, one can certainly see that the Company looks like its old self again and is primed to turn higher in the coming days and months, providing investors with some more fantastic returns.
As always, I'm providing you with my track record and other particular stocks that I recommend. The link provided will show you all of my picks, how they have fared, and where I think they will be going in the near future. I think you will find my track record to be very impressive as well as useful.
Disclaimer: Investors are always reminded that before making any investment, you should do your own proper diligence on any stock mentioned in this article. Have a great day and as always, I look forward to hearing your thoughts or questions that you might have.
Disclosure: I have no positions in any stocks mentioned, but may initiate a long position in DANG over the next 72 hours. I wrote this article myself, and it expresses my own opinions. I am not receiving compensation for it (other than from Seeking Alpha). I have no business relationship with any company whose stock is mentioned in this article.