Annaly Capital Management (NYSE:NLY) delivered fourth quarter results this week which contained both positive and negative themes. The mREIT reported:
Q4 2013 GAAP net income of $1.0 billion ($1.07 per common share) compared to $193 million ($0.18 per common share) in the third quarter of 2013 and $701 million ($0.70 per common share) in the fourth quarter of 2012. Annaly's GAAP earnings were largely driven by unrealized gains on interest rate swaps in the fourth quarter.
(Source: Annaly Capital Management 4Q 2013 Stockholder Supplement February 25, 2013, click to enlarge)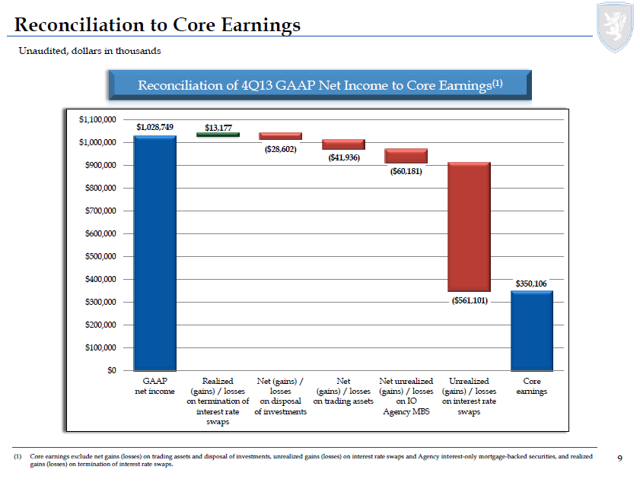 For the full-year 2013 Annaly Capital Management reported GAAP earnings of $3.7 billion ($3.86 per share) compared against $1.7 billion ($1.74 per share) in 2012.
Annaly's fourth quarter core earnings came in at $350 million ($0.35 per share) vs. $282 million ($0.28 per share) in the previous quarter and vs. $335 million ($0.32 per share) in the year ago quarter.
2013 full-year core earnings stood at $1.2 billion ($1.21 per common share) compared against $1.5 billion ($1.54 per common share) in fiscal year 2012 -- a decrease of 20% (21% per share).
Annaly Capital Management's average interest rate spread increased to 1.43% in the fourth quarter up from 1.07% in the third quarter 2013 and also up substantially from last year's dismal average interest rate spread of 0.94%.
Annaly reduced its leverage ratio to 5.0:1 in the most recent quarter down both sequentially and y-o-y: The third quarter 2013 leverage ratio stood at 5.4:1 whereas the fourth quarter 2012 leverage ratio came in at 6.5:1.
Annaly's book value per share (BVPS) decreased again sequentially: Fourth quarter 2013 BVPS came in at $12.13 compared to $12.70 in the third quarter 2013 and $15.85 in the fourth quarter 2012. BVPS is down 4.5% sequentially and 23.5% y-o-y.
While Annaly Capital Management's reduced leverage ratio and increasing net interest spread is clearly a positive, it is worrisome that the mREIT had another quarter of eroding per share book values. However, fourth quarter results are clearly much better than Annaly Capital Management's bad third quarter 2013 earnings that certainly contributed to another sequential dividend cut.
Share performance
Annaly Capital Management has recovered a bit since it marked new 52-week Lows at the end of last year. The mREIT currently quotes at $11.17 and has rebounded about 16% since its most recent 52-week Low of $9.66.
(Source: Yahoo Finance, click to enlarge)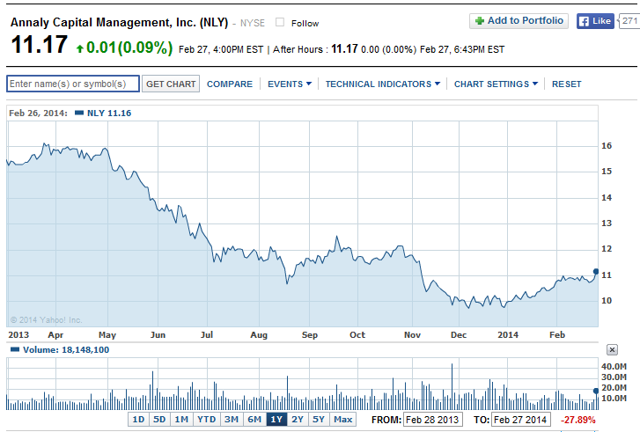 The waves of consolidation washing over the mREIT sector have been quite forceful over the last two years. Considering that Annaly's book value per share has continued to decline in the fourth quarter and investors still face cyclically depressed dividends in 2014, I still think Annaly has not yet reached a turnaround quarter.
Annaly Capital Management and American Capital Agency Corp. (NASDAQ:AGNC) have both lost substantial amounts of market capitalization over the last two years: Annaly lost about 33% while AGNC lost approximately 27%.
(Source: Yahoo Finance, click to enlarge)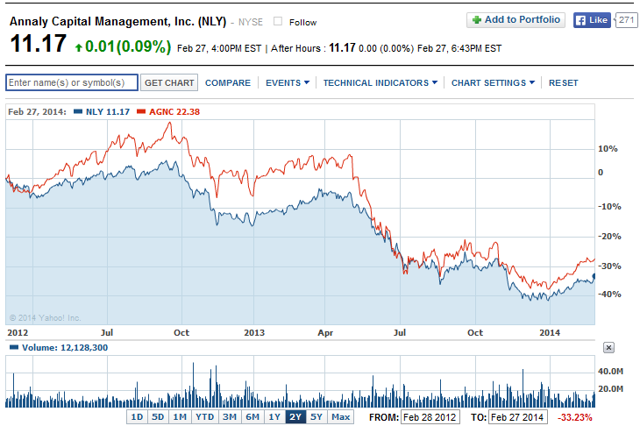 Dividends
While Annaly's stock currently has a dividend yield of 10.74%, I remain cautious with respect to Annaly's prospective dividends. Annaly has cut its quarterly dividend three times consecutively in 2013 alone from $0.45 in the first quarter of 2013 to $0.30 in the fourth quarter of 2013 (that's 33% just last year). MREITs face a dividend adjustment cycle that should put further pressure on distributions especially if the Federal Reserve takes its foot of the gas and causes higher interest rates. Consequently, I continue to expect lower dividends for Annaly Capital Management in 2014.
Conclusion
Generally, I welcome that Annaly Capital Management has made efforts to bring down its leverage ratio and de-risk its balance sheet. Improving net interest rate spreads and less uncertainty in the market also benefited the mREIT. However, ongoing declines in book values weigh heavily and if Annaly isn't able to stop book value erosion, further dividend cuts are likely. I also remain pessimistic with respect to Annaly's future dividend payments when the super-easy monetary policy of the Federal Reserve comes to an end. Despite an earnings beat and selective improvements present in Annaly's fourth quarter results, another sequential decline in quarterly book values outweighs the positives. Since there are no consistent signs of a turnaround in Annaly's underlying performance, I will continue to stay Short with further downside impulses coming from expected dividend cuts.
Disclosure: I am short NLY. I wrote this article myself, and it expresses my own opinions. I am not receiving compensation for it (other than from Seeking Alpha). I have no business relationship with any company whose stock is mentioned in this article.