Ford is simply having some minor problems that, in time, will pass.
Have you noticed that this cold weather seems like it isn't ready to go away yet? No sooner did the U.S. get a nice week than it's back down to frigid temperatures across the Midwest and on the East coast.
The weather has certainly acted as a catalyst for some companies to post crummy earnings, as everyone from Starbucks (NASDAQ:SBUX) to Coach (NYSE:COH) complained that it hurt sales over the past couple of months. We're seeing the same story with automakers across the board.
Ford is seeing the effects of the cold weather, as well.
The buzz throughout the industry is that most dealers are looking for Presidents Day to mark the officially beginning to "selling season" for them, but the weather just doesn't seem like it wants to participate just yet.
That's alright, though - you can't really buy cars from Amazon.com (NASDAQ:AMZN) at home in your underwear, so pent up demand is eventually going to make its way back out to the dealerships. And, like I wrote in my article as to why you should have shorted natural gas (NGAZ) to start this week, I'm again simply stating that this weather will eventually pass.
I'm not a meteorologist, but I'm going to let you in on a small secret. Every winter it gets colder and every summer it gets hotter. And it's been like that for either millions of years or 6,000 years - depending on who you ask. Regardless, that's an identifiable trend.
Ford's been having a rough go of it this winter - both from stock price perspective, and from a news perspective. The positive has been that overseas sales for Ford [and GM (NYSE:GM)] are both looking strong, so the company's investment it made into China and Europe seems like it's going to pay dividends and be the source for the company's global growth.
But, there's also been some unease.
First, Ford slipped in its Consumer Reports ranking, as reported by CNBC:
While Tesla is riding high, Ford's ranking has hit a new low since CEO Alan Mulally took over.

Its score of 50 is only slightly lower than last year's score but caused it to rank as the second-worst brand-a drop from 2013. The only automaker to perform slightly lower was Jeep, which Ford edged out by a few decimal points. (The scores were both rounded up to 50 in the rankings.)

As has been the case in recent years, the biggest complaint from Ford owners was the reliability of their Ford Sync and MyFord Touch in-car connectivity systems.

"Sync and MyFord Touch have proved to be an Achilles' heel ... with the system locking up or being slow to respond," Bartlett said. "It is bringing Ford's overall reliability down."
If you read the report, you would know that Tesla (NASDAQ:TSLA) - of whom I've been bullish on for a while - received a near perfect score of 99 out of 100. Additionally, Ford has already addressed the Sync issue when it swapped out Microsoft's (NASDAQ:MSFT) Sync for BlackBerry's (NASDAQ:BBRY) QNX - something I wrote about earlier in the week this week. As a BlackBerry shareholder, that's what you call a two-fer.
Bloomberg reported:
Ford Motor Co. ((NYSE:F)), struggling with in-car technology flaws, will base the next-generation Sync system on BlackBerry Ltd.'s QNX and no longer use Microsoft Corp.'s Windows, according to people briefed on the matter.

Using QNX will be less expensive than licensing Microsoft technology and will improve the flexibility and speed of the next Sync system, said the people, who declined to be identified because the decision hasn't been made public. Ford has more than 7 million vehicles on the road with Sync using Microsoft voice-activated software to make mobile-phone calls and play music.

Chief Executive Officer Alan Mulally, who was said to be a candidate to become Microsoft's CEO until early this year, has seen Ford slump in surveys by J.D. Power & Associates and Consumer Reports, with customers citing malfunctioning technology systems and touch screens. The second-largest U.S. automaker has said the quality of its vehicles has been "mixed" each of the past three years and fell short of its plan to improve those results in 2013.
The headline again this morning was revolving around incentive selling, of which Ford and GM have been resorting to in order to help combat the last couple months of poor weather. It's also been the crux of the current bearish case on the company, citing the incentive selling that the company was participating in shortly before the demise of the auto industry n 2007-08. Reuters reported:
General Motors Co (GM.N) and Ford Motor Co (F.N) this week ramped up deep discounts on many of their U.S. models, extending those offers through March in an effort to lure customers back into winter-ravaged showrooms.

Some of the heaviest discounts are being offered by Ford and Chevrolet dealers on full-size pickups - $8,000 and more on the 2014 Ford F-150 and $9,000 and more on the 2014 Chevrolet Silverado, according to Internet listings posted Thursday.

But U.S. dealers also are sweetening deals on a wider range of vehicles, from low-priced economy cars such as the Chevrolet Sonic to popular crossovers such as the Ford Escape, fueling fears of an escalating "discount war" among the bigger manufacturers.

The latest offers come as the Detroit automakers and a number of their competitors appear to have been slammed by a third straight month of extreme weather in many parts of the United States, causing inventories of unsold vehicles to remain at unseasonably high levels.

"We believe short-term pent-up demand is building, but it's difficult to know when it will be released," said analyst Joseph Spak of RBC Capital Markets. "It could be March or spread out over a few months (AND) is also likely dependent on the weather."
All that news aside, I continue to think there's good days ahead coming for Ford. These are likely just small bumps in the long-term road for Ford as it continues its growth back to a major player in the global auto market. Incentive selling, as I've noted in the past, is nowhere near the levels it was at in 07-08 and it's likely to pare back once people's asses are unfrozen from their respective couches across the nation.
And there's some bullish sentiment to pay attention to with Ford. Aside from the company posting a dividend with a good yield, there is serious potential for growth globally. From a P/E standpoint, Ford is still relatively cheap to own.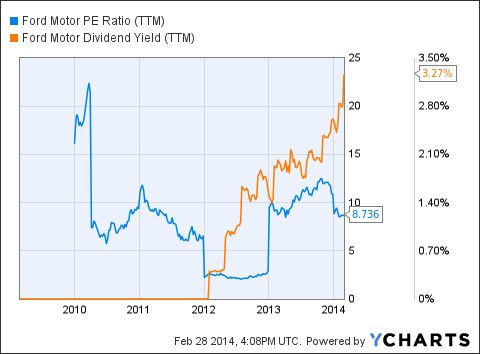 F PE Ratio (TTM) data by YCharts
I would be concerned if the company showed signs that it was going to stop innovating, but that's really the opposite of what it looks like. Most notably, Ford's new Focus and F-150 are big steps in terms of innovation for the company.
As it partners with two other stocks I'm long in BBRY and Alcoa (NYSE:AA), I'm going to be holding Ford here and could potentially continue to add on dips.
Best of luck to all investors.
Disclosure: I am long F, BBRY, AA, GM. I wrote this article myself, and it expresses my own opinions. I am not receiving compensation for it (other than from Seeking Alpha). I have no business relationship with any company whose stock is mentioned in this article.