About a week ago I discussed two undervalued home builders - MDC Holdings (NYSE:MDC) and Tri-Pointe Homes (NYSE:TPH) - who had underperformed their peers by as much as 30% to date.
But in quick order, both of them have jumped $3 in just five trading days to the top of their one-year trading range (See: Trading The Ranges In M.D.C. Holdings And Tri-Pointe Homes, February 19, 2014).
Today I am adding another stock to this duo - Brookfield Properties (NYSE:BRP) - a builder and land-developer that has underperformed the sector leaders [D.R. Horton (NYSE:DHI), Lennar (NYSE:LEN), Toll Bros (NYSE:TOL), Meritage Homes (NYSE:MTH) and the I-Shares U.S. Home Construction Index (NYSEARCA:ITB)] by as much as 24% Year-to-date (2014); with the most under-performance occurring just this week (see below).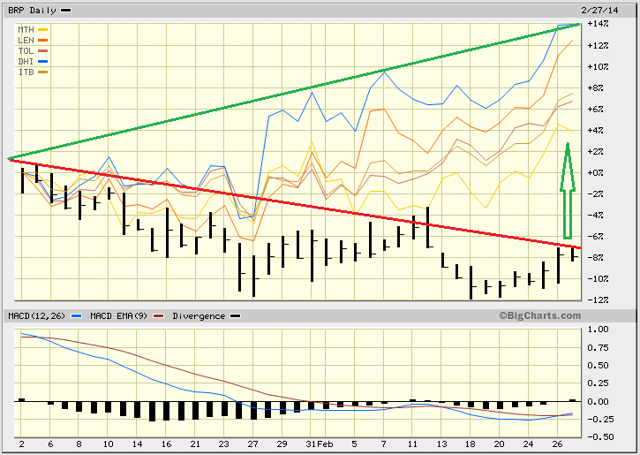 Click to enlarge
This recent turn of events is surprising because Brookfield had outperformed all peers since the housing sector's valuation low on October 4, 2011 (chart below).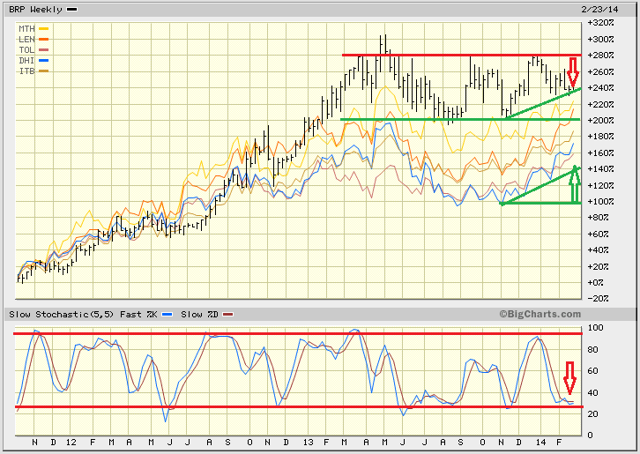 Click to enlarge
This under-performance was similar to the fate of M.D.C. Holdings and Tri-Pointe Homes just a week ago; and it's the largest short-term spread I have seen between Brookfield and its peers in over a year. Disconnects like this give the nimble investor a chance to pick up a top name at a discount.
Each time Brookfield has previously fallen behind its peers, it has risen again to the top of its trading range, which in this case is $24.35, or $2 above the current price.
Brookfield can also run quickly, as seen by the sudden price spikes (below), a trait similar to both M.D.C and Tri-Pointe.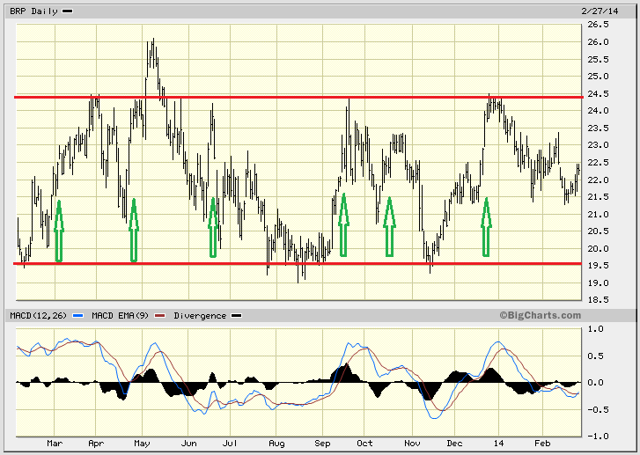 Click to enlarge
Now let's look at the fundamentals of the company after its recent Q42013 and full-year 2013 earnings results announced on February 11, 2014.
Net income increased 33% to $142 million, or $1.21 per diluted share, from $93 million, or $0.91 per diluted share in 2012.
Housing revenue was $983 million for the year ended December 31, 2013 compared to $718 million in 2012.
Home closings increased 23% to 2,216 units compared to 2012.
Average home selling price was $444,000, or an increase of 12% compared to $397,000 in 2012.
Active housing communities, including unconsolidated entities, increased to 47, up 42% from 33 in 2012.
Backlog units, including unconsolidated entities, increased 10% to 915 units; while backlog value increased 23% to $448 million.
Assets totaled $3.34 BL, an increase of $518 million or 18.3% compared to 2012, due to acquisitions of $358 million, development activity, and stronger backlog.
There was increased activity in all operating segments, particularly in California and the Central and Eastern U.S. as the U.S. continued its recovery.
Also, on a trading note, the short-interest has decreased to only 1% of the float, the lowest of any builder. The stock's short-interest is down 75% since October 1, 2013.
On February 10, 2014, RBC Capital Markets' Robert Wetenhall noted (regarding Brookfield),
" In terms of specific company upside/downside payoffs, we believe that Brookfield Residential Properties, KB Home (KBH), and PulteGroup (PHM) offer above-average payoffs. We note that more than half of Brookfield Residential Properties' earnings are derived from Canada, dampening EPS sensitivity to our assumptions regarding the pace of the U.S. housing recovery."
Brookfield Residential did not participate in the tragic sell-off of assets and falling prices that occurred during the U.S. financial crisis (2008-2011). It remained profitable throughout with its Canadian home-building division.
It currently owns 10,403 developed lots in the high-cost Ontario area; and it has expanded its new-home communities to Calgary and Edminton in the burgeoning Alberta area, where the energy industry is headquartered. The company also opportunistically "went long land" in the U.S. a few years ago, at a time when it was very out of favor to do so.
The company's Alberta communities thrive in a metro area boasting just 4% unemployment, similar to the energy industry surrounding Houston, TX. If the XL pipeline is finally approved, it will only add to the job growth in Alberta, CN.
Brookfield has valuable legacy-land assets in Northern and Southern CA, Washington DC, Phoenix AZ, Austin TX, and Denver, CO; in addition to its 55,351 lots in Canada.
| | |
| --- | --- |
| Locale (USA) | Developed Lots (55,227) |
| Northern CA (SF Bay Area) | 8,887 |
| Southern CA | 12,573 |
| Washington DC | 4,398 |
| Phoenix, AZ | 6,007 |
| Austin, TX | 13,458 |
| Denver, CO | 9,904 |
| | |
| --- | --- |
| Locale (Canada) | Developed Lots (55,351) |
| Metro Ontario | 10,403 |
| Calgary | 28,228 |
| Edmonton | 16,720 |
The company entitles, permits, develops, and sells these land assets to other builders over a long period of time, often a decade or more, while also building its own communities on some of its land. The profit margins on its land sales are 29%; and the company estimates (2/11/2014) that the net asset value of all its land holdings - net of all costs to develop them over the next decade, would be $5BL (US). The current value of Brookfield's assets is $3.34BL, up $518ML (18.3%) from 2012.
What possibly might have knocked the company down after its last earnings announcement? It was the reduction in its land sale revenues. These were 40% less in 2013 (than 2012) as the company began metering-out its lot sales, similar to other builders in the construction industry.
There is a simple explanation for this action. Their land was worth more - sometimes much more (20%+) - than it had been worth the year before. And once developed lots in the San Francisco Bay Area and coastal CA are sold, the replacement cost can be exceedingly high, as much as 50% more.
The company was experiencing strong demand from home buyers and builders in its prime Canadian and U.S. locations, many of which are high-cost areas, and wisely chose not to burn through its land bank too quickly.
To read more about Brookfield Properties, see: Brookfield Residential Hits Another Homer - So Why The Q3 Booing? November 7, 2013
Disclosure: I am long BRP, NLY, WMC, REM. I wrote this article myself, and it expresses my own opinions. I am not receiving compensation for it (other than from Seeking Alpha). I have no business relationship with any company whose stock is mentioned in this article.