"Don't be a pig in a highly levered global marketplace. There is risk out there." - Bill Gross, Investment Outlook February 2014
To recap, The 4% Plan is take on the 4% rule, which is a well-regarded solution to owning an income portfolio through retirement years.
It's a tricky calculation, however the plan is divided into a set of asset groups that should ensure the following:
4% First Year Annual Distributions
Initial Portfolio Yield over 4%
Yearly Dividend Growth
Increases in Annual Distribution Above Inflation
Long-Term Capital Appreciation
1% Cash Balance to Ensure Monthly Distributions
As I wrote in the above-linked article,
"The main goal of the 4% Plan is to achieve a 4% yield on capital invested from dividends only and without requiring asset sales. Every dollar, therefore, must yield 4% per year on average in dividends. The 4% yield, on each $100,000, would naturally equate to $4,000. This adds up to an average $1,000 per quarter."
With increasing yield, the 4% plan investor would increase distributions at a level covered under the distribution/total dividends payout ratio.
In other words, in the $100,000 portfolio, Y2 may bring in 4.2% in yield with an increase in portfolio value of 10%. As such, the total dividends would equate to $1155 per quarter. Increasing the payout from $1000 to $1100 per quarter ($333 to $367 monthly) would be a rational investment decision for this income investor, which clearly displays a raise above the current rate of inflation.
In order maintain the appropriate level of risk, the asset allocation strategy divides the portfolio into four segments. These are equities, bonds, commodities and cash; the updated 2014 allocation levels are as follows: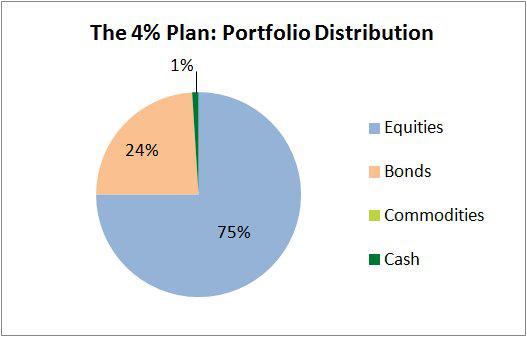 The change in the recommended portfolio allocation, due to market conditions, increases bond exposure from 18% to 24%, decreases commodities from 5% to 0% and lowers cash from 2% to 1%.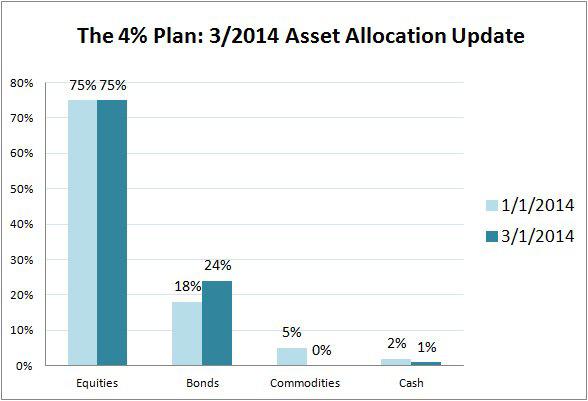 The 2014 allocations subdivides the equities into five categories. When adding bonds, commodities and cash, there are eight categories total. The year started off with the following recommended portfolio allocation: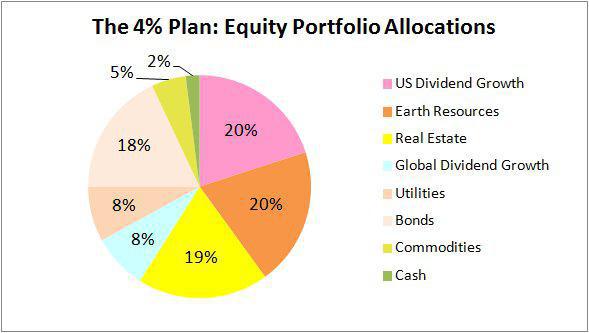 The strategic update relevant to March 1, 2014 presented here will showcase a minor change in equities, a reduction of all commodities and added bond exposure.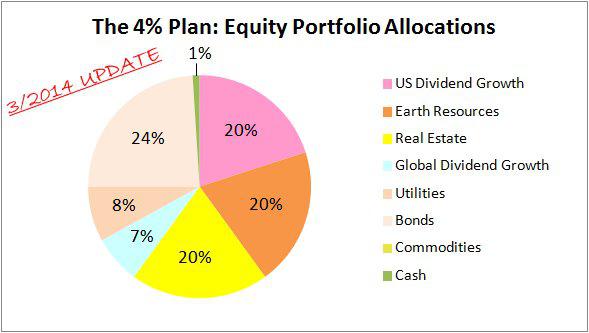 The 4% Plan: March 2014 Updated Asset Allocations
U.S. Dividend Growth, 20% (stable)
The allocation to U.S. Dividend Growth stocks recommendation is consistent at 20%. The category stalwarts suffered a minor decline in the first two months of the year. Notable losses in the major U.S. dividend leaders include The Coca-Cola Company (NYSE:KO), down 7.9%, Wal-Mart Stores Inc. (NYSE:WMT), down 5.3% and The Procter & Gamble Company (NYSE:PG), down 4.2% on the year.
As such, this area of the portfolio likely has suffered YTD, as such adjustments should be made to maintain the 20% level.
Also, with currency risk a major theme developing in 2014, corporations with major ex-U.S. exposure may be facing major headwinds.
Although today's currency risk is a net benefit to corporations domiciled in reserve currency nations, large, well-run companies with major ex-U.S. and EM exposure, such as KO, PG and Philip Morris International, Inc. (NYSE:PM), may be seen as undesirable holdings.
WMT - A Top U.S. Dividend Growth Stock Pick
WMT only has 22% of their profits from the international division. As they grow, they will be spending overseas, especially with new CEO Doug McMillon running the show. A strong dollar will buy more land, reduce initial lease costs and lower building costs (in dollar terms). Also, with the Chinese currency now trading in wider ranges and to the downside, such imports will also cost less in dollar terms. As such, WMT may be seen as a safe and exciting play when incorporating the currency risk theme into the U.S dividend growth space.
On February 27, 2014, WMT was trading at $74.56. With a forward-year EPS estimate of $5.37 per share, which translates to a forward P/E of 13.9, or an earnings yield of 7.2%. The quarterly dividend was just increased this month to $0.48/share, which equates to a healthy 2.6% on an annual basis.
BDC's - A High-Yield U.S. Dividend Growth Segment
With the Coca-Cola's, Phillip Morris' and Procter & Gamble's of the world currently under pressure due to currency risk, investors may want to look at higher-yielding, U.S. companies that are exclusively exposed to King Dollar.
Business development companies [BDCs], which generally invest in private debt and equity capital of U.S. corporations, are high-yield plays that take advantage of the lack of lending available today from the larger money center banks and the smaller regional banks.
Select BDCs currently trade at a discount to NAV, however the NAV calculation on a day-to-day basis is difficult as debt and ownership stakes are held in a diversified portfolio of private companies.
According to BDC Buzz, a leading BDC analyst, as of February 2014 two of the most undervalued BDCs are Prospect Capital Corporation (NASDAQ:PSEC), yielding 12% at $11.02/share, and Fifth Street Finance Corp. (NYSE:FSC), yielding 10.2% at $9.80/share.
Also to note, on February 24, 2014, the S&P Dow Jones Indexes announced that BDCs would no longer be eligible for their U.S. indexes. With a $3.3 billion market cap., PSEC was tossed from the S&P Small Cap 600 Index, which immediately raised the supply of stock well above demand. As a result, PSEC dropped 3% the next trading day with over 4x the average trading volume.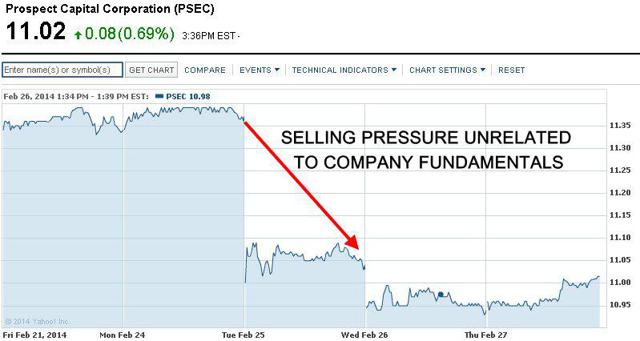 As the small cap S&P index ETFs were to forced to sell PSEC at once, value investors may see a current opportunity to buy into this BDC at an enhanced value.
XLV - The Low-Cost, Domestic Healthcare Index ETF
Another great area for U.S. dividend growth investors to hold is domestic healthcare. The sector is well-represented by the Health Care Select SPDR ETF (NYSEARCA:XLV), which is up 7.1% YTD and has a management expense ratio of 0.16%.
Although XLV's dividend is lower than the WMTs and PGs of the world, the TTM yield is a decent 1.4%. Also to note, the XLV 5-year compound annual growth rate comes in at 7.75%, well ahead of inflation.
In viewing XLV's 6-year annual dividend history, investors can note the steady dividend growth.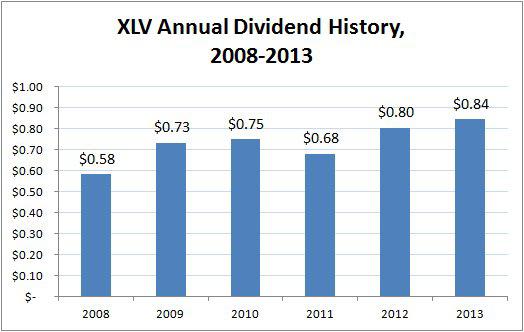 Having a capital growth aspect of the U.S. dividend growth portfolio is important as well, which more than makes up for the relatively small 1.4% yield.
In short, the sector appears poised for further growth and can be seen as an excellent holding that combines dividend growth and capital appreciation.
Earth Resources, 20% (stable)
This category is dedicated to energy, mining and related stocks. 20% exposure here gives investors access to energy dividends.
A few recommendations include:
For those looking to own mining stocks in this area of the portfolio, the Vanguard Precious Metals & Mining fund is a low-cost option however it will only likely distribute dividends in times of precious metals and other mining commodity advancement (coal, potash, ETC..).
Another option here are closed-end funds that trade at a discount to NAV and provide income in this sector by selling options. Diligent research is required here as higher-yielding funds may offer return of capital as part of the income, which defeats the purpose of "dividend growth."
One CEF that trades at a nice discount and yields above 6% is the BlackRock Energy & Resources Trust (NYSE:BGR). This fund trades at a 10.8% discount to NAV, has never lowered the quarterly distribution, uses only income and gains for distributions (no ROC) and yields 6.7% at $24.07/share.
Real Estate Investment Trusts (REITs), 20% (up from 19%)
With 2013 a horrible year for REITs, the recommended allocation for this equity area of investment was 19%. Now that the REITs are up 8.6% on the year, as measured by the equity REIT fund Vanguard REIT Index ETF (NYSEARCA:VNQ), the 19% initial investment should naturally have increased to 20%.
Most investors are more comfortable holding equity REITs versus non-traditional REITs such as mortgage REITs (mREITs). Equity REITs hold property and most rental/lease income is passed through to shareholders, which provides a strong stream of revenue backed by hard assets.
The basic premise here is to own a diversified basked of REITs that provide exposure to different types of holdings, such as healthcare, retail, hotels and residential rental units.
A couple of suggestions here include HCP Inc. (NYSE:HCP), yielding 5.7% at $38.35, Camden Property Trust (NYSE:CPT), yielding 4% at $65.58 and American Realty Capital Properties (ARCP), yielding 6.8% at $14.75. HCP gives investors relatively safe, diversified healthcare exposure, while CPT owns residential communities across the U.S. and ARCP is the largest retail net-lease REIT that is heavily focused on growth.
Another suggestion here is the Cohen & Steers Quality Income Realty Fund Inc. (NYSE:RQI), which is a diversified closed-end fund trading at a ~11% discount to NAV. RQI is rewarding current investors with a 7% yield at $10.32/share. RQI uses leverage and with part of that leverage, the company purchases high-yielding preferred shares.
For what it is, RQI should be trading at a 2-5% premium as investors would be hard-pressed to mimic the fund or find a suitable alternative. Dividends are income-only, which gives room for capital appreciation as well. Also, Cohen & Steers (NYSE:CNS), the fund's sponsor, is arguably the top asset manager in the world that specializes in global REIT and infrastructure stocks.
Global Dividend Growth, 7% (down 1%)
With currency risk a big theme this year, global dividend stocks have been hit in a similar fashion to U.S. dividend stocks. It is recommended that global exposure be limited to operators who earn income in a non-Yen reserve currency, which limits investors euro, Swiss franc and GB pound exposure.
A European large-cap fund that tracks a developed country index would be a great suggestions, however keep in mind the weighting would also consist of other 4% plan categories (earth resources, REITs and utilities).
For a specific selection here, UBS AG (NYSE:UBS) is a Swiss money center bank that has been on a tear. The dividend is small (0.8% at $21.10/share), however once the company fully recovers from the global financial crisis fallout the dividends should come back. Early investors in UBS surely will be rewarded.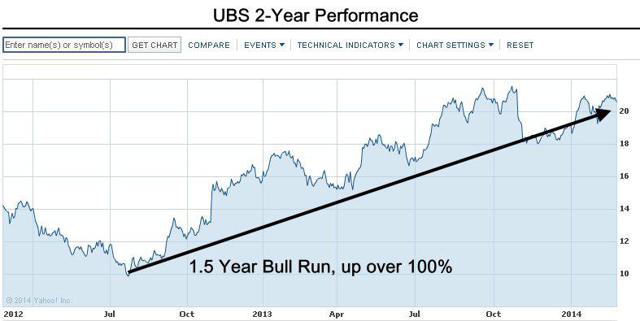 Utilities maintain an 8% stake here, with stable, consistent dividend growth and slow, patient capital appreciation the basic objectives. This category includes traditional utilities, such as electric, gas and water utilities, and non-traditional utilities that represent a similar theme. The non-traditional categories here include telecom, cable providers, toll road operators, airports, railways, tower REITs and marine ports.
For investors looking for exposure here, two recommendations are Vodaphone PLC (NASDAQ:VOD) and a diversified closed-end fund. the Cohen & Steers Infrastructure Fund, Inc. (NYSE:UTF).
UTF is trading at a 13% discount to NAV and at $21.41 is yielding 6.7%. The utility coverage here is about 68% of the fund, with the rest of the holdings falling into earth resources (16%) and income investments such as bonds and preferred shares (16%).
Vodaphone may be a little tricky to determine dividends moving forward (due to the Verizon Communications (NYSE:VZ) spin-off transaction and current payout due), however the company has an excellent track record of dividend growth and holds a strong basket of European assets.
With commodities improving quickly YTD and the strong dollar in pursuit of an anti-precious metals theme, the recommended commodity hedge has been taken out of play. An increase in bonds is recommended here, which will earn steady income throughout a year which may be seen as a sideways market.
Select bond funds are making a fortune for investors using leverage and the sweet spot on the yield curve, which virtually guarantees high-income and capital appreciation as holdings advance to maturity.
PIMCO, the king of bonds, has several closed-end funds that take advantage of both leverage and the yield curve to give investors yields in the 7-9% range.
The funds trading at a discount that are recommended are PDI, PCI and PFN, all from PIMCO. Also included in the mixed bond portfolio recommendation is PTY, a Bill Gross-managed and owned favorite that is trading at a premium. Also, the no-load PIMCO investment grade bond fund PBDDX holds a place here as a bastion of safety.

In the sample above, $240k is a hypothetical 24% bond investment allocation to $1MM portfolio. The recommended portfolio is based on a 20%+ base of non-leveraged investment grade corporate bonds, yields over 7% and trades a current premium of -0.66% to NAV.
Commodities, 0% (reduced from 5%)
Commodities have been on a tear in the first two months of 2014. With the strong dollar a real threat to the rally, it is recommended to take the exposure off the table to buy bonds.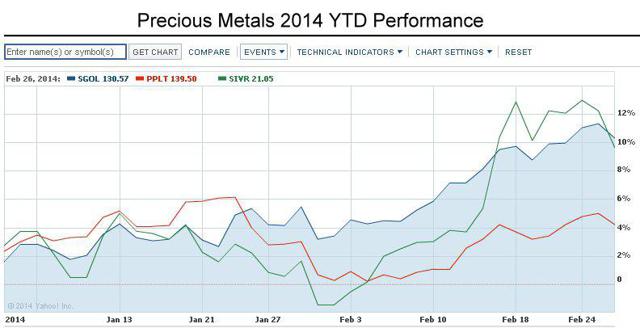 Using the ETFS precious metals funds as a tracker, gold (NYSEARCA:SGOL) and silver (NYSEARCA:SIVR) are up ~10% YTD and platinum is up ~4%. With such an advance and currency risk at play, the recommendation is to take the profits off the table.
In the 4% plan, commodities are only supposed to be a hedge against inflation. With this much profit YTD however, a better play is to lock in the profits and use the total proceeds to buy bonds in the 7%+ yielding bond portfolio.
With a 7.17% annual yield on the bond portfolio sample, 5.98% in income is left to be made by the end of 2014 (not to mention year-end special distributions, which were pretty big with the PIMCO closed-end funds in 2013).
The ~10% commodity return plus ~6% bond income return for the remainder of the year will leverage out to a 16% return from this portion of the portfolio. As the PIMCO bond funds trade closer to NAV or improve due to PIMCO's leading fixed-income strategies and special year-end distributions are announced, the total return here may be enhanced even further.
To maintain three months of distributions, a 1% cash level should be maintained. The extra 1% from the earlier recommended level of 2% is filtered into bonds. Cash earns nothing and is only here as a guarantee of monthly income.
Conclusion
In an era of 0% money market and checking account returns, income investors are forced to find yield in market-traded assets such as stocks and bonds. Utilizing strategies that are defined by the 4% plan aim to provide increasing income while promoting portfolio growth and minimizing risk.
2014 may be the year that is defined by currency risk and king dollar, as seen in the first two months of the year. U.S. stocks, as well as corporations housed in the developed countries (of non-Yen reserve currencies) with minimal non-developed currency risk are recommended moving forward for equity and income exposure.
Utilizing BDCs in place of companies such as KO and PM will increase U.S. exposure and add yield while reducing risk, as many U.S. dividend stalwarts such as KO and PM maintain exaggerated currency risk.
By capitalizing on the strong YTD performance on commodities and pushing those funds to bond assets with a 7%+ annual yield, an increase in dividend income is welcomed alongside a 16%+ total return on the original 5% commodity allocation.
In the above sample portfolio, a 4% yield is easily achieved. In fact, a 5% yield is very possible using BDCs and the higher-yielding bond plays from PIMCO, which equates to higher monthly distributions or additional capital to reinvest by year-end.
As Bill Gross reminds us, we live in a highly leveraged world. There is real risk out there and there is no need to be a pig. As REIT investors learned in 2013, the huge run-up into late-May turned upside-down and then traded sideways for the remainder of the year.
In learning from Gross, in 2014 maintaining the appropriate risk profile is key. This can be achieved with the correct asset allocation and the willingness to take both profits and losses as needed.
Disclosure: I have no positions in any stocks mentioned, and no plans to initiate any positions within the next 72 hours. I wrote this article myself, and it expresses my own opinions. I am not receiving compensation for it (other than from Seeking Alpha). I have no business relationship with any company whose stock is mentioned in this article.