By Ryan Puplava
On Financial Sense Newshour last weekend, I suggested that this would be a big week for consumer discretionary stocks due to a slew of earnings out of the retail group. Also this week, we saw some important housing data points, which influence the homebuilders and housing product groups within the discretionary sector.
It was a slow start this week with some cautious comments heading into earnings for J.C. Penney (NYSE:JCP) and other department stores on Monday, but sentiment quickly changed on Tuesday when Macy's (NYSE:M), Home Depot (NYSE:HD), and Vitamin Shoppe (NYSE:VSI) rallied as a response to earnings and managements' comments on conditions. Investors have been puzzled by the recent lull in economic activity for January and February. Many have wondered whether it was weather-related or actually the result of slowing economic conditions. This week put many of the puzzle pieces together due to earnings and housing data. More pieces will be added next week on the economic front.
We started the week with Macy's earnings. It was interesting to note from the management call that conditions were strong in November and December, but they were disappointed in January:
"In part, poor January sales were due to the unusually harsh winter weather across much of the country. At one time or another during January, 244 Macy's and Bloomingdale's stores were closed because of weather, and the business remained sluggish until Valentine's Day."
Such comments highlight the enormous impact weather has had on the economy. As a further example, we learned that one of the largest companies in the U.S., Wal-Mart (NYSE:WMT), also had to close more than 200 stores at the height of the winter storms as well. Home Depot, which reported strong earnings, also stated;
"They probably would have been even more positive if people could get to the stores."
Putting weather aside, the CEO of Home Depot, Frank Blake, sees housing as a continued catalyst to their success, while probably not as strong as it was in 2013. Retail stocks responded positively to earnings results Tuesday despite the Consumer Confidence report and the Richmond Fed Survey, which dropped during January.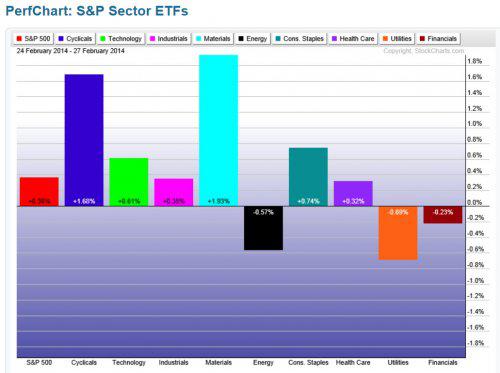 Wednesday was a continuation of the above story. Earnings results helped boost investor confidence in the group when Abercrombie & Fitch (NYSE:ANF), Barnes & Noble (NYSE:BKS), Carter's Inc. (NYSE:CRI), Dollar Tree (NASDAQ:DLTR), Lowe's (NYSE:LOW), and Target (NYSE:TGT) responded well after earnings were released. Others in the group that tagged along on the day were Aeropostale (NYSE:ARO), American Eagle Outfitters (NYSE:AEO), Dollar General (NYSE:DG), and Williams-Sonoma (NYSE:WSM). Additionally, Home Depot and Macy's had some follow-through to their post earnings rally.
Finally, looking at homebuilders, an industry group within the consumer discretionary sector, economic results this week helped to rally sentiment for the group. Both the Case-Shiller 20-city composite index and the FHFA house price index increased 0.8% in December, seasonally adjusted and they rose 13.4% and 7.7% over a year ago, respectively. When it was announced that new home sales broke trend in January when it was reported Wednesday, many of the homebuilders broke out technically on the charts. New home sales set a new high, rising 9.6% in January with an annual rate of 468,000, beating consensus estimates. What was most interesting was the huge rebound in the northeast and south, two areas that have been hit hard by the harsh winter weather.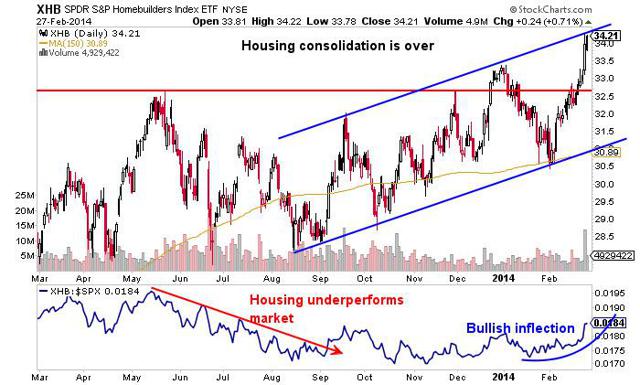 Restaurants have been one of the weaker groups of the consumer discretionary sector, but I continue to feel the group will bounce back with the consumer when weather clears. If people can't get to the stores, the date nights to the local restaurant probably aren't fairing any better. On Valentine's Day, Fox reported 6,500 flights had been canceled nationwide on the previous day, 1.2 million utility customers lost power, and many schools have been closed. Weather has been unusually harsh this year.
The interesting ordeal now is the different messages that bonds and stocks are both telling. The S&P 500 just joined the Nasdaq and Russell 2000 in closing at new highs today while the Dow Industrials still lag. Stocks are shrugging weak data points in February and rallying on strong results. Stock investors are also shrugging off geopolitical risk in Thailand, Turkey, Ukraine, and Venezuela. On the flip side, bonds continue to rally, driving rates lower. Normally, we should probably see bond rates higher due to the Fed decreasing its purchases and investors becoming more growth-hungry in stocks, especially if stock prices are rising. Rising bond prices suggest investors haven't made up their mind regarding stocks and the economy. Maybe this divergence will be put to rest next week when we get a slew of economic reports on February activity. It's up in the air for now, but we have definitely seen a flip in consumer sentiment this week for retail, homebuilders, and housing products.