As of the Thursday, February 27, 2014 close of $252.54, Tesla Motors (NASDAQ:TSLA) is up 67% YTD and up 1385% since its IPO in June 2010. Stocks that move this quickly get a lot of bullish coverage as analysts try to justify the price. Adam Jonas at Morgan Stanley thinks Tesla can go up another 26% to $320, while John Lovallo over at BofA Merrill Lynch has a target of only $65. This article examines the bull and bear cases.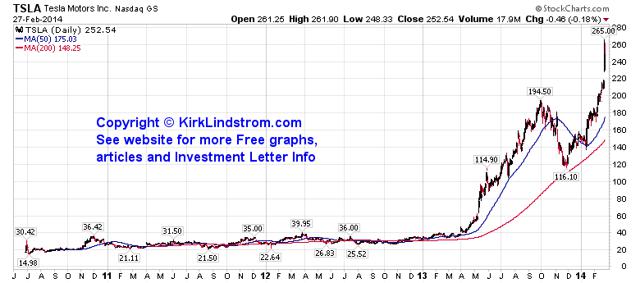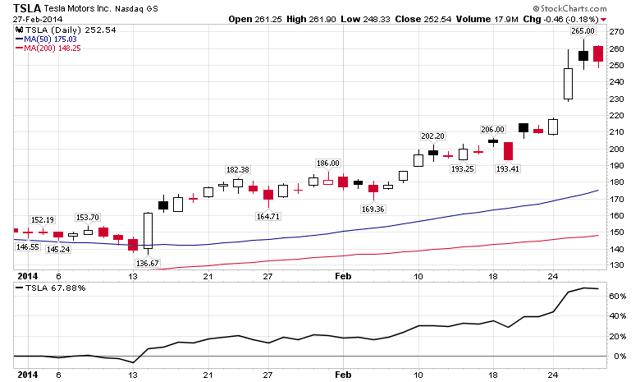 (Source: StockCharts)
The Bull Case:
On February 25, Morgan Stanley raised its twelve-month target price for Tesla Motors to $320, more than doubling its previous target price of $153. (Detailed Story) "Adam Jonas, the Managing Director at Morgan Stanley who heads automotive sector research, believes that Tesla's strong brand loyalty, reflected in its favorable reviews and consumer sentiment, can ensure the long-term commercial success of the Model S, and its successor, the Model X crossover, on its own."
"The investment bank's valuation is based on a 15-year discounted cash flow (DCF) model, with the weighted average cost of capital (WACC) assumed to be 11% and revenues projected on the basis of what the investment bank says is a 'conservative estimate' of unit sales."
Key assumptions are:
"Tesla's annual sales to reach almost 400,000 units by 2020, and around 1.1 million units by 2028." This would give Tesla a global market share of roughly 0.9% by 2020.
The new "Gigafactory" will cut the cost of the battery nearly in half: "With full-scale battery operations, Tesla battery packs used in the Model S, which currently cost over $15,000, could eventually cost close to $100 per kilowatt hour (kWh), or around $8,500 apiece."
Much arm-waving about the benefit of being in the Silicon Valley with a lot of us smart people: "Tesla is Ideally Positioned to Lead the Autonomous Cars Segment."
Opportunity in Energy Storage for the Home and business markets. "Electric utility demand in the US is currently a $400 billion business and a $2 trillion business globally. Morgan Stanley believes the opportunities in this space are boundless."
The Bear Case:
Today, February 27, 2014, Bank of America Merrill Lynch analyst John Lovallo reiterated his $65 per share target price for Tesla. (Detailed Story) Lovallo questions many of the assumptions, including demand for the luxury vehicles as well as the cost reductions others see:
"And just because the factory will give Tesla the ability to produce 500,000 cars annually, Lovallo doesn't think there is necessarily demand for that many of Tesla's vehicles."
"We believe it is important for investors to remember that Tesla is an auto manufacturer, first and foremost, which is an inherently capital intensive business," Lovallo wrote in a note to clients Thursday. "In our view, the Gigafactory investment will translate to even more capital intensity and add further pressure to margins and returns."
Tesla Valuation compared to the Other Auto Makers
If you compare Tesla to Ford (NYSE:F) and General Motors (NYSE:GM), it looks overvalued based on traditional metrics like dividends.

Investors are not buying Tesla for dividends, they are paying for growth.
If we assume that Tesla can meet the bullish forecast for 400,000 cars by 2020, that would put it at number 33 in a world ranking of auto production by manufacture for 2012 according to The International Organization of Motor Vehicle Manufacturers, or OICA.
1.1 million units would place Tesla in 20th place, several slots below Daimler AG (OTCPK:DDAIF) (Mercedes) at #12 and BMW at #14, which I believe are Tesla's main competition.
Unlike Tesla, BMW is already building over two million autos a year at a profit, while paying a 3% dividend.
According to Bloomberg, BMW has a market cap of 53,917 million euros (about US$74B), with a 2.98% dividend yield and a PEG ratio of 2.5.
If you believe Tesla can grow earnings by 52% a year for five years, then you can make a case based on PEG that it will grow into its current valuation and it would look cheap compared to BMW if it could pay a 3% dividend. Growing earnings at over 50% a year for five years is difficult, especially when the competition is so large.

Summary:
Unfavorable risk-reward: Bullish analysts are valuing Tesla on what it MIGHT do in the future. The upside is only 26% compared to the bearish downside risk of $65, or 74%. For me, it is not worth risking a 74% decline to get a 26% gain. I will keep Tesla on my radar and perhaps buy it after a major decline if I think the bullish case is still valid and I can get a more balanced risk-reward.
Better alternatives: Overall, based on PE and PEG, today Ford and GM look like much better bets than either Tesla or BMW.
What do you think?
Disclosure: I have no positions in any stocks mentioned, and no plans to initiate any positions within the next 72 hours. I wrote this article myself, and it expresses my own opinions. I am not receiving compensation for it (other than from Seeking Alpha). I have no business relationship with any company whose stock is mentioned in this article.