This article follows my initial article on this same subject posted a few days ago before the release of the earnings from Transocean Ltd.(NYSE:RIG) and Seadrill Ltd. (NYSE:SDRL). (Transocean or Seadrill: Which one will reach the $50 First?)
1 - Transocean and Seadrill earnings.
Seadrill Ltd. released earnings and had its conference call on February 25, 2014, and Transocean Ltd. released earnings February 26, 2014, after market and had its conference call on February 27, 2014.
These two important events are providing us with further financial information, and we need to analyze them in details.
Transocean Ltd. highlights:
The company has ordered 2 new drillships expected to be delivered in mid 2017 and 2018 at a cost of $1.24 billion.
"Additionally, Transocean has entered into an option agreement to order up to three additional drillships of the same design and specifications on similar terms. The first option must be exercised within one year, the second within 18 months, and the final within 24 months."
This is a good addition to the actual fleet of 79 units (Ultra deepwater, deepwater, floaters...). (Read the 10K SEC filing here)
2. RIG is indicating a profit of $0.73, which beats the street by $0.01, with a slight lower revenue from expectation. ($2.332 billion instead of $2.36 billion.)
3. The big event seen is a strategy shift that pushes RIG even closer to its competitor SDRL. Here are Ben Levishon's comment:
"The willingness to build drillships without contracts in hand is another step in Transocean's shift towards a Seadrill-like model. It's already announced that it would pursue the creation of an MLP."
Here on the conference call the company is clearly indicating its change of strategy:
"To improve the company's competitiveness, we committed to eliminating the margin differential between Transocean and our comparable peers by the end of 2015. We've taken important steps to continue to improve the company's financial flexibility, including executing our celebrated debt repayment program and announcing our intent to launch an MLP in 2014."
4. RIG announced also recently that it will raise the dividend to $3 a share, which means about a 7.1% yield based on the stock price. RIG is reducing the dividend gap it has with its competitor (10%+ dividend yield). Read what RIG said on the conference call:
"We are committed to a sustainable and growing distribution of capital and as you know, recently announced that our board will recommend that our shareholders approve a $3 per share dividend at the 2014 Annual General Meeting."
5. RIG estimates that it will take 18 to 24 months before rig demand recovers fully. These comment brush a slightly worse situation than SDRL indicated on its conference call. Perhaps because RIG has an older fleet compared to its competitor SDRL and needs to catch up?
6 . A clear average fleet utilization problem in Q4 compared to Q3.
From the CC: "While our adjusted earnings are generally in line with consensus expectations, our fourth quarter operating results reflected a sequential decline in revenues, driven mainly by lower utilization, average fleet utilization was 75% for the fourth quarter, compared with 83% in the third quarter - the result of an expected increase in planned out-of-service time and idle rigs."
7. The fleet average efficiency went down from 94% in Q3 2013 to 91.7% in Q4 2013, which was a disappointment for the company.
CC: "Due mainly to well control equipment down time on certain ultra-deepwater rigs."
8. Total operating revenue $9,484 million (2013), total long-lived assets $21,707 million (2013)
9. Backlog is about $27 billion. $7.9 billion was added in 2013 including the five-year contract with Chevron (NYSE:CVX) (Conqueror to be delivered in 2016). A very healthy level in my opinion.
10. Total long-term debt $10.379 billion (2013). The company goal is to cut it to under $9 billion. Here what is said at the CC:
"(We) plan to reduce our cost long-term debt to a level below $9 billion, also our goal of retiring approximately $1 billion in excess of existing repayment obligations by the end of 2014 remains well on track, with no more than $210 million remaining."
11. As of February 18, 2014, 361,024,286 shares were outstanding.
Seadrill Ltd. highlights:
Results were surprisingly good, and beat the street by about few cents. 0.49 a share including one time loss related to Archer Ltd. and around 0.88 without. (Excluding the one time write-down loss of $185 million from SDRL 40% ownership in Archer Ltd. and its own non-cash impairment of goodwill and long lived assets for $430 million.)
2. Consolidated revenue were $1,469 million up 14.8% from Q3.
3. SDRL grew its quarterly EBITDA by 16% ($768 million) or 27% year to year.
4. Several additions to SDRL fleet (West Tellus, West Auriga, West Vela, West Tucana and AOD III).
5. SDRL acquired high specification jack-up rig "Prospector 3" for US$235 million.
6. SDRL had technical problems to take care of, with the West Alpha, West Phoenix, West Pegasus and West Capricorn. The company said that they will be resolved at the end of this month.
7. SDRL raised again dividends from 3.80 to 3.92. Debt raised from $12.6 billion to $13.9 billion, despite some payment made this last quarter.
8. Impressive backlog at $20.2 billion.
Despite this impressive financial situation the stock plunged over 7% the day of the earnings release - in part because the drilling activity is slowing somewhat in 2014 but is expected to increase again in 2015.
On the conference call the company said that it is receiving more inquiries for 2015 and beyond. The company is bullish for the future because oil prices are strong. It expects some slow-down for 2014 despite indicating a contract coverage at 98% for 2014 and 72% in 2015. These comments are more positive than its counterpart RIG.
Total outstanding at 468,978,492 adjusted for their holding of 272,441 treasury shares.
2- Quick numbers comparison between the 2.
| Nature | SDRL | RIG |
| --- | --- | --- |
| Stock price 02/27/2014 | 36.94 | 42.55 |
| Share outstanding (million) | 469.1 | 361 |
| Operating earnings per share Q4 | 0.88* | 0.73 |
| Net earnings per share Q4 | 0.49 | 0.64 |
| Dividend $ per share a year | 3.92 | 3.00 |
| Dividend yield % | 10.61 | 7.05 |
| EBITDA (NYSE:TTM) billion Year | 2.56 | 2.82 |
| Book Value $ (yahoo) | 15.22 | 45.13 |
| Consolidated revenue Q4 2013 $ billion | 1.47 | 2.33 |
| Backlog $ billion (10K filing) | 20.2 | 27.20 |
| Total debt 2013 $ billion (10K filing) | 13.93 | 10.38 |
| Forward P/E fye 2013 (yahoo) | 9.14 | 8.07 |
| My Personal rating | Strong Buy | Buy |
| My Personal target for 2014 | 43 | 47.5 |
| My Personal target for 2015 | 51 | 51 |
* Write-down related to Archer Ltd. was $185M which means 0.39/share
3- Conclusion.
Transocean Ltd. and Seadrill Ltd. are delivering again some impressive numbers despite a visible slowdown in the industry that may stretch to mid-2015. (Perhaps a bit longer for RIG).
Dividends are one of the best you can find, and they keep going up. If you have listened to both conference calls you will realize that they are secure and may be raised even more next year if the actual and small slow-down felt now can dissipate as expected. The two companies have a healthy backlog at over $20 billion.
It is hard to be bearish on the sector when you look at the quality of the fundamentals presented above. These companies are clearly the two leading ones in the offshore drilling sector (Compared to Noble (NYSE:NE), Ensco Plc. (NYSE:ESV) and Diamond Offshore Drilling (NYSE:DO) and few others.).
I believe value investors should use any stock price weakness to start a long position in SDRL and RIG. If you look at the three-month chart, you can see that a bottom is forming: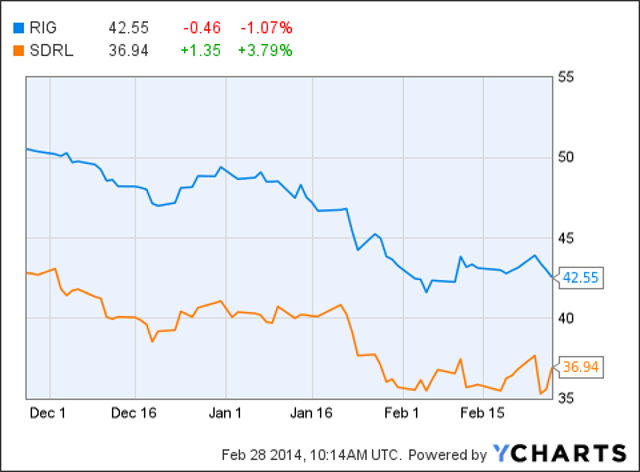 I expect SDRL to reach the 200MA around 41 and RIG too at around 46.5. We have a good support line around 35 for SDRL and 41 for RIG.
SDRL and RIG have corrected around 25% from their recent highs (47/35 for SDRL and 55/41 for RIG) and it seems that the correction has been overdone, helped by an obvious psychological negative momentum. After the earnings release for RIG and SDRL we can see that these two companies are fundamentally healthy and will be stronger in 2015 and 2016.
I am still debating which company will reach $50 first and I think the race is too close to really decide yet. Personally I prefer SDRL and think it may win the race? What is your thinking?
Disclosure: I am long SDRL, RIG. I wrote this article myself, and it expresses my own opinions. I am not receiving compensation for it (other than from Seeking Alpha). I have no business relationship with any company whose stock is mentioned in this article.