Want to try your hand at contrarian investing? This isn't the spot to do it.
Well, the coming weeks are definitely going to tell us a bit more about the curious case that is Questcor (QCOR) Pharmaceuticals. The lifeblood of the company hangs in the balance of news reported yesterday of potential catastrophic proportion.
On the heels of yesterday's Citron report, which alleges that the company's sole product, HP Acthar Gel, doesn't carry the correct amount - or any - of its active ingredient, Questcor stock has been decimated nearly 20% in two days. Close my short and move on, right? Perhaps even time to go long after a 20% haircut in two days?
After all, there are plenty of analysts out there that are maintaining their price targets well above $63 for QCOR even in the face of this news. Bank of America (NYSE:BAC) just came out today and backed Questcor as a buy here - as reported on Twitter by Financial Juice.
Plus, the last Citron report in 2011 must have seemed like a gift to those that bought after it and rode QCOR up to $80. But, ultimately, as my friend Bill Ackman would say, "the fundamentals will determine the outcome."
The contrarian in me really wants to look at this through a bullish lens, but I'm still having a bit of trouble and just can't do it with Questcor.
Why is a cryptic e-mail from Questcor's COO to Bloomberg the only thing that we seemingly have from the company so far? The most telling to me, is the lack of a forceful company response to the report - like an official press release. Why not issue a PR yesterday or today simply refuting the allegations and welcoming an audit or third party analysis of Acthar Gel? And why is his response so muted and non-specific? And why does it actually seem to acknowledge that Citron could be right in a backhanded way?
Citron seems to think the same thing, in a .pdf released just moments ago while I was in the middle of penning this article: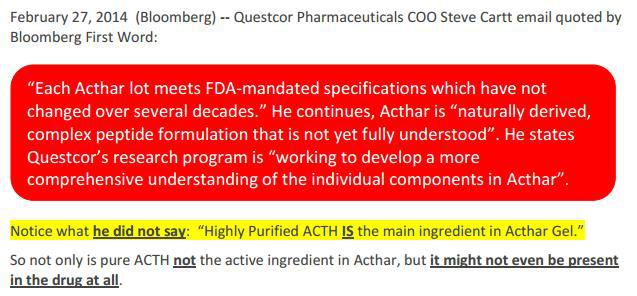 Sure, you'll say - why should the company even acknowledge this report? Isn't that adding fire to the flame?
The answer is no - it is a serious allegation from Citron and it's not the be taken lightly. In the balance hangs billions of dollars of equity that Questcor has built from its sale of Acthar. With a market cap of $3.7 billion - Citron is literally asking a billion dollar question here.
See the case of NQ Mobile (NYSE:NQ) on the correct way to try and respond to allegations from short sellers that question the fundamentals of a business.
If the FDA steps in and pulls Acthar, or implements clinical trials or something of the sort, we are going to see billions in equity simply disappear from Questcor. Lots of good people will lose money, and people being treated with Acthar are not likely to be happy. Additionally, neither will the insurance companies that have been forking over the exorbitant price to Questcor.
The bullish case here is that if Citron's report is found to be wrong - or their thesis is fundamentally flawed, QCOR is likely to rocket back to it's pre-controversy levels near $80, likely on its way higher.
But, until the company can come out and ultimately prove that Citron is mistaken, there's an air over this entire case that makes it an incredibly risky choice for a contrarian buy.
"Yes", you'll say to me, "that's the whole point of being contrarian."
While you're half right, the fundamentals are generally the catalysts that I like to follow for contrarian buys (see BBRY for an example).
Until QCOR can disprove Citron to investors or the FDA, there is a major risk here - Acthar is the main leg that this company is standing on.
If you absolutely have to get on the long side of this trade, I plead to you to play a position like a long straddle where you have some insurance - or just simply buy some cheap, way out of the money puts. The IV in Questcor's options shows that traders think this thing is going to continue to stay extremely volatile.
I remain short QCOR through puts and reserve the right to add to my position at any time.
Good luck, no matter what side of this one you're on.
Disclosure: I am short QCOR. I wrote this article myself, and it expresses my own opinions. I am not receiving compensation for it (other than from Seeking Alpha). I have no business relationship with any company whose stock is mentioned in this article.
Additional disclosure: I have QCOR puts.