I reiterate my bullish stance on Rite Aid Corp. (NYSE:RAD) as the company is likely to benefit from healthcare reforms (Affordable Care Act), reacceleration of generics in the near future, an aging U.S. population and strengthening of the balance sheet. Also, the company's Wellness remodeling efforts are portending well for its performance, as comparable store sales for RAD are improving. Moreover, the company's cost control measures remain an important earnings driver in the near future and a recent distribution extension agreement between RAD and McKesson (NYSE:MCK) is likely to boost investor confidence. Analysts are anticipating a robust next five-year growth rate of 55%.
RAD is likely to benefit from the aging population in the U.S., which will result in higher demand for drugs. Also, the reacceleration of generics in coming years and insurance coverage expansion will provide growth opportunities to RAD. The Affordable Care Act rollout will drive higher script growth as 25 million additional lives are expected to get insurance by 2016. The graphs below show the aging U.S. population, generics trend and expected increase in insurance lives covered.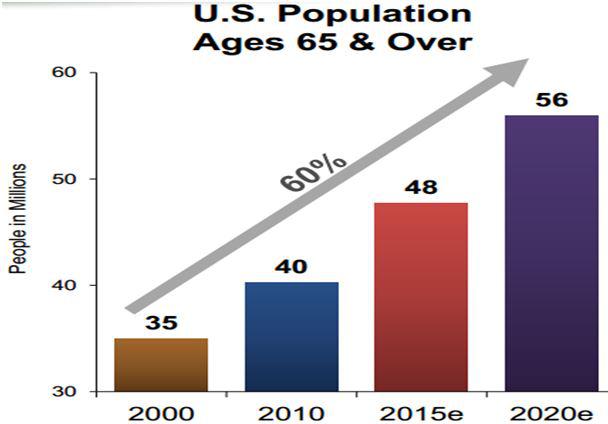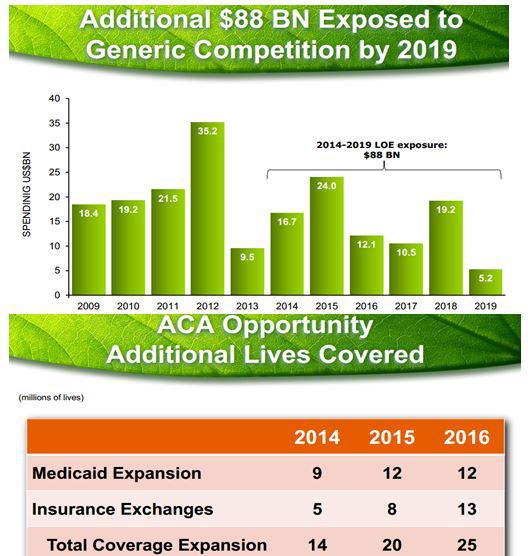 Source: Company's Presentation
Recently, RAD and MCK announced an extension of their distribution partnership agreement to 2019, representing a five-year extension. The agreement includes both branded and generic pharmaceuticals. The agreement extension will allow RAD to improve its operations and profitability. An improvement in RAD's profitability is expected to be achieved through generic procurement and cost savings, which are likely to be derived through the direct-to-store delivery outsourcing. The agreement could also improve working capital for the company, which will portend well for the company's balance sheet strength, as it could pay off its debt. As the cash flows for the company are improving and are expected to improve further in coming years, the company could deliver its balance sheet. Paying off debt will also reduce interest costs for the company. Also, the company does not face any near-term credit risk as there are no significant debt maturities until 2018.
| | | | |
| --- | --- | --- | --- |
| | FY2012 | FY2013 | FY2014 |
| EBITDA Margin | 3.6% | 4.44% | 5% |
| Leverage Ratio | 6.5 | 5.3 | 4.6 |
| Free Cash Flow ($ -millions) | 45.3 | 473 | 275 |
| Interest Coverage Ratio | 1.8 | 2.2 | 3 |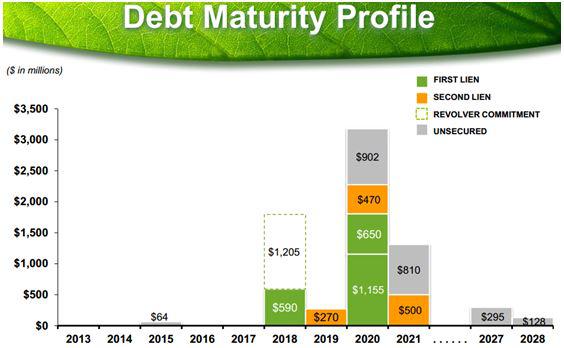 Source: Company's Presentation
The company has been undertaking Wellness stores renovation. These efforts by RAD are likely to improve front-end and pharmacy sales. Already the company has experienced signs of progress for its Wellness stores remodeling as front-end sales for remodeled stores exceeded the chain average by 320bps, and script comparable sales exceeded the chain average by 140bps, in 3QFY'14. Due to store remodeling efforts, comparable sales for the company are likely to improve in the future. The number of Wellness stores is expected to be 1,200 and 1,600 by the end of FY2014 and FY2015, respectively, up from 1,117 in 3QFY'14.
I believe RAD will continue to sell tobacco in the near term and not follow in the footsteps of CVS Caremark (NYSE:CVS), which announced it will stop selling tobacco. Also, I believe Walgreen (WAG) will continue to sell tobacco and benefit from CVS's exit from tobacco. RAD has a slightly emergent business/healthcare strategy, therefore I believe it will not exit from tobacco in the near term. However, in the long term, RAD could opt for a tobacco exit to better collaborate with the healthcare system and benefit from the evolving healthcare industry.
Conclusion
The company has been marking a turnaround by posting a healthy financial performance in the recent past. Also, the company is expected to benefit from the changing industry environment and aging U.S. population. Moreover, the extension of a distribution agreement between RAD and MCK and remodeling of stores are likely to have a positive impact on the company's financial performance and stock price. Other than attractive growth opportunities, RAD has attractive valuations. RAD has attractive price/sales of 0.25x, in contrast to its peers' average of 0.6x. RAD also has a lower PEG of 0.55, relative to its peers, indicating that the company offers cheaper growth.
| | | |
| --- | --- | --- |
| | Price/Sales | PEG |
| RAD | 0.25x | 0.55 |
| CVS | | 1.2 |
| WAG | | 1.45 |
| Average | 0.6x | 1.05 |
Disclosure: I have no positions in any stocks mentioned, and no plans to initiate any positions within the next 72 hours. I wrote this article myself, and it expresses my own opinions. I am not receiving compensation for it (other than from Seeking Alpha). I have no business relationship with any company whose stock is mentioned in this article.