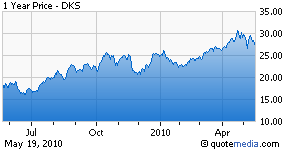 Dick's Sporting Goods Inc. (NYSE:DKS), an authentic full-line sporting goods retailer, posted better-than-expected first quarter 2010 results on the heels of higher sales and improved margins. The company's sustained effort to drive growth via new technology, investments made to increase market share, and opening of new stores helped the company to deliver outstanding results.
Quarterly earnings climbed to 22 cents a share from the year-ago level and handily surpassed its earnings guidance range of 12-13 cents a share. Dick's also outpaced the Zacks Consensus Estimate of 14 cents per share. The company now expects second-quarter 2010 earnings per share between 37 cents and 39 cents and fiscal 2010 earnings in the range of $1.41 to $1.44 per share.
An 8.2% increase in consolidated comparable-store sales (comps) and opening of new stores aided the 9.2% year-over-year increase in total revenues, which climbed to $1,047.5 million.
The comps growth was driven by a 7.6% rise in Dick's Sporting Goods store sales, a 12.4% raise in Golf Galaxy stores coupled with a 15.2% growth in e-commerce. Management now expects comps to rise between 4% and 5% in the second quarter and between 3% and 4% in fiscal 2010.
Gross profit, which came in at $302.2 million, rose 17% year over year, reflecting high, single-digit growth in the topline, partially offset by a marginal increase in cost of goods sold.
Financial Aspects
Dick's ended the quarter with cash and cash equivalents of $207 million, long-term debt of $369.9 million, and stockholders' equity of $1,130.7 million. Capital expenditure for the quarter under review was $24.3 million. For fiscal 2010, capital expenditure is expected at $145 million on a net basis.
Store Update
In the reporting quarter, Dick's opened 5 Sporting Goods Stores, bringing the total to 424 stores in 41 states. Golf Galaxy store count in 31 states is 91.
Dick's plans to open 1 new Dick's Sporting Goods store in the second quarter. In fiscal 2010, the company expects to open 24 new Dick's Sporting Goods stores and 5 new Golf Galaxy stores. The company also has plans to remodel 3 Dick's Sporting Goods stores in the second quarter and 11 in fiscal 2010.