As the CEO of Kinder Morgan, Inc. (KMI), Richard Kinder has found no reason to stop buying his company's stock. The head officer and chairman of the board has purchased over 1.12 million shares since the start of December 2013. As seen in the chart below, the officer has steadily been adding to his position over the past year. His purchases have been mirrored with additional insider buying from Director John Michael Stokes, VP Dax Sanders, Director Fayez Sarofim, and VP James Street. The information can be found here.
Kinder Morgan is the largest midstream energy company in North America. The company transports everything from natural gas, to crude oil, and even carbon dioxide. Kinder Morgan owns an interest in roughly 80,000 miles of pipelines and operates in over 180 terminals. KMI owns the general partnership interest in Kinder Morgan Partners along with the general partner interest in El Paso Pipeline Partners (EPB). The company also maintains limited partnership interest in El Paso Pipeline Partners, Kinder Morgan Partners, and Kinder Morgan Management LLC.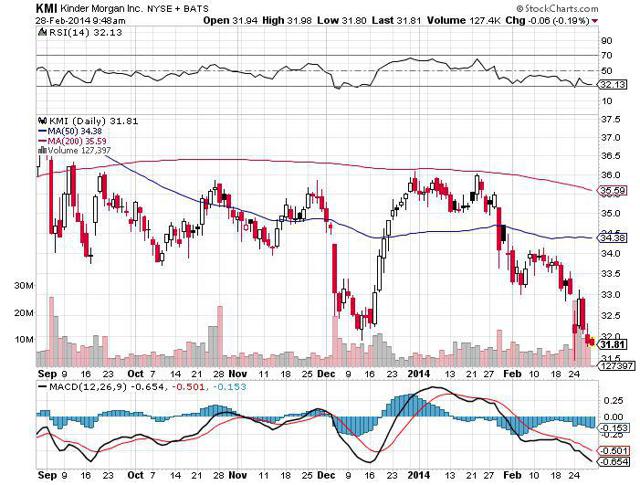 One large reason for the significant insider purchasing activity lies in the direction of the company stock. Kinder Morgan has been trending down over the past few months. As seen in the chart above, the company's stock has fallen over 20% since mid-2013. Apart from the lower share price, the company's dividend yield has also been increasing due to the market action. The company's forward annual dividend rate now stands at 5.1%. The chart below can be found here.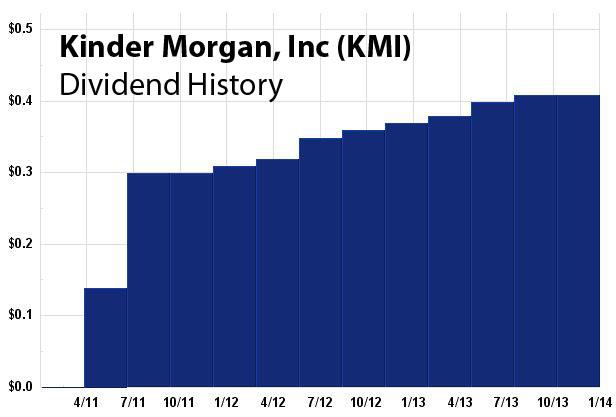 Yet this too has come under attack in recent weeks. According to an article from the Washington Post found here, Kinder Morgan was sued by an investor of its distribution of profits. The lawsuit claims that the company is taking almost 50% of the allocations when some of it should be kept to pay for the pipeline system maintenance.
The company has also found increasing criticism by analysts. As seen in this article found here, Kinder Morgan has faced a growing negative sentiment from analysts who consider the company's MLP to be trading at a high valuation. The bearish assertion continues to suggest that the company is taking a more liberal understanding of maintenance capital as the company replaced maintenance capex with expansion capex.
From a purely fiscal perspective, Kinder Morgan appears to be trading on the high side in relation to its financial fundamentals. The company now trades with a market capitalization of $32.85 billion based on the last price of $31.87 as of February 28. This gives the company an above average price-to-book ratio of 2.53 and a moderate price-to-sales ratio of 2.36. With a quarterly dividend of $0.41, Kinder Morgan's forward annual dividend rate remains at 5.1%. The company carries a forward price-to-earnings ratio of 21.39 based on analyst estimates of $1.49.
As of December 31, Kinder Morgan had total assets of $75.19 billion, of which $62.09 billion was derived from total liabilities. Total shareholder equity amounted to $13.09 billion. The company maintained property, plant, & equipment of $35.85 billion and total long-term debt of $33.89 billion. As two categories most subject to revaluation, it is worth noting that the company carried goodwill and intangible assets valued at $26.94 billion.
Final Thoughts:
Kinder Morgan appears to be trading at a rather high valuation in respect to its balance sheet. The company remains highly leveraged yet continues to pay out a rather abundant profit distribution for its investors. Nevertheless, the company has been a consistent performer throughout the years and has demonstrated its ability to grow the company and sustain its yield. As the share price continues to fall, insiders appear more than ready to pad their positions in order to meet the falling market demand. The company may be best suited for investors as a supplementary investment for those seeking a historically high-paying yield for their portfolios.
Disclosure: I am long KMI. I wrote this article myself, and it expresses my own opinions. I am not receiving compensation for it (other than from Seeking Alpha). I have no business relationship with any company whose stock is mentioned in this article.