American Realty Capital Properties (ARCP) has been a core part of my income portfolio for some months now. As I noted back in December the company's merger with Cole Real Estate Investments (NYSE:COLE) would deliver synergies and shareholder value. I also thought this REIT would close the valuation discount it had to the larger players in the space such as Realty Income Corporation (NYSE:O).
ARCP was trading at under $13 a share when I tagged it in December and has risen to ~$14.75 a share. Based on its latest earnings report, the company is delivering on its promise and the shares still have further to climb.
Company Overview:
American Realty Capital Properties is a real estate investment trust (REIT). The company owns and operates mainly single-tenant retail properties, and the company has a presence in almost all 50 states. The company manages over 100mm square feet of leasable space and is ~99% leased. It is the largest publicly traded 'net lease' REIT in the world.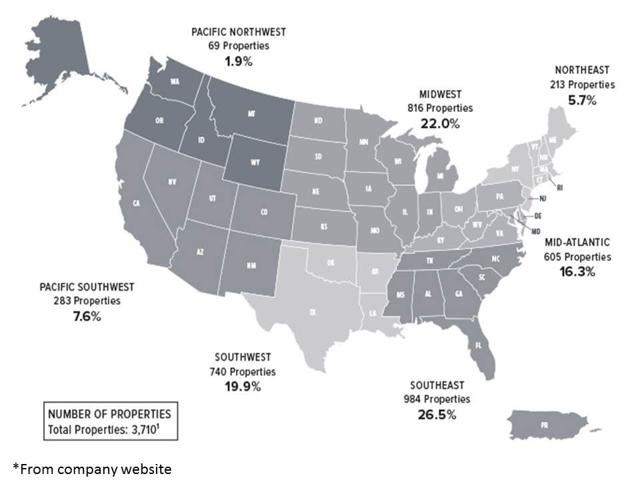 Click to enlarge
The company reported AFFO (Adjusted Funds from Operations) of 25 cents a share, two cents above the consensus. Revenues came in at ~$94mm, 10% above expectations. The company's management also reaffirmed AFFO guidance for 2014 of $1.13 to $1.19 a share.
The company also raised its monthly payout by 2.4% and stated it should do more than $1B acquisitions that will close in Q1 at an average cap rate of 8.3%. This is a faster pace than anticipated and shows the synergies of the merger are already showing up in the company's business model & opportunities.
Valuation & Outlook:
With the latest payout increase, the shares yield 7%. American Realty has been a consistent and incremental raiser of its dividend since it came public in 2011. I would look for this dividend growth path to continue in the years ahead.
Even with the recent run in the stock, ARCP still trades 15% below highs hit in May before the Federal Reserve started its 'taper' talk which negatively impacted high yield sectors. It trades at less than 13x forward AFFO. This is roughly a 20% discount to competitors Realty Income Corporation or National Retail Properties (NYSE:NNN) even though American Realty provides a significant higher yield.
I believe American Realty Capital Properties is well positioned to continue to narrow this valuation discount. The company serves the Walgreen (WAG) and other high quality retail tenants in the country with strong credit profiles. This REIT has a solid balance sheet and insiders continue to buy the stock.
In addition to its 7% yield, I think investors can reasonably expect another $1 to $2 a share in capital appreciation in 2014. This should be a good solid overall return especially in a market that I expect to provide much lower overall returns in 2014 than it did in 2013. ACCUMULATE
Disclosure: I am long ARCP. I wrote this article myself, and it expresses my own opinions. I am not receiving compensation for it (other than from Seeking Alpha). I have no business relationship with any company whose stock is mentioned in this article.