Salesforce.com (NYSE:CRM) is scheduled to release Q1 earnings this Thursday May 20th, after the market close. Average analyst estimates for the SaaS provider are $.30/share in EPS and $367.86 million in Revenue. Thirty-two analysts track the stock with three upward EPS revisions in the last 30 days and no downward EPS revisions in the last 30 days. Last quarter, Salesforce.com beat average analyst expectations by.01/share, .16/share vs. .15/share.
Now let's look at the sentiment for Salesforce.com to see if we can learn anything ahead of its earnings release. We will use sentiment captured by piqqem to determine Salesforce.com's outlook for this quarter's earnings. Piqqem uses a -100 to 100 scale and leverages the wisdom of crowds and its own proprietary algorithms to capture and calculate sentiment. Last quarter, sentiment for Salesforce.com predicted a good quarter and the company delivered. This quarter, the company's sentiment has drifted downward and indicates some cause for concern.
Any sentiment rating above 25 is considered positive, below 0 is considered negative, while 0-25 is considered neutral. Changes in sentiment are also crucial in understanding and interpreting a companies' sentiment ahead of an event like earnings. Finally, market forces need to be considered to make sure overall market sentiment changes are not overly influencing a stock's individual sentiment.
Salesforce.com is also part of the Piqqem Technology Sentiment Index which tracks sentiment for 28 technology stocks in the Hardware & Networking, Software & Gaming, Internet & Mobile, and Semiconductor Sectors. Users can simulate historical and forward looking trades of Salesforce.com using different sentiment triggers in Piqqem's Portfolio offering.
Sentiment for Salesforce.com (Click to enlarge)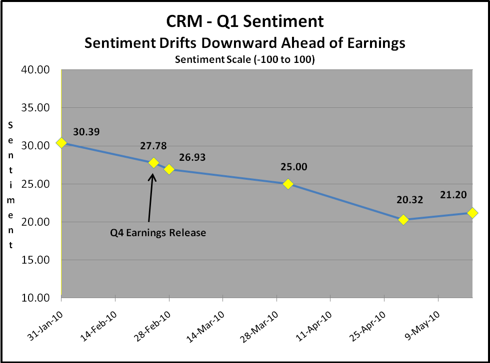 Source Piqqem
The above chart shows Salesforce.com's sentiment decreasing by 9 pts from the beginning of the quarter thru today. As a comparison, sentiment for the NASDAQ index dropped 1 pts in the same period, which means Salesforce.com's drop in sentiment was not strongly influenced by market forces. On the Piqqem scale, Salesforce.com's sentiment rating of 21.20 is considered neutral and its absolute sentiment indicates a moderate quality stock. Only Salesforce.com knows its actual results, but current sentiment points to the SaaS provider delivering lackluster results on Thursday.
Disclosure: No positions