Arena Pharmaceuticals (NASDAQ:ARNA) reported earnings yesterday. Today the news and follow-through will be on prescription sales. As most investors already know, Arena posted a loss for Q4. The revenue from Arena's share of Belviq sales was about $2.4 million. One thing that the company did announce was that from the launch until December 31st of 2013 that 157,000 bottles of Belviq were shipped to Eisai. This is where things get interesting. In the weekly sales reports from companies like IMS and Symphony, bottles sold to consumers is what is tracked. In contrast, Arena reports on bottles sold to Eisai. Simply stated, Arena's number is looking at sales as well as inventory on the shelves, whereas IMS and Symphony are looking at sales to consumers and do not include inventory.
Now that we have some idea of the total number of bottles shipped to Eisai, we can begin to assess what type of adjustment (if any) should be applied to the numbers reported by IMS and Symphony.
The numbers:
Bottles shipped To Eisai - 157,000 (total sales to consumers and inventory)
IMS unadjusted - 109,000 (sales to consumers)
Symphony unadjusted - 128,000 (sales to consumers)
Using some reasonable assumptions, we can assume that there needs to be a certain level of inventory on the shelves in order to keep the sales flowing. What the correct number for the inventory is will fluctuate over time in response to consumer demand, but for the purpose of this exercise, I will use 40,000 as an inventory number based on the fact that the initial channel stuffing was 50,000 bottles and that likely proved to be too much, while at the same time considering that growth is happening. As stated, the inventory levels will adjust over time. As sales move up, the inventory on hand will need to move up as well. What this translates to is that a number that is in between IMS and Symphony is likely the sweet spot for an estimate. From my perspective, that makes tracking sales and projecting much simpler. For that reason, I will now be adjusting IMS numbers up by 10% in my tracking. While I am tempted to adjust Symphony numbers down, I will simply leave them alone as a raw number. Please bear in mind that this is not a perfect system. I am aware that some scripts are sold for three bottles, and some scripts are sold for half of a bottle. The key is being in the right ballpark. I feel that these adjustments will get us to that point.
This week is an interesting week. In fact, these are interesting times in the anti-obesity space. The quarterly calls of Vivus (NASDAQ:VVUS) and Arena demonstrated that the weight loss sector is not the "build it and they will come" sector that many had thought it would be. From a marketing standpoint we have push and pull. A good example of push marketing was when General Motors rolled out OnStar. Consumers were not demanding it (pull). Instead, GM developed it and pushed it onto the market by installing it in cars. In theory, if the product is well received, consumers will begin to increase demand and "pull" the sales going forward. A good example of pull marketing is with something like a new iPhone or Galaxy phone. Consumers really want these and pull to get them. Often, when on the pull side of this equation, it starts with a small push from the company, and consumers take over.
With Qsymia and Belviq we are not seeing massive demand, and we are not seeing enough of a push from the company. That leaves us with a very organic growth profile, and organic growth can be slow. In my opinion, the Street is now finally beginning to understand that growth is currently on an organic path more-so than a strong push or strong pull. There could be opportunity in this in the months ahead. It is now pretty well understood that Arena and its marketing partner Eisai will be starting television ads in April. If those ads are good, and can raise consumer awareness as well as demand, the pull segment of the market could come into play. The pull side is what we as investors want to see. It tells us how much demand there is for a product.
What we want to see, at a minimum, is organic growth to continue to present week over week improvements. In order for Belviq to get to reasonable expectations in sales, investors need to see a minimum of 5% growth and preferably a point in time where growth accelerates quickly because consumers demand the product. It is when consumer demand increases that we see the proverbial hockey stick come into play.
This week Belviq sales were up about 10% according to industry tracker IMS. That is a decent development considering that in the last couple of weeks the growth has been more modest. It would appear that the number was good enough to stop the drop that the equity had seen since the conference call. Another aspect of this week's numbers is that new prescriptions were up just over 12%. This is an indication that the print ads are carrying an impact, and that the added sales reps are carrying an impact.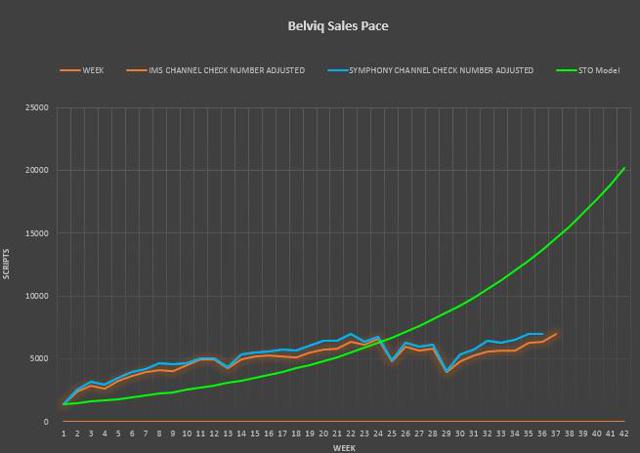 Chart Source - Spencer Osborne
Total sales to date, since launch, stand at about $36.3 million according to my estimates. I have quarterly sales at about $9.3 million with about 5 weeks left in the quarter. This is tracking to the light side of developing $25 million in sales this quarter, but does allow for the company to potentially see sales get to $20 million. A lot depends on how well the sales ramp up as spring approaches.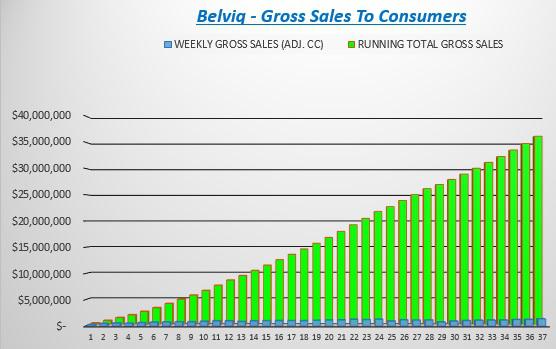 Chart Source - Spencer Osborne
On a quarter over quarter basis, we now have something to sink our teeth into. Last quarter delivered net sales of 7.6 million and gross sales of about $15 million. This quarter is tracking above last quarter by about 13% to 15%. As you can see in the chart below, the weeks ahead give a great opportunity for a quarter over quarter improvement that could be as much as 30% to 35%. For perspective, a 30% improvement on $15 million in gross sales would be $19.5 million, while a 35% improvement would be $20.3 million. In my opinion, count on gross sales of $20 million and hope for gross sales of $30 million. To simplify, $20 million is acceptable, $25 million is good, and $30 million is very good (for the current quarter).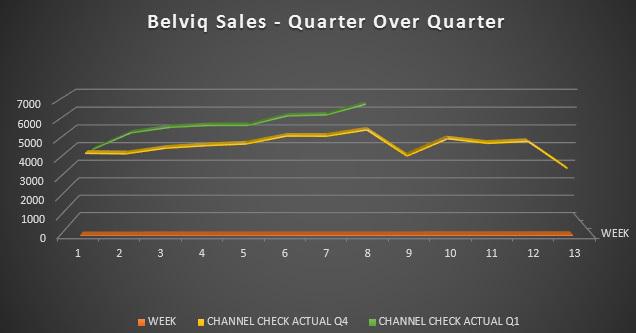 Chart Source - Spencer Osborne
With Arena having now put a little bit of guidance on the table, some of the volatility in this equity should begin to evaporate. With numbers to work with, the wild pumpers and wild bashers of this stock can be held in check at least on the point of sales expectations. I have outlined what I feel is a reasonable path to $150 million in gross sales this year. We can now watch the weekly sales to see how the company is progressing against a reasonable goal. Stay Tuned!
Disclosure: I am long ARNA. I wrote this article myself, and it expresses my own opinions. I am not receiving compensation for it (other than from Seeking Alpha). I have no business relationship with any company whose stock is mentioned in this article.
Additional disclosure: I have no position in Vivus