L-3 Communications is a large-cap aerospace and defense company with 2009 sales of 15.6 billion dollars. They are both a prime contractor and subcontractor/supplier with 76% of sales to the U.S. Department of Defense. Fears of defense spending budget cuts under the current administration have led to what we believe to be an unjustified low valuation.
In our opinion, a current blended PE ratio at 11.1 times earnings and an entry dividend yield over 1.8% makes L-3 an attractive consideration for both growth and income investors. Looking at L-3 Communications Holdings, Inc. (NYSE:LLL) through the lens of our EDMP, Inc. F.A.S.T. Graphs™ illustrates our views.
Figure 1 below (click to enlarge) correlates earnings and price on L-3 since it became a public entity in May of 1998 as a spin-off from the merger between Loral Corporation and Lockheed Martin. From Figure 1 it's clear that the market has typically capitalized L-3 at 20 times earnings or more (normal PE – blue line with asterisks).
Figure 1: LLL 13yr EPS Growth Correlated to Price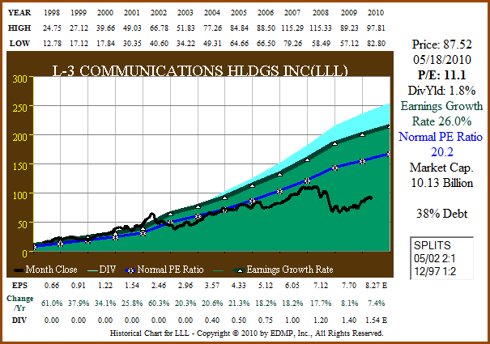 Click to enlarge
An expanding dividend income stream (light blue shaded area) is another important takeaway from Figure 1 above. After initiating their first dividend in 2004, L-3 has raised their dividend each year consistent with earnings growth. Moreover, L-3 has also increased their payout ratio from approximately 11% in 2004 to its current payout ratio of approximately 20%.
Earnings are Optional, Cash is King
With Figure 2 below (click to enlarge), we add operating cash flow (dark orange line with "O") and free cash flow (lighter orange lines with "F") to our earnings and price plot. L-3 is obviously a consistent and powerful generator of operating cash flow and free cash flow which implies that their dividend is well protected and capable of continuing to grow. Free cash flow in their most recent quarter totaled a strong $245 million, an increase of $133 million over the comparable quarter last year.
Figure 2: LLL 13yr EPS Growth, Operating Cash Flow, and Free Cash Flow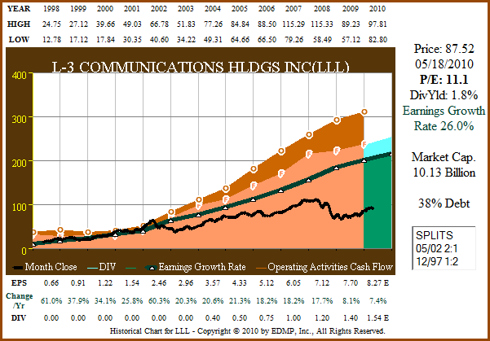 Click to enlarge
Figure 3 below (click to enlarge) calculates shareholder returns associated with Figures 1 and 2 above. L-3's consistent record of earnings growth and their increasing dividend have amply rewarded shareholders during an otherwise weak investment period.
Figure 3: LLL 13yr Dividend and Price Performance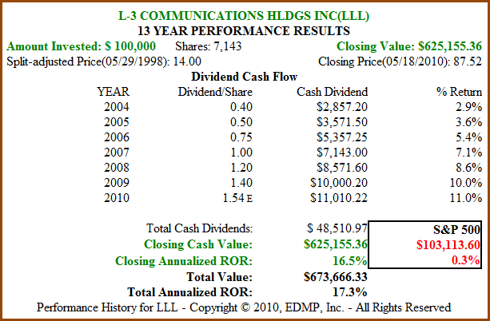 Click to enlarge
Background
L-3 Communications, the sixth largest defense company in the United States, is in the sweet spot for today's defensive budget. Under President Obama's proposal for 2010, the defense budget actually contains modest increases for several items in the aerospace/defense industry.
Although Defense Secretary Gates has expressed the desire to cut back the Army's big future combat systems program, we believe his proposals are positive for L-3 in the aggregate. We believe the government intends to increase spending on intelligence, surveillance, and reconnaissance. In addition, homeland security remains high on the list of government attention. These are all important businesses for L-3.
Business Segments: 2010 Guidance
L-3 Communications is expected to be a leading contractor in what they dub: (C³ISR). The C³ is Command, Control and Communications. The ISR is Intelligence, Surveillance and Reconnaissance, all critical to keeping America safe. Guidance for this important segment is to generate $3.4 to $3.5 billion dollars in 2010 and generates double-digit operating margins.
Their Government Services segment provides communications system support and soldier training services, to include marksmanship, that are cost effective tools, to keep our fighting men and women highly trained and strong. This segment includes state-of-the-art communications and information technology. This is L-3's second largest segment with expected 2010 sales of $4 to $4.1 billion dollars that markets to the DoD, U.S. Government intelligence agencies as well as foreign allies of the United States.
The Aircraft Modernization and Maintenance (AM&M) segment should benefit from the government's desire to keep costs as low as possible. Upgrading existing aircraft is more cost-effective than total replacement. This segment is expected to generate $2.7 to $2.8 billion dollars in 2010 sales, and has the lowest margins of approximately 9%, however, it is the smallest of the four segments.
L-3's largest segment by far is Electronic Systems, this segment is expected to generate approximately $5.6 to $5.7 billion dollars in 2010 sales and enjoys the highest margins at approximately 11.5%. Business areas in this segment include the following: Avionics, Displays and Specialty Products; Marine and Power Systems; Microwave, RF, SATCOM & Antenna Products; Security and Detection; Sensors, Guidance, Navigation & Simulation.
Resurging Growth
Figures 1 & 2 reported that L-3's historical earnings growth rate since inception has averaged 26%. Figure 4 below (click to enlarge) shows that L-3's earnings growth rate has been slower at 15.8% since 2004, the year they declared their first dividend. However, compared to the average earnings growth rate of the S&P 500 of 5.9% since 2004, L-3's earnings record is exceptional. On April 22, 2010, L-3 reported Q1 2010 earnings growth of 13%. Note that this implies earnings growth resurging toward more historical normal levels, after lower than normal results in 2009.
Figure 4: LLL 7yr EPS Growth Correlated to Price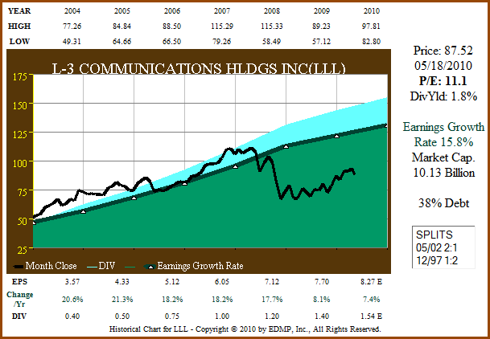 Click to enlarge
Raising Guidance/Raising Estimates
Management raised guidance during their conference call based on several significant contract wins and significant follow-up orders on important legacy programs. Management was very up-beat on numerous potential future wins as well. Furthermore, future and recent acquisitions represent several opportunities for future growth according to management comments.
For example, their recent acquisition of Insight Technology is expected to add $200 million dollars to L-3's sales in 2010 and should be immediately accretive to L-3's earnings. Insight Technology develops and manufactures night vision and electro-optical equipment which should enhance the C³ISR portfolio. Also, new technology advancements like their ProVision™ ATD advance imaging technology, for secure passenger screening, is finally beginning to get some interest and strong orders from TSA.
Figure 5 below (click to enlarge) looks at current consensus estimates for 5-year growth by 15 leading analysts reporting to Zacks. Current estimated growth of 10.1% is higher than recent single-digit expectations. Based on this higher expectation, L-3 appears very inexpensive at current quotations.
Figure 5: LLL 5yr EPS Forecast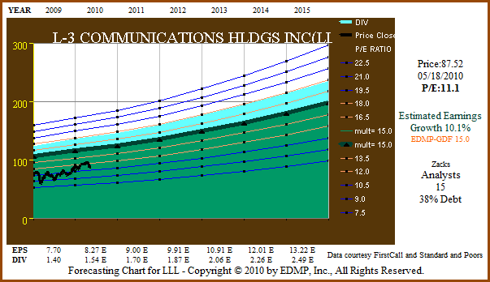 Click to enlarge
Conclusion
In our opinion L-3 Communications Holding Inc. (LLL) represents a high quality opportunity with an attractive dividend and above-average growth potential. We believe that a solid and consistent business like L-3 with a history of above-average growth deserves at least a market (average) multiple. Therefore, if you apply the S&P 500 current PE of 17 to L-3's 2010 earnings expectation of $8.27 you get a value of $140.59.
We believe that $140 is closer to fair value for L-3 than its current mid-eighties' price. Consequently long-term investors seeking growth and income might consider adding L-3 now or more aggressively on price dips, caused by current market weakness.
Disclaimer: The opinions in this document are for informational and educational purposes only and should not be construed as a recommendation to buy or sell the stocks mentioned or to solicit transactions or clients. Past performance of the companies discussed may not continue and the companies may not achieve the earnings growth as predicted. The information in this document is believed to be accurate, but under no circumstances should a person act upon the information contained within. We do not recommend that anyone act upon any investment information without first consulting an investment advisor as to the suitability of such investments for his specific situation.

Disclosure: Long LLL at time of writing.