By Sumit Roy
It was a mixed week for commodities as solid gains in soybeans and platinum were offset by a massive 24 percent drop in natural gas prices. At the same time, stock markets notched a fresh record high and moved into the green for the year. The S&P 500 added 1.7 percent, bringing its year-to-date gain up to 1 percent.
Macroeconomic Highlights
There were no major economic releases this week, and those that came out didn't help to alleviate the uncertainty about the economy. Fed chair Janet Yellen touched on this uncertainty in her testimony before Congress on Thursday.
Speaking in front of the Senate Banking Committee, she said, "Since my appearance before the House Committee, a number of data releases have pointed to softer spending than many analysts had expected. Part of that softness may reflect adverse weather conditions, but at this point it is difficult to discern how much."
In this week's data, the Bureau of Economic Analysis said that the U.S. economy expanded by 2.4 percent in the fourth quarter, down from its initial estimate of 3.2 percent. Economists had expected a reading of 2.5 percent.
In other news, the Commerce Department said that durable goods orders fell by 1 percent in January, slightly better than the 1.7 percent decline anticipated. However, December's orders were revised lower to show a 5.3 percent decline from 4.3 percent.
Finally, housing data were on the positive side. S&P/Case-Shiller reported that its housing price index grew by 0.76 percent in December, close to expectations. On a year-over-year basis, home prices were up by 13.42 percent. Meanwhile, the Commerce Department reported that new homes unexpectedly surged by 9.6 percent to 469K units annualized - the highest level in six years. Economists were expecting a reading of 400K.
Commodity Wrap
| | | |
| --- | --- | --- |
| Commodity | Weekly Return | YTD Return |
| Soybeans | 2.77% | 7.31% |
| Platinum | 1.15% | 5.55% |
| Corn | 0.66% | 8.06% |
| WTI | 0.54% | 4.40% |
| Palladium | 0.48% | 3.85% |
| Gold | -0.31% | 9.50% |
| Brent | -0.66% | -1.52% |
| Copper | -1.52% | -4.71% |
| Wheat | -1.97% | -1.16% |
| Silver | -3.48% | 8.32% |
| Natural Gas | -24.43% | 9.69% |
Gold's recent rally stalled out and silver pulled back a notable 3.5 percent this week largely on profit-taking after the impressive gains so far this year. The big news of February was the fact that gold exchange-traded funds saw a monthly inflow for the first time since December 2012. (see WGC's Grubb: Tide Turns For Gold ETFs As Steady Inflows Return).
With money coming back into gold ETFs, the supply-and-demand fundamentals are expected to tighten significantly, as we wrote earlier this week. This is all happening amid a backdrop of declining supply later this year as mine production cutbacks begin to be felt. We remain bullish. (see Rising Gold Still Contrarian Play As Bears Outnumber Bulls).
GOLD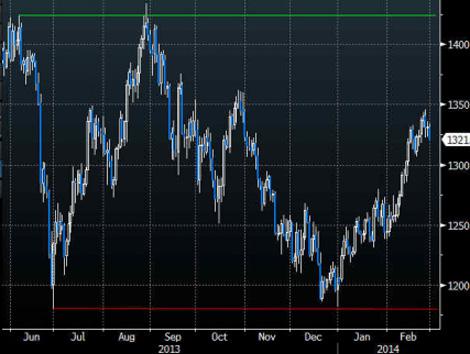 SILVER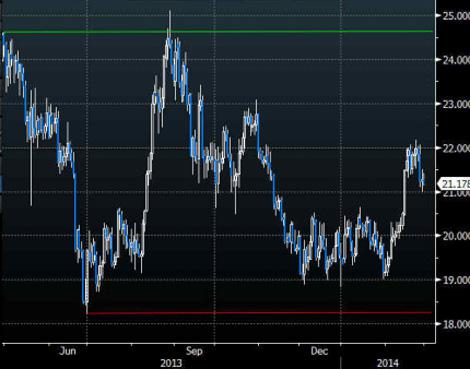 PLATINUM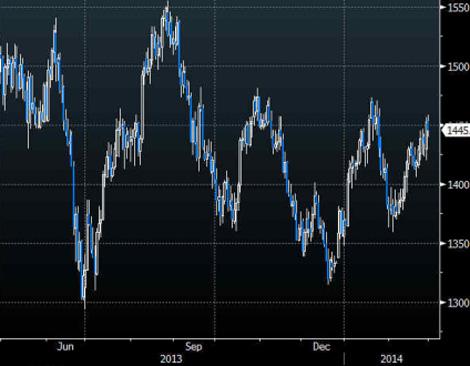 PALLADIUM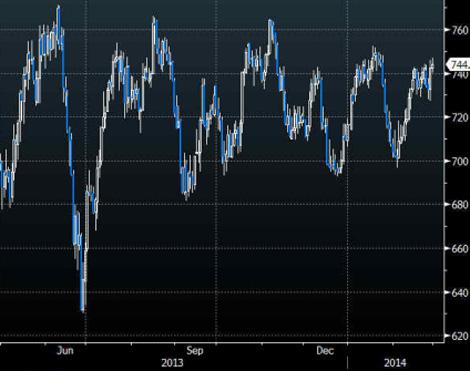 Crude oil was narrowly mixed. Although traders are beginning to look toward warmer temperatures in March and April, crude oil hasn't sold off aggressively as we saw with natural gas. That could be construed as a bullish sign, but at $109 for Brent and $102 for WTI, it's hard to get excited about the upside potential in prices.
We see limited scope for the WTI-Brent spread to narrow from here - thus, we would remain on the sidelines when it comes to crude oil (see WTI To Remain At Discount To Brent As Rail Transport Costs Increase).
BRENT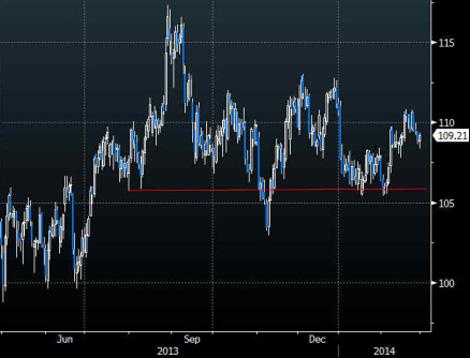 WTI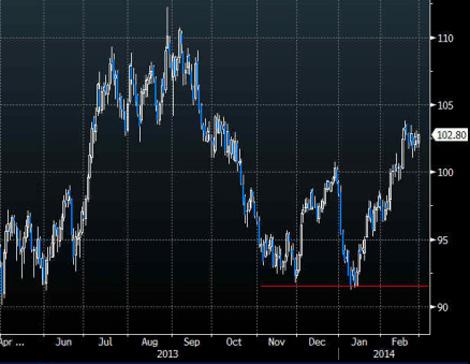 Soybeans were the big winner in the grain complex this week as Brazilian drought-related supply concerns lifted prices. The technical outlook for corn and soy is supportive of more gains, though bearish fundamentals may eventually cap prices.
We typically favor commodities where the technicals and fundamentals are aligned, thus we opt to remain on the sidelines.
CORN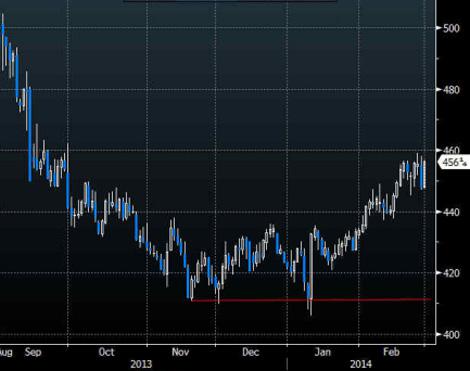 SOYBEANS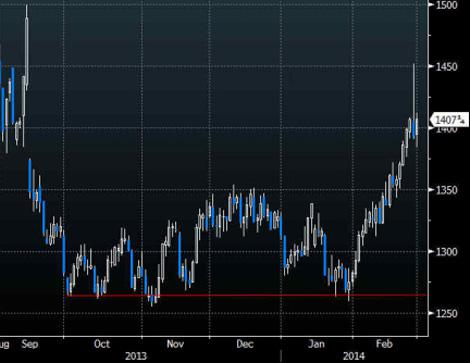 WHEAT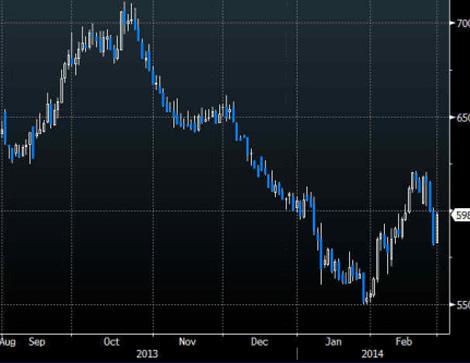 Copper sagged as concerns about the Chinese economy offset steady declines in inventories at the London Metal Exchange.
COPPER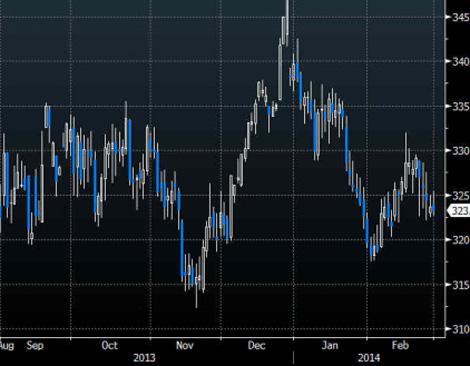 Natural gas fell sharply, putting in its worst weekly decline since 1996. Lower prices were expected with the roll from the March to April futures contract, and we've been suggesting that traders consider buying on dips below the $4.50/mmbtu level.
NATURAL GAS