Today, I would like to take a look at a tiny industrial company known as The Eastern Company (NYSEMKT:EML).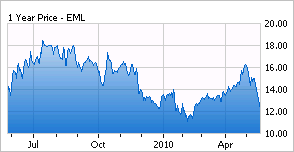 The Eastern Company is a Connecticut manufacturer of industrial hardware, security products, and metal products. This small manufacturer has been in business for over 150 years. Eastern Company is a microcap stock with a market share of just $80 million dollars. Shares have been beaten down since last summer, dropping 23.5%. The stock currently trades at just north of $13 per share.
EML has a good balance sheet for such a small firm. The company has $10.8 million in cash and just $4.8 million in debt. The company recently retired over $7 million dollars in debt over the past year. Eastern Company has a fantastic current ratio of 5.1 with $56 million in current assets and $11 million in current liabilities. The Eastern Company has a book value of $11.14 and currently trades at less than 1.2 times its current book value. The firm has generated $7.78 million in free cash flow over the past year.
You won't hear much about EML in the news with just one analyst following the stock. The stock trades at 16 times next year's earnings estimate of 82 cents per share. EPS is expected to grow at 15.5% and sales are expected to increase over 10%. Trends are improving at Eastern Company. All three business segments are seeing increased demand. Revenue has been trending upward over the past 6 months and profits have risen for the last 3 quarters. This is a positive sign for a company whose revenue had been declining from 2007 to 2009.
EML has continuously rewarded shareholders with a solid dividend payout. The current dividend yield is 2.6%. The payout has been remarkably consistent historically and the Eastern Company has no plans to cut its dividend. EML has paid 279 consecutive dividend payments. That's incredible for such a small company!
Investors looking to add some risk to their portfolio may want to take a look at The Eastern Company. It's important to remember that microcap stocks are subject to extreme volatility. With so few analysts following these tiny companies, their results are difficult to gauge and can dramatically surprise to the upside or downside.
Disclosure: The author does not own any shares of Eastern Company