In March, 2008, the collapse of Bear Stearns was thought to represent complete capitulation. Former "King James-of-the-bank-analysis-court," Dick Bove, even called Bank of America (NYSE:BAC) and Citigroup (NYSE:C) "generational buying opportunities."
Unfortunately, the bottom came a whole year later… in March of 2009. What's more, the monstrous 178% gains for the KBW Bank Index Fund (NYSEARCA:KBE) off the true bottom, still leaves KBE 35% lower than it was in March of 2008.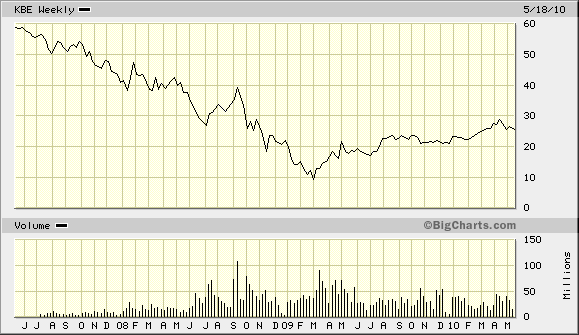 The premature declaration of the end to the financial crisis wasn't just a bad call. It was a Manny Pacquiao punch to analyst sagacity.
Naturally, there are always new wizards to sprinkle fairy dust on a needful public. CNBC gave us Meredith Whitney.
Ms. Whitney's perma-bearishness on banks helped her parlay her status as a respected bank analyst into a feisty mega-adviser with a billion dollar advisory business.
However, other than a single July 09 Goldman Sachs upgrade… a "Buy" rating that came AFTER dozens of other bank analysts had offered similar upgrades… Whitney remained steadfastly bearish on stocks and real estate. She didn't "call" the March 2009 buying opportunity in stocks. And on 4/09, she said that home prices would drop an additional 30%. (They haven't… at least not yet.)
Perhaps the more memorable call happened nearly 6 months to the day in mid-November. Ms. Whitney expressed that "she'd never been more bearish in the past year." Yet financial stocks and real estate stocks have the premier performance in the 6 months since the specific "bear call."
Leading Sector ETFs Over the Last 6 Months
Approx 6-Month %
SPDR KBW Regional Banking (NYSEARCA:KRE)
27.4%
SPDR KBW Bank Fund (KBE)
17.9%
Vanguard REIT (NYSEARCA:VNQ)
16.8%
iShares Cohen and Steers Realty (NYSEARCA:ICF)
16.4%
SPDR Homebuilders (NYSEARCA:XHB)
14.5%
S&P 500 SPDR Trust (NYSEARCA:SPY)
0.9%
So how does Whitney's faulty "calls" differ from those of Bove's? They don't.
I'm not saying that Bove doesn't know a darn thing or that Whitney's a fool. In fact, on 5/19/2010, Whitneys perma-bearishness may prove "right" once again. (I too have questioned Bank ETFs as well as questioned Real Estate ETFs.)
What I am saying is that NOBODY knows what'll happen next. You'll be right, you'll be wrong… and everything in between. That's why disciplined investors use trendlines and stop-loss limit orders to control downside risk.
Disclosure Statement: Gary Gordon, MS, CFP is the president of Pacific Park Financial, Inc., a Registered Investment Adviser with the SEC. The company and/or its clients may hold positions in the ETFs, mutual funds and/or index funds mentioned above.The company receives advertising compensation at the ETF Expert web site from Invesco PowerShares Capital Management, LLC and Geary Advisors, LLC. The commentary does not constitute individualized investment advice. The opinions offered herein are not personalized recommendations to buy, sell or hold securities.