The Alerian MLP Total Return Index posted a -0.46% return for the week and 0.41% YTD during a volatile earnings week coupled with negative Barron's headlines targeting Kinder Morgan and MLP non-GAAP Distributable Cash Flow accounting.
Unit Value Winners and Losers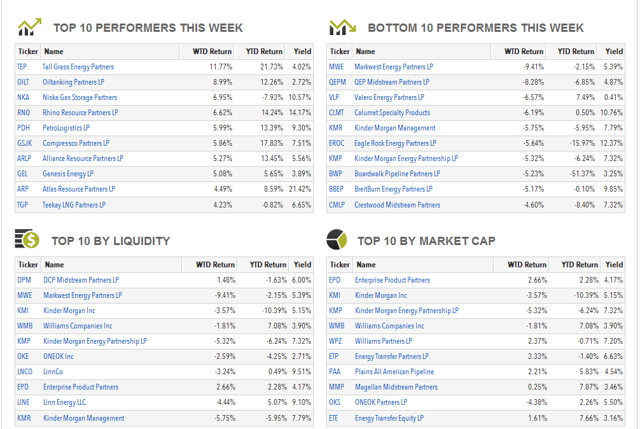 Strong operating results and positive 2014 guidance from mid-cap high growing MLPs such as Tallgrass Energy Partners LP (NYSE:TEP) and Oiltanking Partners LP (NYSE:OILT) resulted in double-digit price gains. On the negative side of the ledger, more established MLPs including MarkWest Energy Partners LP (NYSE:MWE) and Calumet Specialty Products LP (NASDAQ:CLMT) released disappointing results or guidance. Check here for a discussion on the potential for a dividend cut from CLMT. Somewhat surprising, Linn Energy LLC (LINE) did not make the Bottom 10 list after dropping by 5% on the earnings release. Buyers jumped on the price drop with LINE ending up down 4.44% for the week and LinnCo LLC (LNCO) off 3.24%.
Distribution Rate Changes
There was a single dividend increase announcement this week. Vanguard Natural Resources LLC (NYSE:VNR) increased the monthly distribution to $0.21 per unit, up from $0.2075, starting with the February payout to be paid in April.
Also of note, Atlas Resource Partners, LP (NYSE:ARP) will be making monthly distributions commencing with the $0.1933 payment in March. When announced on 1/29, ARP jumped 5%, but subsequently gave back the gain.
Although the bulk of Q4 earnings announcements have fallen into February, many MLPs announced their Q4 distributions in January. Go to this data page to check specific distribution increases or decreases.
Insider Trading
To make the information more useful, the insider transactions chart below is limited to sales or purchases worth more than $100,000. Top buyer this week, Richard Kinder purchased an additional 200K shares of Kinder Morgan Inc. (NYSE:KMI) for $6.3 million.

On the insider sales side, Charles R. Wesley made several sizeable sales of Alliance Holdings GP, LP (NASDAQ:AHGP). Wesley is listed as an Executive Vice President and Director for Alliance Resource Partners LP (NASDAQ:ARLP).

Share Issuance News
Several MLPs announced planned secondary debt or equity issues this week as well as ATM Programs. Included in the list is a closed-end fund offering of additional shares by Kayne Anderson MLP Investment Company (NYSE:KYN). Get the details of any offer of interest by clicking on the specific issue on the Issuance page of the MLPData Dashboard.

ETF, CEF and Mutual Fund Money Flows
MLP focused funds took in $275 million this week, up from $223 million last week and above the four-week average of $219 million. ETF inflow of $80 million was down from an intake of $136 million last week. Mutual funds took in $195 million, compared to $87 million.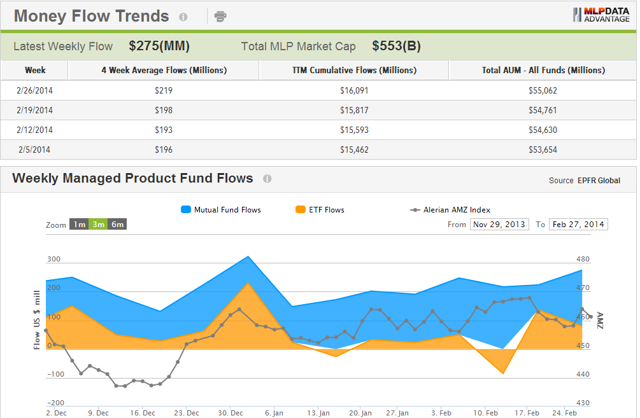 Strong buying of Closed End Funds increased the average premium/discount by +1.26% for the week.
Next Week's Earnings Calendar
Earnings season slows down next week with the earnings schedule listing 10 releases, compared to 26 that announced this week.

To make sure you get this round-up each week, make sure you are Following MLPData here on Seeking Alpha.
Disclosure: I have no positions in any stocks mentioned, and no plans to initiate any positions within the next 72 hours. I wrote this article myself, and it expresses my own opinions. I am not receiving compensation for it (other than from Seeking Alpha). I have no business relationship with any company whose stock is mentioned in this article.