American Electric Power Co. (NYSE:AEP) is a major investor-owned electric utility company and one of the largest electric generating companies with a nearly 38,000 megawatt generating capacity in the United States. AEP also owns the nation's largest electric transmission system of nearly 40,000 miles. AEP has an advantage over its competitors with its 765 kilovolt ultra-high voltage transmission lines that are more than all other U.S. transmission systems combined.
Full Year and Fourth Quarter Financial Highlights
The financial performance of AEP during 2013 remained quite satisfactory and the company has beaten analysts' estimates by a slight margin. AEP generated full year revenues of $15.4 billion that increased by around 3% from $14.9 billion in 2012. The full year operating income increased by 5% reaching $1,573 million and resulted in an EPS of $3.23 with an increase of 4.5% compared to 2012, beating the consensus estimate EPS of $3.19.
Despite the loss of significant retail margins in Ohio, the key to growth was an investment in AEP's core regulated business including its transmission business. The company also achieved cost savings through sustainable process improvements throughout the year.
For the fourth quarter, AEP posted operating earnings of $296 million with an operating EPS of $0.60 on revenues of $3.8 billion. During the same period a year ago, the company reported EPS of $0.50 on revenues of $3.6 billion compared to consensus estimates of EPS $0.57 and $3.55 billion in revenues.
AEP estimates an EPS range between $3.20 and $3.40 for 2014 while analysts estimate an EPS of $3.33 on revenues of $16.04 billion.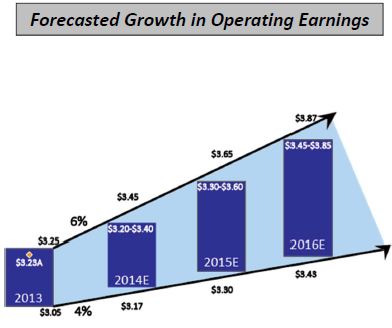 Source: earnings release presentation
The recent healthy performance has enabled AEP to outperform the S&P 500 Electric Utilities Index. The shareholders of AEP received a 14.2% total return in 2013 including dividends that exceeded the total shareholder return of 7.8% for the S&P 500 Electric Utilities Index. AEP expects that the company will maintain higher returns for its shareholders in the future. The annual dividend of $2 grew by 6.4% which is pretty good for a utility stock. The company delivered quarterly dividends of $0.50 with a dividend yield of 4.3%. AEP has consistently increased its dividends with a dividend payout ratio of 60%. The dividends seem to be sustainable since the company has a healthy balance sheet and dividend coverage of 3.9x.
The following graph shows the total AEP returns to shareholder compared to the S&P 500 Electric Utilities Index and S&P 500.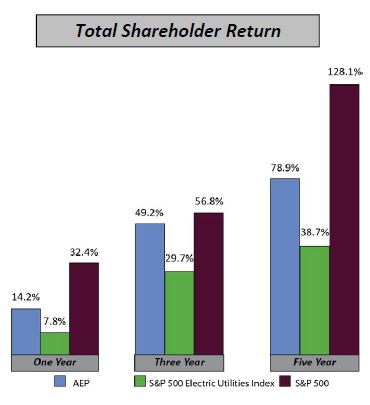 Source: earnings release presentation
Mid-January 2014, AEP decided to enter into a joint venture with AltaLink LP to participate in a bid for Alberta Electric System Operator's (AESO) competitive process to build and operate the Fort McMurray West 500-kilovolt (kV) Transmission Project in the province of Alberta, Canada. Currently AEP has a strong transmission system that supplies about 10 percent of the demand in the Eastern Interconnection, 38 U.S. states and eastern Canada, and 11 percent of the demand in ERCOT, covering much of Texas. If the project goes ahead successfully, it will enhance AEP's foothold in Canada. This project will further strengthen AEP's overall transmission system that is expected to provide growth to the company.
Natural Gas Power Generation is Key to AEP's Future Growth
Currently AEP owns and operates more than 60 generating plants in the United States with a capacity of 38,000 megawatts. The utilization trend of power resources to generate energy is changing as energy producers have been moving towards cleaner, cheaper, and more renewable resources to generate electricity in recent years. In the previous four years, AEP has reduced its coal capacity to 60% in 2013 from 82% in 2010 while consistently increasing its capacity of natural gas to 23% in 2013 from 8% in 2010. Presently, nuclear sources account for 5% while remaining capacity comes from wind, hydroelectric and other renewable resources. In the future, these energy sources will grow significantly and since AEP is committed to clean energy, its existing and potential projects will drive growth for the company.
The following graph shows the coal and natural gas utilization trends.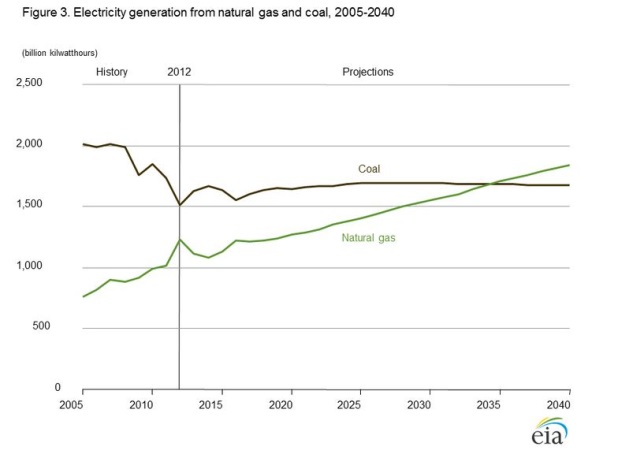 Source: eia.gov
AEP is focusing on increasing its capacity of natural gas to generate electricity and this is the best strategic move for company. According to the Energy Information Administration (EIA), the projected low prices of natural gas will make it a very attractive fuel resource for generating new capacity. It is anticipated that natural gas will account for 35% of total electricity generation while coal will account for 32% by the end of 2040. With the expected decrease in prices of natural gas and its emergence as a major power source AEP's initiatives will deliver its future growth.
The following graph shows the consumption trend of fuel sources used by AEP.

Source: SEC filings
As the world moves towards utilizing clean energy, the advent of hybrid electric vehicles holds the future of the transportation system. AEP has teamed up with one of the largest automaker company Ford (NYSE:F) for the Vehicle-To-Power grid communication system that will allow hybrid vehicles to communicate with power companies to determine where, how long, and what it would cost to recharge a hybrid during travel. The increasing demand for hybrid electric vehicles is clearly visible from the fact that hybrid car sales worldwide have showed positive growth and are expected to reach around 3.7 million units by the end of 2017 with a CAGR of around 21% during 2013-2017. This integration will contribute towards AEP's future growth prospects.
As a utility stock with an attractive dividend yield and history of growing dividends, AEP is a good investment stock option for dividend-seeking investors with low risk appetite. The future prospects of AEP are expected to be quite promising as over the next three years the company is planning aggressive capital spending of $11.5 billion and effective cost control initiatives that will drive its future growth in revenues and earnings. The stock is currently trading at a cheap forward P/E of 14.61X in comparison to the utility sector's forward P/E of 16.3X implying a 10% discount to the forward industry P/E. Investors should consider adding this utility stock to their investment portfolio.
Disclosure: I have no positions in any stocks mentioned, and no plans to initiate any positions within the next 72 hours.
Business relationship disclosure: The article has been written by a Blackstone Equity Research research analyst. Blackstone Equity Research is not receiving compensation for it (other than from Seeking Alpha). Blackstone Equity Research has no business relationship with any company whose stock is mentioned in this article.