The Dividend Champions spreadsheet and PDF have been updated through 2/28/14. Note that all references to Champions mean companies that have paid higher dividends for at least 25 straight years; Contenders have streaks of 10-24 years; Challengers have streaks of 5-9 years. "CCC" refers to the universe of Champions, Contenders, and Challengers.
CCC Listings Top 500 Companies
The pace of dividend-increase announcements picked up again in February, resulting in the number of Dividend Champions, Contenders, and Challengers surpassing the 500 mark even sooner than expected. Previous projections suggested that the listings would end February at 501 or 502 companies, but a spate of "early" announcements pushed the roster to 509 companies as the month ended. (I typically project that companies with Ex-Dividend Dates in the first week of the month will be announced before the end of the previous month. But companies often announce the next dividend from two weeks to two months before the Pay Date and the Ex-Dividend Date is often a month or so before that.)
Ironically, it was a former Champion (and Frozen Angel) - Myers Industries (NYSE:MYE) - that became the 500th CCC company when it announced an increase in its quarterly rate on February 20. Myers has now increased its dividend in 35 out of the last 36 years, and if it hadn't been for a 2009 freeze, it would still be listed among the Champions. Of course, due to differences in the timing of the announcements and the Record and Pay Dates, there was no guarantee that Myers would end up being number 500 in the CCC "Sequence" (column E). That honor fell to Home Depot (NYSE:HD), which truly "coulda been a Contender." (HD ended a 17-year streak of increases with a 2008 freeze - before the Contenders listing was created.) But it may not matter which company can claim the 500th longest streak, since it's only a temporary mark, with companies "moving up" any time there is a deletion from the CCC listings.
The net gain of 21 companies (23 Additions, 2 Deletions) in February may turn out to have been the largest surge until late in 2014, but it's just the early "crest" in what may be unprecedented expansion in the number of Dividend Growth companies. The new Challengers weren't even diminished by the latest "graduations," thanks to the new wave of firms headed toward declaring a fifth year of increases in early 2015. In Appendix B (on the Notes tab), you'll see 38 "NEW" notations, bringing the number of Near-Challengers to a new high of 215 companies, suggesting that the CCC universe could expand over 700 companies by the Spring of 2015.
February featured a continuation of the January sell-off, followed by a rebound that took the S&P 500 to an all-time record to close the month. The average price of CCC stocks, which fell almost $2 in January, rose by a similar amount in February, pushing the average yield down slightly, from 2.84% to 2.81%. The average of the Most Recent Increases edged down, from 9.52% to 9.40%, but I think that the averages were no doubt influenced by the new Challengers, as evidenced by the fact that the average number of years dropped from 17.4 to 17.0 during the month. No doubt the influx of new companies in the months ahead will continue to have an effect on these averages.
As always, please use the CCC only as a starting point for more in-depth research. Feel free to leave any suggestions in the Comment area below.
Quick Summary
The Summary tab includes a table comparing the composite numbers from the latest update to those from the previous month and the end of the previous year. Below that is a summary of the latest month's activity, in terms of companies added, deleted, or promoted. That is reflected below:
Quick Summary:

2/28/14

Champions

Contenders

Challengers

Total

No. of Companies

105

220

184

509

Ave. No. of Years

40.0

14.6

6.8

17.0

Average Price

63.60

64.14

59.65

62.40

Average % Yield

2.55

2.69

3.11

2.81

Ave. MR % Increase

8.44

8.28

11.42

9.40

1/31/14

Champions

Contenders

Challengers

Total

No. of Companies

105

213

170

488

Ave. No. of Years

39.9

14.6

7.0

17.4

Average Price

61.16

62.38

57.77

60.51

Average % Yield

2.60

2.70

3.15

2.84

Ave. MR % Increase

8.70

8.43

11.53

9.52

12/31/13

Champions

Contenders

Challengers

Total

No. of Companies

105

210

161

476

Ave. No. of Years

39.8

14.5

7.1

17.6

Average Price

64.42

65.14

57.74

62.48

Average % Yield

2.49

2.60

3.06

2.73

Ave. MR % Increase

8.68

8.78

11.10

9.49

MR = Most Recent

Additions:

Activision Blizzard Inc. (NASDAQ:ATVI) to Challengers

Admiral Group plc (OTCPK:AMIGY) to Challengers

AVX Corp. (NYSE:AVX) to Challengers

BAE Systems plc (OTCPK:BAESY) to Challengers

Chesapeake Lodging Trust (NYSE:CHSP) to Challengers

Cimarex Energy Co. (NYSE:XEC) to Challengers

Copa Holdings SA (NYSE:CPA) to Challengers

Dr Pepper Snapple Group (NYSE:DPS) to Challengers

Eaton Corp. plc (NYSE:ETN) to Challengers

Equifax Inc. (NYSE:EFX) to Challengers

Home Depot Inc. to Challengers

Myers Industries Inc. to Challengers

Nordstrom Inc. (NYSE:JWN) to Challengers

Primerica Inc. (NYSE:PRI) to Challengers

Retail Opportunity Investments Corp. (NASDAQ:ROIC) to Challengers

Seadrill Limited (NYSE:SDRL) to Challengers

Standard Motor Products Inc. (NYSE:SMP) to Challengers

Starwood Hotel & Resorts Worldwide Inc. (HOT) to Challengers

Starwood Property Trust Inc. (NYSE:STWD) to Challengers

TAL International Group Inc. (NYSE:TAL) to Challengers

Time Warner Inc. (NYSE:TWX) to Challengers

United Parcel Service Inc. (NYSE:UPS) to Challengers

Wyndham Worldwide Corp. (NYSE:WYN) to Challengers

Deletions:

American Science and Engineering Inc. (NASDAQ:ASEI) from Challengers

Boardwalk Pipeline Partners LP (NYSE:BWP) from Challengers

Promotions:

Digital Realty Trust (NYSE:DLR) from Challenger to Contender

Gap Inc. (NYSE:GPS) from Challenger to Contender

ITC Holdings Corp. (ITC) from Challenger to Contender

National Interstate Corp. (NASDAQ:NATL) from Challenger to Contender

NorthWestern Corp. (NYSE:NWE) from Challenger to Contender

Reynolds American Inc. (NYSE:RAI) from Challenger to Contender

Westar Energy (NYSE:WR) from Challenger to Contender
(Table from author; may include underlying data from FinViz.com)
Every Picture Tells a Story
As a bonus, I'm inserting one of Chuck Carnevale's F.A.S.T. Graphs below, highlighting one of the companies listed above. When the price line is in the green area, it suggests possible undervaluation.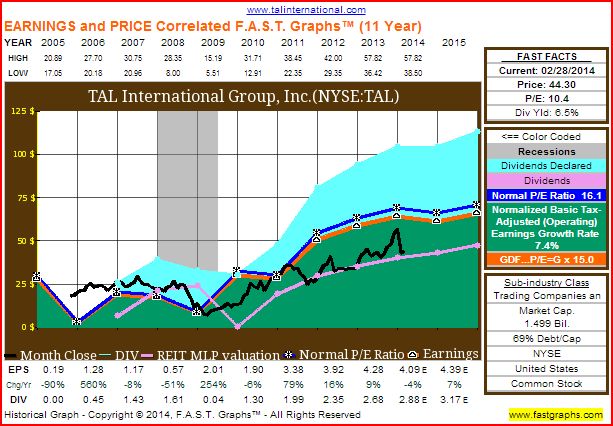 Disclosure: I am long DPS. I wrote this article myself, and it expresses my own opinions. I am not receiving compensation for it (other than from Seeking Alpha). I have no business relationship with any company whose stock is mentioned in this article.