With the growing popularity of organic and natural foods, White Wave Foods (NYSE:WWAV) continues to build upon its momentum to secure a foothold as the dominant player in the natural and organic industry. Year-to-date, White Wave stock has risen over 22% while its closest competitors, Hain Celestial Group (NASDAQ:HAIN) and Boulder Brands (NASDAQ:BDBD), have fallen over 2%. Annies, Inc. (NYSE:BNNY), which White Wave Foods is about to go head-to-head against when it rolls out a new line of Horizon products, has seen its stock slide 12.5% YTD. And while I do like the industry as a whole, there are a number of reasons that White Wave stock has developed momentum and has a solid chance of increasing its stock price this year.
White Wave Foods, a spinoff of Dean Foods (NYSE:DF) manufacturers, markets and sells plant-based foods, beverages, and dairy products. The company's brands include the plant-based milk substitute lines Silk and International Delight. Along with Land O'Lakes, it also carries its organic dairy brand, Horizon Milk, and its European brand, Alpro.
Since the May 2013 spinoff, the company has shown the same aggressiveness of its parent, Dean Foods. In January, White Wave entered the prepackaged organic market in a big way by purchasing Earthbound Farms for $600 million. Earthbound Farms is the largest organic producer of packages salads; in 2013 the company had sales of over $500 million. And its most recent addition to its product line came in a January 21st announcement that the company entered into a licensing agreement to develop, manufacture, and distribute Dunkin' Donuts (NASDAQ:DNKN) Coffee Creamers at grocery outlets nationwide.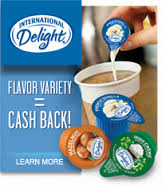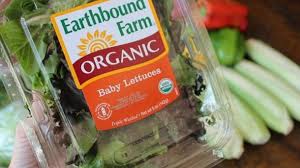 Almond Milk Is The New Plant-Based Milk King
While all segments of it operations seem to be solid revenue producers, it's the rise of almond milk that has given the company some of its most impressive growth numbers. From 2009 to 2012, White Wave compounded annual growth in almond milk sales were 126%, rising to $458 million in sales. And as regular milk continues to see sales decline, I look for the company's almond milk to continue to gain market shares.
Milk has been hit hard over the past few years and has been losing market shares to dairy alternatives, so much so that the milk industry announced it's ending its 20-year-old white-mustachioed ad campaign "Got Milk?" for a more competitive spin, "Milk Life", attempting to push milk as an natural energy drink.
According to the U.S. Department of Agriculture, from 1975 to 2012 milk sales have dropped 25%. And while dairy was falling, plant-based dairy alternatives such as soy, rice, and almond milk have been growing at a rate of 10.9% annually since 1990. Today the non-dairy category captures more than $1 billion in annual retail sales in the U.S., and Marketresearch.com expects sales to reach $1.7 billion by 2016.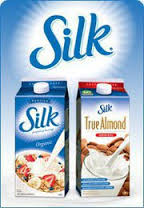 The one time plant-based leader was White Wave's Soy Silk, but as sales have climbed over the past few years, soy has been dethroned by almond milk. According to White Wave, soy represents 35% of the plant-based milk market while almond milk holds 55% and climbing. Euromonitor International forecasts retail sales of soy milk to drop an additional 11% this year.
The plant-based milk customer has turned to almond milk because it contains no saturated fat, has less calories than soy, rich in vitamin E, and oddly enough it has the "hip" factor. According to Larry Finkel, director of food and beverage research at Marketresearch.com, "Soybeans just aren't hip. Nuts are trendy now. Soy sounds more like old-fashioned health food, like tofu, and could probably benefit by a reinvigoration of their brand."
While today White Wave controls 75% of the soy milk market and 52% of the almond milk market, it is facing some stiff competition. Hain Celestial carries its Dream Line of plant-based milks with both Soy Dream and Almond Dream. Blue Diamond has come on strong with its line, Almond Breeze. And other manufacturers are scrambling to get their share of the rising almond milk market.
White Wave Extends Into China
As mentioned earlier in the article, White Wave is shown to be aggressive in developing new brands. And recently the company announced it was extending its brands outside of the U.S. and Europe when it entered the Chinese market via joint-venture agreement with China's Mengniu Dairy Co. to manufacture, market, and sell a range of nutritious products in China. Mengniu Dairy is one of the leading dairy product manufacturers in China, and will own 51% of the company, while White Wave will own 49%.
This could be an excellent growth avenue for White Wave as the rise of the middle class in China has led to the country as the leader in the growing almond consumption in Asia, and is now the largest export market for California almonds. Gregg Engles, chairman and CEO of White Wave, commented that the joint venture is consistent with White Wave's "strategy to expand into new geographies," adding that the partnership with China is a, "unique opportunity for us to access the Chinese market, one of the world's largest consumer markets with a rapidly growing, multibillion-dollar nutritious product segment."
White Wave's Horizon Brand Looks to Expand Its Horizons
While milk sales overall have slid, White Wave's Horizon Organic brand has seen a sales growth of 5%. And with the new announcement look for the brand to continue to grow. On February 25th the company announced that it was expanding its Horizon line of products out from the dairy case and on to the shelves with the launch of six new Horizon Mac & Cheese products. Two of these products are certified organic, putting White Wave in direct competition with the organic mac and cheese leader Annie's, Inc.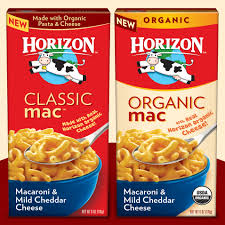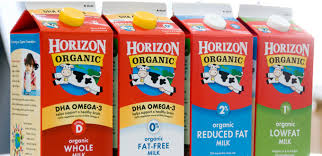 This is a smart move for White Wave as it further extends its growing presence in the $29 billion organic industry. It may however, become a threat to Annie's, as the much smaller company will receive a real challenge from a major organic food manufacturer with the strength and size to dominate the field. Also, I believe White Wave is not done building its organic product line and will likely go head to head with Annie's on other products. That being said, the organic market is now large enough to support a number of manufacturers selling similar products. And while Horizon has a strong opportunity to gain market share, Annie's should hold its lead in the industry for the near future.
White Wave is a $5 billion market cap company. Its stock closed on February 26th at $28.20 per share, slightly below its 52-week high of $29.56. The company does have a high PE ratio of 44, but that is in line with Annie's, and half the PE of Boulder Brands, but quite a bit higher than Hain Celestial with a PE ratio of 32. However, White Wave continues to have impressive numbers and it is clearly a growth stock.
For the fourth quarter sales rose 11.5%, to $679 million, beating consensus estimates of $663, and up from $609 million from the same quarter a year ago. Net profit came in at $31.2 million for the quarter or $0.22 per share, up from $26.4 million, or $0.18 per share same quarter last year, and beating estimates of $0.20. White Wave expects sales growth in the first quarter to be in the 20% ranges, and projects full year 2014 to have sales growth in the 20% range, with organic sales to rise between 7% and 8% for the year.
Conclusion
I foresee the trend of the consumer turning to more and more healthier options will continue. I believe supermarkets will add additional shelf space to accommodate the demand. This is very good for the organic and natural food industry as a whole. And while there may have be some sparring with the watch dog group Cornucopia on just how strictly organic and natural the White Wave products were, especially Horizon milk when it was under the Dean Foods banner, there is little doubt that White Wave brands are very familiar to the customer as quality products.
While I like Hain Celestial as a long term investment, I see White Wave as the more aggressive company. I like that White Wave has entered into China and that it is the leader in the hottest trend of plant-based milk. I also look for increasing revenue this year as the company expands its product line. Though I would like to see the stock dip a little more for a better entry price, it might not be worth waiting as this stock looks primed to rise.
Disclosure: I have no positions in any stocks mentioned, and no plans to initiate any positions within the next 72 hours. I wrote this article myself, and it expresses my own opinions. I am not receiving compensation for it (other than from Seeking Alpha). I have no business relationship with any company whose stock is mentioned in this article.