Kodiak Oil & Gas Corp. (NYSE:KOG) is a promising energy investment play on the growing U.S. domestic oil and natural gas production. The company has operations in the Williston Basin (173,000 net acres) in North Dakota and in the Green River Basin (10,127 net acres) in Wyoming and Colorado. Total proved reserves are 167 million barrels of oil equivalent (MBOE). Most of Kodiak's reserves are located in areas that the company believes has a higher reservoir pressure and a high degree of thermal maturity. Recent drilling and engineering analysis have estimated recoveries of 450 MBOE to 1,000 MBOE. These favorable conditions for fuel production make it likely that Kodiak will experience significant positive growth from productive wells for several years.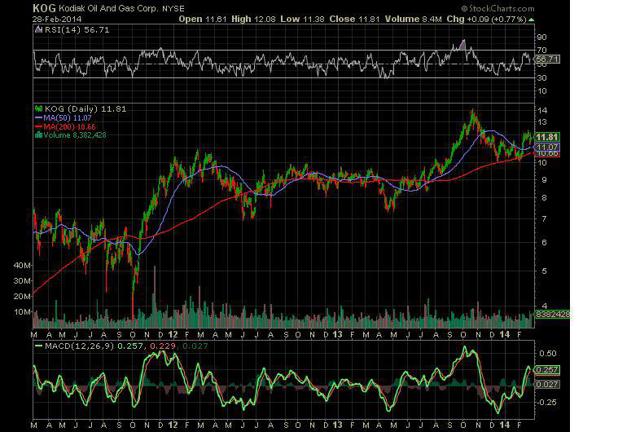 Business Highlights
In 2013, Kodiak had a total sales volume of 10,646 MBOE. That includes 9,439 MBbls from oil and 7,242 MMcf from natural gas. Average daily sales during 2013 increased over 100% for oil to 25.9 MBbls/day with a natural gas sales increase of 120% to 19.8 MMcf/day. Net cash from operations increased 103% to $554 million in 2013 over 2012. These achievements demonstrate Kodiak's dedication to create value for shareholders.
Kodiak has the competitive advantage of having a large, multi-year drilling inventory for oil production. The company believes that it has over 12 years of drilling activity remaining based on current production levels. This is taking into account 1,280-acre drilling units in line with current oil prices and service costs. Kodiak also believes that the number of drillable locations could increase.
The company also has a large operational scale. It plans to operate seven drilling rigs and projects to drill about 100 wells in 2014. The large operational scale allows Kodiak to benefit from significant cost efficiencies. This has contributed to Kodiak's large gross margin of 79%. Kodiak operates with a larger gross margin than its competitors.
| | |
| --- | --- |
| Company | Gross Margin |
| Kodiak | 79% |
| Double Eagle Petroleum (NASDAQ:DBLE) | 39% |
| Exxon Mobil (NYSE:XOM) | 24% |
| Marathon Oil (NYSE:MRO) | 70% |
| Chevron (NYSE:CVX) | 39% |
Valuation
Kodiak is trading at 13 times expected 2014 EPS and 10.8 times expected 2015 EPS. The company is also trading with a low PEG of 0.24 due to its high 5-year annual expected earnings growth of 55%. This is more attractive than the valuation metrics of the oil and gas drilling industry which has an average forward PE of 11.3 and a PEG of 0.70. Kodiak is also valued more attractively as compared to the S&P 500, which has a forward PE of 15.8 and a PEG of 1.33. Therefore, the stock is currently priced attractively for investors.
The Risks
Kodiak's operations are largely dependent on the Williston Basin region. The company's operations could be significantly impacted if problems arise in this geographic area located in the northwestern portion of North Dakota. Problems such as adverse weather conditions, natural disasters, new government regulations, etc. could cause significant interruptions in Kodiak's operations.
Conclusion
Kodiak is priced attractively and has high expected earnings growth. This is a great combination for strong stock appreciation over the next few years. Kodiak is a strong play on U.S. domestic oil production. Kodiak has large scale operations for efficiency and 12 years of future drilling activity lined up. The company's strong expected growth could catalyze the stock to increase by at least 20% annually over the next several years.
Disclosure: I have no positions in any stocks mentioned, and no plans to initiate any positions within the next 72 hours. I wrote this article myself, and it expresses my own opinions. I am not receiving compensation for it (other than from Seeking Alpha). I have no business relationship with any company whose stock is mentioned in this article.