The price trajectory of Apple's (NASDAQ:AAPL) stock in the last several years is reminiscent of how volatility regimes emerge after the era of insane speculative market behaviors ends. "Emotional attachment" and the "wild enthusiasm" over Apple stock was at unprecedented levels when shares peaked at $705.07 in September 2012. As it became harder to continue impressive earnings growth, stock price declined steadily losing 45 percent from its peak. Shares have gained 33 percent since last summer, but some of the issues plaguing Apple's stock still exist. In this article, I will make an effort on putting into context the shifting volatility regimes and what it means for Apple stock.
Apple has had a history of being a very volatile stock. For instance, Apple hit a tech-bubble high of $37.59 on March 23, 2000, and didn't return to that high until roughly five years later in January 2005. Apple's stock also suffered a severe correction in 2006 and a brutal downdraft in 2008 when it lost half its value. The graph below illustrates the price behavior for Apple stock from January 2002 to December 2005 and the 30 day moving average volatility which the stock experienced. Severe correction in 2006 was followed by a subsequent rise in realized volatility, and as the stock consolidated around $38 level, the next rally up in share price was accompanied by the rising realized volatility.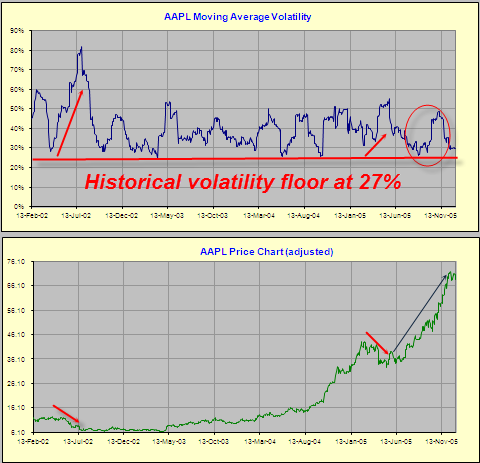 Source Yahoo Finance
During the financial crisis of 2008, Apple stock lost 60 percent and realized volatility rose to never seen before levels of 90 percent. Next bull rally in the stock was followed by declining realized volatility levels. Realized volatility found a floor at 22 percent before subsuming its mean reverting behavior. Flash crash of May 2010 and risk aversion by investors during that summer marked the return of realized volatility in Apple stock. The chart below illustrates price behavior and realized volatility movements.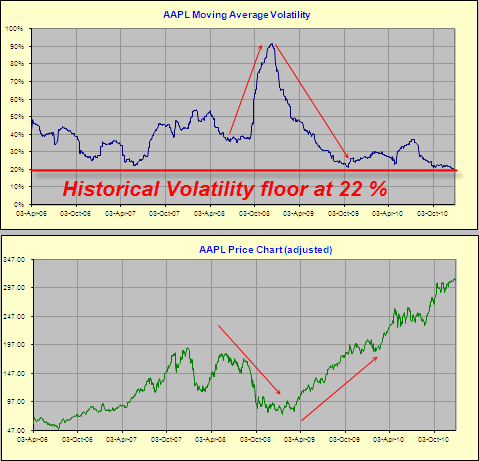 Since January 2011 to present date, Apple's stock has gained 56 percent which includes the time period when the stock headed into the bubble territory. Business outlook was not the only thing that drove the steep ascent of Apple shares, fund managers scrambled to keep a heavy exposure to Apple to match their performance against benchmark index such as Nasdaq 100. Higher volatility in the share prices during this period resulted in realized volatility levels above 45 percent. Reversal from last summer lows of $385 was accompanied with the rise in realized volatility levels. Similar volatility pattern was noticed during the bull rally in the stock after the correction of 2006.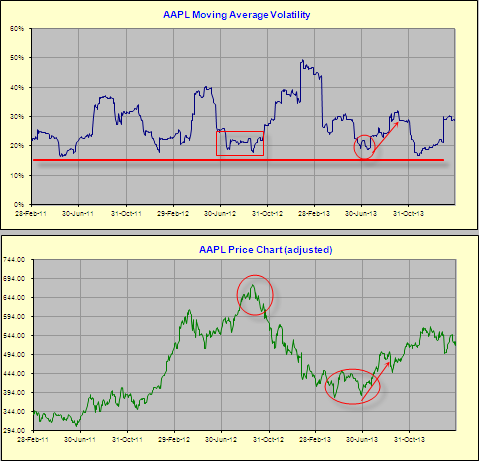 Evident from the charts above is the fact that realized volatility in Apple has found a floor close to 22 percent since 2000 before mean reverting to its long-term average of 30 percent. It is often helpful to gauge the uncertainty associated with future asset prices as well as investor's expectations through options implied volatility levels. Implied volatility is said to be highly significant and "informationally efficient predictor" of realized volatility in an asset. The chart below illustrates the fluctuations in implied volatility and realized volatility levels for Apple for the last two years. We can notice a given change in implied volatility is associated with a larger change in realized volatility and presence of volatility premium in the options markets (Implied Volatility and Realized Volatility Differential). As the uncertainty about the future returns rises, implied volatility rises as well. At present when the company is under immense pressure to reignite growth with new breakthrough products, implied volatility has dropped to its lowest levels in two years.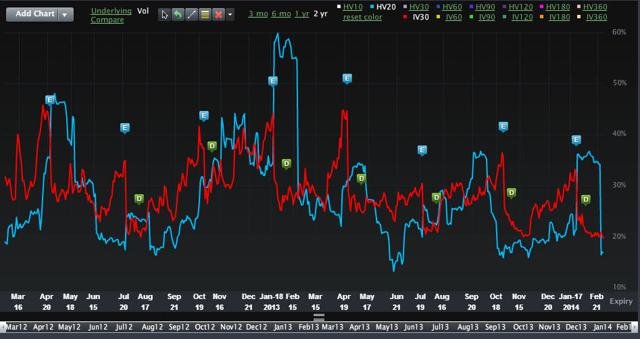 Source Livevol Pro (Implied Volatility- Red, Realized Volatility - Blue)
At current price levels, Apple trades at P/E ttm multiple of 12.71. Breaking down this P/E multiple validates an incredible statistic which investors should not ignore at all. Existing assets trade at 11.95 times the last twelve month earnings and future growth trades at 0.77 multiple only. Implied in the current stock price is the market's expectation of 2.20 percent growth in the operating income for the next 5 years. Expected growth in operating income drops to negative levels if stock price falls below $485. Investors have become concerned about Apple's growth, reflected in the minuscule growth multiple they are paying at present. Value of existing assets covers the price at $485; value of growth is a pure bonus. Market participants believe $485-$500 level should act as a strong floor for the stock. The company's accelerated $14 billion stock buyback program after reporting Q1-2014 results underlines the value proposition the stock generates at these levels. Unfortunately the clouds of uncertainty over future growth still prevail and continue to influence the stock price. At the company's recently held shareholder meeting, Tim Cook, responding to a question about innovation, said Apple preferred not to talk about new products under development. However, his statement "You can see we're getting ripped off left, right and sideways" acknowledges investors' anxiety in Apple over product innovation.
With the downside risk identified (barring any major macro event) and existence of high uncertainty among investors, it seems odd why implied volatility has dropped to levels not seen in the last two years. We notice similar implied volatility levels for options across all tenors except April and May (which includes Earnings Announcement). Moreover, implied volatility levels currently are lower than the long term average of realized volatility which Apple's stock experienced since 2000. Low implied volatility levels points to complacency among Apple investors. It seems pretty clear that market participants feel they have everything figured out. Although the market has now priced much lower values for implied volatility, the rather persistent regimes of the multi fractal volatility predict a high volatility regime to come, but a more positive environment in the next 6 months. Potential upside volatility risk present needs to be considered by investors/traders. Strong argument on multiple expansions can be structured for the coming months, but the possibility of increased dividend payout and changing investors' perception about the company should not be discounted at all either.
Disclosure: I am long AAPL. I wrote this article myself, and it expresses my own opinions. I am not receiving compensation for it (other than from Seeking Alpha). I have no business relationship with any company whose stock is mentioned in this article.
Additional disclosure: I am long Apple through options