Kinder Morgan (NYSE:KMP) (NYSE:KMI) is in the bargain bin again, and for familiar reasons. In late February Barron's penned another negative article on the company, sending shares down by nearly 4% in a day, adding to what has already been a difficult last couple of months. In fact, just before the negative article from Barron's, management had to issue 6.9 million additional units of KMP in order to pay off some commercial paper. Hitting the stock when it was down, Barron's article was awfully well-timed.
In any case, shares of both the partnership KMP and the corporation KMI are both at two-and-a-half year lows, and in my opinion there is little good reason for this to be. This is Barron's second negative article on Kinder Morgan, and its content brought nothing new. It was largely a 'rehash' of the first article, and was also released at a rather opportune time.
My article will examine the more important points of the Barron's article. It will also mainly focus on Kinder Morgan's fundamental business prospects and expectations for 2014. It is my opinion that right now, both partnership units and corporation shares of Kinder Morgan represent a significant value opportunity.
Why Is It Down?
All things considered, Kinder Morgan has had a tough last couple of months. There are three reasons why shares are down at a two-and-a-half year low. First, and most importantly, is decelerating growth. Distributable cash flow, or DCF, per share is expected to increase by only 8% in 2014, down from over 10% last year. KMP's DCF is expected to rise by only 5%, down from 7% last year. While these numbers are material, they by no means are the end of the world for Kinder Morgan.
Second, management has issued additional KMP units to pay off commercial paper, and this has added to downside momentum for both KMP and KMI. In fact, issuance of KMP units to pay off commercial paper is nothing new. This has happened at least once a year for the last five years, and this time the transaction amount was $560 million; not too big for an entity which has a market cap of over $100 billion. While this is something of a drag for unit holders, this too is not the end of the world.
Thirdly and finally is the Barron's article. I could see little difference between the concerns in this article and that of the past ones which Barron's has written on Kinder Morgan. The article even featured the same market commentator as before, Hedgeye's Kevin Kaiser.
Kinder Morgan, for its part, responded much the same way it did to the previous negative article from Barron's. As its biggest concern, Barron's cited lack of "maintenance capex" and, at the same time, an abundance of "growth capex" despite lackluster growth in cash flow. The article went on to imply that Kinder Morgan was understating maintenance capex and overstating growth capex in order to maximize its reported DCF. DCF is, by the way, the most meaningful way of measuring a partnership's ability to pay distributions. Management's response to Barron's claims was to point out that most pipeline maintenance gets classed as an operational expense and not maintenance capex.
Another one of Barron's concerns was the impact on KMP's future DCF when the partnership's CO2-injection oil fields begin to decline. The article argued that because a good chunk of the partnership's DCF, about 20%, comes from the CO2-aided oil production, Kinder Morgan could be forced to cut distributions when production here begins to decline. But management estimates that the partnership's oil fields will not see production decline until 2021. To put things into perspective, the decline from these assets will be $200 million in 2021, versus an entity today which altogether generates $4.4 billion in DCF, and should earn "substantially greater" DCF by the time these fields finally start to decline. Long-term investors should not worry about the concerns raised in either Barron's article.
Financial
Let's take a brief look at Kinder Morgan's DCF goals and debt. Overall distributable cash flow for KMP is expected to grow by a nice 14%, but at the same time management will issue units and thereby increase the unit count by 9%. Therefore, per share DCF is expected to grow by 5%. For general partner KMI, which has incentive distribution rights and benefits more from acquisitions, per share DCF is expected to grow by 8%. This year, KMP's debt level will increase on an absolute basis but will remain at around 3.7 times EBITDA, near last year's levels and historical levels.
Prospects
Kinder Morgan is a "mega cap" company with broad exposure to midstream energy in North America. Going over the projects of all Kinder Morgan segments would be a cumbersome read and could lead the reader to miss the bigger picture.
So instead, this article will focus on two very important key segments of the business, natural gas and CO2 based oil recovery, both of which I believe not only represent Kinder Morgan as a whole but also show the changing picture of the North American energy landscape.
Of Kinder Morgan's $3.6 billion 2014 capital budget, $687 million will be spent on natural gas. The natural gas segment actually represents about 43% of KMP's total revenue, making this the partnership's largest segment by far. In a business environment with very high barriers to entry, Kinder Morgan's unparalleled natural gas pipeline network is a tremendous asset. In fact, it is the only coast-to-coast network in the country. It has benefited from the Copano acquisition, which gave the company an extensive network in both south Texas and Oklahoma. It has also benefited from the El Paso acquisition, which has given Kinder Morgan yet another extensive network in the southeast and the west.
Despite the popular belief that the US dry gas market is in a slump, natural gas has a good growth story ahead of it in terms of not only supply but also demand.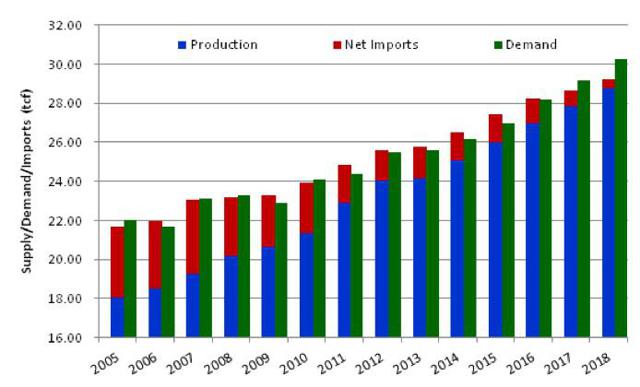 Chart Courtesy of Vanguard Natural Resources
The above chart shows a steady demand increase for natural gas. Conversion to natural gas for electricity, increased demand from a growing manufacturing sector and growing exports to Mexico are all contributing to the steady increase in demand for natural gas. With such an extensive network, no midstream company is as well-positioned as Kinder Morgan is to take advantage of this trend.
The consistent improvement in enhanced oil recovery techniques is another major trend in North American energy. The foremost of these techniques is CO2-injection oil recovery. Interestingly, Kinder Morgan is one of the largest CO2-injection oil producers in the country, behind only Denbury and perhaps Occidental. While Kinder-Morgan's CO2-based oil fields have been a source of controversy because these fields will eventually see production declines, management has been able to postpone those declines thanks to improving recovery techniques, as the chart below will show us.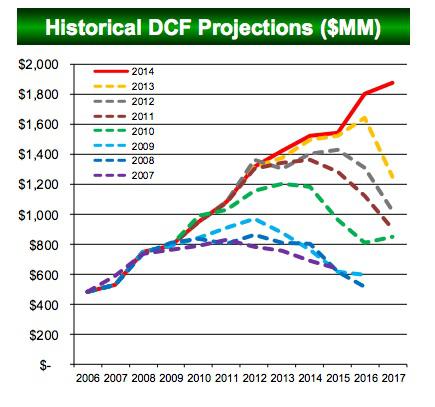 Personally, I see Kinder Morgan's exposure to CO2-injection oil recovery as an immense strength. Enhanced oil recovery techniques like CO2 injection tend to have very high profit margins because the drilling is still done in traditional basins where oil can be found at much shallower depths than that of the shale. For example, Denbury Resources (NYSE:DNR), the only pure-play CO2 oil recovery company, consistently has among the highest net margins in the industry.
Kinder Morgan's CO2-injection oil fields are all located in the Permian Basin, which is the most prolific and high-margin oil basin in the country. Furthermore, Kinder Morgan's CO2-aided oil production will continue to increase until at least 2021. Overall, Kinder Morgan's exposure to this business should be seen as a net positive and not a cause for concern.
Looking at the business holistically, Kinder Morgan has the broadest exposure to increasing energy activity in North America. In addition to gas and CO2-injection oil, Kinder Morgan is also exposed to trends like crude oil import displacement, the increasing need for storage of both liquids and gas, and finally various activities along the Houston ship channel, which is becoming increasingly complex and is now handling exports as well as imports. In addition, Kinder Morgan has the only oil pipeline to Canada's west coast terminals.
"A Hell Of A Deal"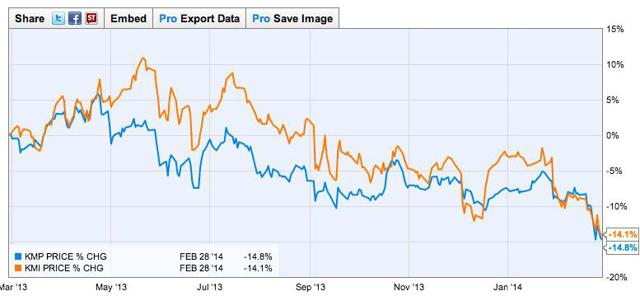 The above chart is of KMP and KMI. This chart really only tells part of the story. From a valuation standpoint, units of KMP itrade at under fourteen times DCF. That is a good deal for the market's premier midstream partnership.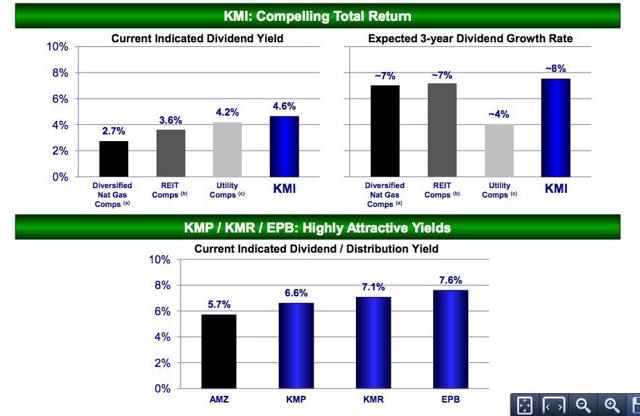 These charts, provided by investor relations, show us more of the "big picture." Here we see that KMP offers a significantly higher yield than does the Alerian Pipeline Index, a pipeline ETF. KMI offers a better yield than the average utility or REIT, yet offers more growth than either one of those. Since this chart came out, the yield of both securities has only gone up. The theme of Kinder Morgan's analyst day this year was "opportunity knocks." That theme sounds a bit cliche, but the sentiment, in my opinion, is right on the money.
Broad Exposure, Bright Future
Kinder Morgan is perhaps the best way to participate in the North American energy renaissance in a moderately low-risk manner. Kinder Morgan has "buckets" in many major growth avenues. Expansion in use of cheap, abundant natural gas? Check. High margin enhanced oil recovery? Check. LNG export terminals? Got that, too. And Kinder Morgan also has some nice, shiny things that few, if any, other pipeline companies do: An export pipeline into Mexico and also a very important pipeline in Canada which connects Alberta's oil with the west coast terminal in Burnaby.
Kinder Morgan, altogether, has a market cap of over $100 billion. But if we gave someone $100 billion and told them to go out and replicate what Kinder Morgan has, they surely wouldn't be able to do so: The well-placed infrastructure and long-term cash flow generating contracts cannot easily be remade. This analogy, albeit simple, shows just how wide of an "economic moat" Kinder Morgan has. I believe that Kinder Morgan is a good investment right now.
Disclosure: I am long KMP. I wrote this article myself, and it expresses my own opinions. I am not receiving compensation for it (other than from Seeking Alpha). I have no business relationship with any company whose stock is mentioned in this article.