BHP Billiton (NYSE:BHP) expects iron ore prices to slow down this year as the metal ore supply surpasses demand. The Australian dollar or AUD has shown weakness due to poor construction data. The company's net profit after tax or PAT for fiscal year or FY 2014 is sensitive to the change in the iron ore price, and AUD as follows:

Source: BHP Billiton
In this article, I will discuss the impact of iron ore price and AUD on BHP Billiton's PAT.
Iron ore price impact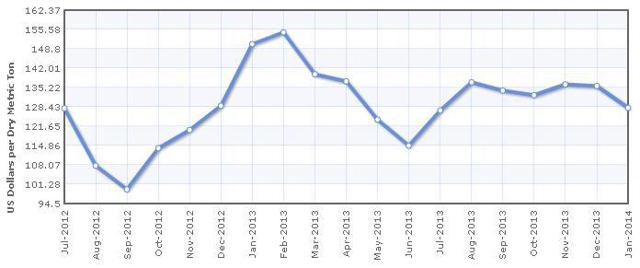 Source: indexmundi
Iron ore prices from June 2013 to January 2014 were in the range from $127.19 per tonne to $137.06 per tonne with an average price of $133.03 per tonne over this period. This is above the average price of $126.63 per tonne in the period from June 2012 to July 2013.
BHP Billiton's PAT will change $120 million with $1 per tonne change in iron ore price for FY 2014 which ends in June this year. The company's guidance for FY 2014 iron ore production is 192 million tonnes or mt of which 98 mt has been produced from its Western Australia mines till December 2013. Iron ore price has declined 10% since the beginning of 2014, and touched a low of $119.90 in February this year. This can hamper the company's PAT for FY 2014 as nearly 49% production from its Western Australia mines is scheduled to complete in the second half of FY 2014.
BHP Billiton plans to raise production from its Western Australia mines to 270 mt per annum or mtpa. Goldman Sachs has forecasted that iron ore price will fall to $80 per tonne in 2015 which can have a major impact on BHP Billiton's PAT in FY 2015. The marginal benefit of increasing production will decline with the increase in supply and declining iron ore price.
Currency impact

Source: Yahoo Finance
In January 2014, AUD hit a 3 ½ year low of $86.97¢, its lowest level against the U.S dollar or USD since July 2010. Deutsche Bank predicts that AUD can fall to $66¢ in 2015 mainly due to reduced government spending, declining mining investment, and falling commodity prices. In the current FY, BHP Billiton's PAT will change $100 million with 1 cent change of the AUD against the USD. The weakening AUD can bring relief to BHP Billiton as its major iron ore operations are located in Australia. In the current FY, the weakening AUD can neutralize the negative effect of declining iron ore price on the company's PAT. In FY 2015, weakening AUD can increase the company's PAT provided iron ore price remains stable or moves in the upward direction.
Conclusion
In my opinion, oversupply, and declining iron ore price remains a major concern for BHP Billiton as it can hamper the company's PAT which can neutralize the benefits from weakening AUD. BHP Billiton is spending on increasing its iron ore production to meet China's iron ore demand. On the other hand, China is looking forward to reduce its dependence on Australian and Brazilian miners by importing more from China owned iron ore projects in Africa.
China meets 8% of its iron ore supply from Africa, most of it coming from South Africa. China has added African nations Guinea-Bissau, Tanzania, Uganda, Zambia, and Swaziland in its iron ore supplier list. The iron ore supply from Africa is small in comparison to 70% supply from Brazil and Australia. However this move can add to oversupply which can suppress iron ore prices further.
Disclosure: The author has no positions in any stocks mentioned, and no plans to initiate any positions within the next 72 hours. The author wrote this article themselves, and it expresses their own opinions. The author is not receiving compensation for it (other than from Seeking Alpha). The author has no business relationship with any company whose stock is mentioned in this article.