By Bryan McCormick
We all tend to get caught up in the market focus of the moment, which this morning is the euro crisis. But sometimes we can learn a lot about our own market behavior by looking further afield, even into regions where we may have little directly invested.
In this case, there has been a crisis brewing in Australia that has been largely overlooked. The situation there has been created not by indebtedness or the poor performance of the economy, but instead by policy. Specifically, the proposed 40 percent special tax on the profits of mining companies, which would raise their estimated total tax burden by an astounding 60 percent.
The tax was purportedly proposed as a means of shoring up revenues for payouts to pensioners and for rising health care costs. But this morning Bloomberg published an article that is indeed telling about the far-ranging impact of this policy.
The tone of the comments from analysts quoted in the report echoed a fear that this new form of special tax levy might well become the norm around the globe in a time of fiscal crisis and austerity. Charlie Aitken, executive director of Southern Cross Equities, referred to this potential tax contagion as "global financial markets suicide."
The policy has clearly spooked not only resources companies in Australia, it has created a panic amongst investors. To that end, I am posting two charts that make conditions in Europe and the US seem downright enviable by comparison. Both charts reflect percentage changes on a one-year basis.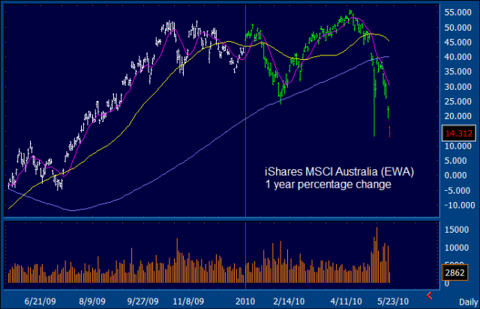 Click to enlarge
(Click to enlarge)
The first above examines the iShares MSCI Australia Index Fund (NYSEARCA:EWA). The index has plummeted since the proposed special tax was announced, with a intensified acceleration in recent weeks. The EWA at one point had been up 55 percent from year-ago levels but is now up just 14 percent, after a major loss in the last several weeks.
Also note the very long bar on May 6, our market panic lows. Although many may have thought this was an error at the time, price today has nearly caught up with that low, appearing to confirm that the earlier panic was genuine. If it were not, we would not be revisiting this level.
The second chart below shows how the Australian dollar has traded against the US dollar. As can be seen clearly, it too has fallen off a cliff. While the appreciating US dollar is partly responsible for this, the impact is not limited to that. Rather, it reflects a crisis of confidence and a concern for the investable future of the country.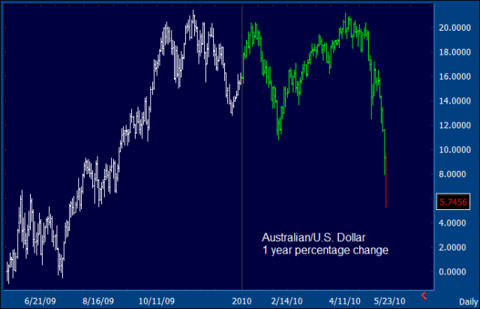 Click to enlarge
(Click to enlarge)
The markets are trying to tell politicians something critically important about policy and its real economic effects. The intended recipients, however -- those who make policy -- don't appear to be listening.
We should all hope that this is not something that will be repeated globally. Will it serve anyone's interest come later this year to have won a Pyrrhic victory over markets, while destroying the wealth of all?
This isn't about speculation; it affects everyone. In the case of Australia, it is tax policy. In Europe and the United States, for now, it is regulatory risk. Rather than shouting at markets to behave, politicians should be listening to what those markets are trying, rather desperately, to say while there is still time to change course.
Disclosure: No positions