The week ahead should be a more stable one for real estate relative stocks than recent periods. It's all because of housing relative and other economic reports that gave life to the shares last week and offered hope to investors of all sorts. With little new housing relative data set for release in the forward period, the group could settle here, save for a broader geopolitical catalyst that threatens the market on the whole.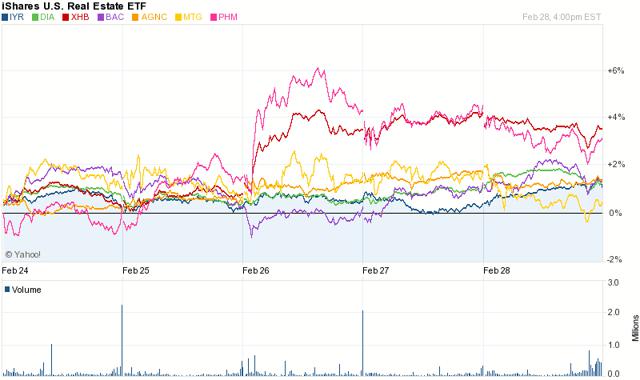 Surprisingly, February was not a miserable month for real estate relative stocks, considering how poor housing data has been. However, the group took quite a whipping in January. Over the last week, Wednesday brought new life for homebuilders, as seen here in the movement of the SPDR S&P Homebuilders ETF (NYSEARCA:XHB) and PulteGroup (NYSE:PHM), the nation's largest builder. The catalyst was strong New Home Sales, which unexpectedly surged to an annual pace of 468K in January, up from December's revised pace of 427K (revised from 414K). Economists were only looking for 400K for January, so the builders surged on the good news.
Unfortunately, the Mortgage Bankers Association (MBA) reported on the same day that application activity declined to a level not seen since 1995. That hurt the shares of mortgage lender Bank of America (NYSE:BAC) Wednesday. However, MGIC Investment (NYSE:MTG) shares could not decide which way to go, drawing twin peaks that more resembled a roller coaster ride than a stock chart.
Pending Home Sales for January closed out the week for the real estate data flow. The measure of existing home sales contract signings surprised economists as it improved to an index mark of 95.0, while the prior month was revised higher to 94.9 from 92.4. The news solidified the gains earned earlier in the week and helped the stocks hold against a dangerous geopolitical catalyst that threatened all equities Friday afternoon.
| | | | |
| --- | --- | --- | --- |
| Security | Last Week | Year-to-Date | Last 12 Months |
| iShares US Real Estate (NYSEARCA:IYR) | +1.0% | +8.4% | +0.1% |
| SPDR S&P Homebuilders | +3.7% | +2.2% | +19.9% |
| Bank of America | +1.5% | +6.2% | +45.8% |
| Annaly Capital (NYSE:NLY) | +4.1% | +12.1% | -26.7% |
| MGIC Investment | +0.3% | +6.2% | +136.4% |
| PulteGroup | +3.0% | +3.0% | +9.0% |
Of the issues we follow regularly, mortgage REIT Annaly Capital reported earnings last week and blew out the quarter, beating the analysts' consensus by nine cents. However, take note that Annaly's book value continued to decline in the quarter. Still, the stock took its lead from earnings and gained 4.1% on the week.
In the week ahead, we think the Crimean crisis could sink all ships, so to speak, and so we suggested investors take risk off as the situation between Russia and the Ukraine seems likely to deteriorate further. The U.S. housing sector should be somewhat insulated from the geopolitical issue, but if it starts to get too messy, there would be few hiding places for capital save for gold and precious metals.
The economic report schedule for the week is of course keyed off the monthly Employment Situation Report. Over the last two months, this critical data point has depicted a labor market that is not generating jobs. More of the same this month would support the wall of worry, whereas an upward revision to prior data and an improved current period would remove the troublesome theory that the weather may not be the only reason for recently reported economic failures.
Real estate relative investors will be watching for a better Weekly Applications Survey on Wednesday, with hopefully a pickup in mortgage activity from decades' lows. Otherwise, there's little news, save the Construction Spending Report, which will be published on Monday. Unfortunately, economists expect it to show a 0.2% decrease for the month of January, after December's increase of 0.1%.
In conclusion, I expect real estate relative stocks will take their lead from the geopolitical catalyst first and foremost. Otherwise, look for stability in the shares on the strength of last week's data, unless the two reports due this week deteriorate badly.
Disclosure: I have no positions in any stocks mentioned, and no plans to initiate any positions within the next 72 hours. I wrote this article myself, and it expresses my own opinions. I am not receiving compensation for it (other than from Seeking Alpha). I have no business relationship with any company whose stock is mentioned in this article.