Parting ways with things is usually a difficult thing to do, whether it's a girlfriend, your first car, or even your favorite foods when starting a diet. Almost always subtracting that something from your life might end up being a good thing, because you end up learning that thing wasn't too good for you, allowing you to learn and grow from the experience and that's what I'm going to focus on, the growth potential of Rayonier Inc. (NYSE:RYN) in parting ways with one of its business units.
Within the past couple of years I have subscribed to this theory a few times, the ConocoPhillips (NYSE:COP), Abbott (NYSE:ABT), Covidien (COV) and News Corp (NASDAQ:NWSA) breakups. In the Conoco breakup you got shares of Phillips 66 (NYSE:PSX), Conoco retaining the upstream portions of the oil business and Phillips 66 keeping the downstream portions. From this breakup COP itself is up 25.07% (excluding dividends), but PSX is up 106.10% (also excluding dividends)! In the ABT scenario you received shares in Abbvie (NYSE:ABBV), ABBV maintaining the legacy pharma business and ABT holding onto the nutritional/medical device segments. From this particular expedition ABBV is up 48.03% (excluding dividends) and ABT is up 20.28% (excluding dividends). A couple of other examples in the past year include News Corp up 23.94% and its counterpart Twenty-First Century Fox Inc (NASDAQ:FOXA) up 14.08% while Covidien is up 23.46% and Mallinckrodt PLC (NYSE:MNK) is up 57.38%! Taking a look at the table below shows massive gains in the portion of the company that spun off from the parent company when compared to the S&P500 (NYSEARCA:SPY).
Starting Date

Ticker

% Gain

S&P

02Jul13

FOXA

14.08

15.14

NWSA

23.94

03Jan13

ABT

20.28

26.80

ABBV

48.03

02May12

COP

25.07

34.89

PSX

106.10

09Jul13

COV

23.46

13.34

MNK

57.38
I found a pretty cool site that I've been utilizing which shows all the upcoming spin-offs to try and pick up some other potential winners like the examples above. One company I like is Rayonier. Rayonier is compared to real estate investment trusts and is an international forest products company primarily engaged in activities associated with timberland management, the sale and entitlement of real estate, and the production and sale of specialty cellulose fibers and fluff pulp. I'd like to take a moment to evaluate the stock on a fundamental, financial and technical basis to show why I bought shares of the company right now for the industrial goods sector of my dividend portfolio.
In order to make space for this stock in my portfolio, I sold L-3 Communications Holdings, Inc. (NYSE:LLL) and will be comparing the two against each other on the metrics I follow. I know these two companies are completely different from each other, but I believe it will be a trade up.
Fundamentals
The company currently trades at a trailing 12-month P/E ratio of 18.47, which is fairly priced, but I mainly like to purchase a stock based on where the company is going in the future as opposed to what it has done in the past. On that note, the 1-year forward-looking P/E ratio of 21.39 is currently fairly priced for the future in terms of the right here, right now. The forward P/E value that is higher than the trailing twelve month P/E value tells us the story of earnings contraction in the next year. Next year's estimated earnings are $2.2 per share while the trailing twelve month earnings per share were $2.55. The 1-year PEG ratio (1.37), which measures the ratio of the price you're currently paying for the trailing 12-month earnings on the stock while dividing it by the earnings growth of the company for a specified amount of time (I like looking at a 1-year horizon), tells me that the company is fairly priced based on a 1-year EPS growth rate of 13.51%. The company has great near-term future earnings growth potential with a projected EPS growth rate of 13.51%. Below is a table of the fundamental metrics I look for in a company and shows how Rayonier fairs against L-3. All data is as of 28Feb14.
| | | | | | | | |
| --- | --- | --- | --- | --- | --- | --- | --- |
| Ticker | Price ($) | TTM P/E | Fwd P/E | EPS Next YR ($) | Target Price ($) | PEG | EPS next YR (%) |
| RYN | 47.09 | 18.47 | 21.39 | 2.20 | 33 | 1.37 | 13.51 |
| LLL | 115.34 | 13.51 | 13.29 | 8.68 | 130 | 3.81 | 3.54 |
Financials
On a financial basis, the things I look for are the dividend payouts, return on assets, equity and investment. The company pays a dividend of 4.16% with a payout ratio of 77% of trailing 12-month earnings while sporting return on assets, equity and investment values of 16.7%, 38.3% and 11.6%, respectively, which are all respectable values. The really high return on assets value (16.7%, highest in the industry) is important because it is a measure of how profitable the company is relative to its assets, telling us how efficient a management team is at using its assets to generate earnings (for comparison purposes, Corrections Corporation of America (NYSE:CXW) sports a ROA of 16.3% and Gaming and Leisure Properties, Inc (NASDAQ:GLPI) sports a ROA of 10.5%). The really high return on equity value (38.3%, highest in the industry) is an important financial metric for purposes of comparing the profitability, which is generated with the money shareholders have invested in the company to that of other companies in the same industry (for comparison purposes, CXW sports a ROE of 31% and Annaly Capital Management, Inc. (NYSE:NLY) sports a ROE of 24.7%). Because I believe the market may get a bit choppy here and would like a safety play, I believe the 4.16% yield of this company is good enough for me to take shelter in for the time being. Below is a table of the financial metrics I look for in a company and shows how Rayonier fairs against L-3. All data is as of 28Feb14.
| | | | | | |
| --- | --- | --- | --- | --- | --- |
| Ticker | Yield (%) | Payout TTM (%) | ROA (%) | ROE (%) | ROI (%) |
| RYN | 4.16 | 77 | 16.7 | 38.3 | 11.6 |
| LLL | 2.08 | 28 | 5.6 | 13.6 | 9.8 |
Technicals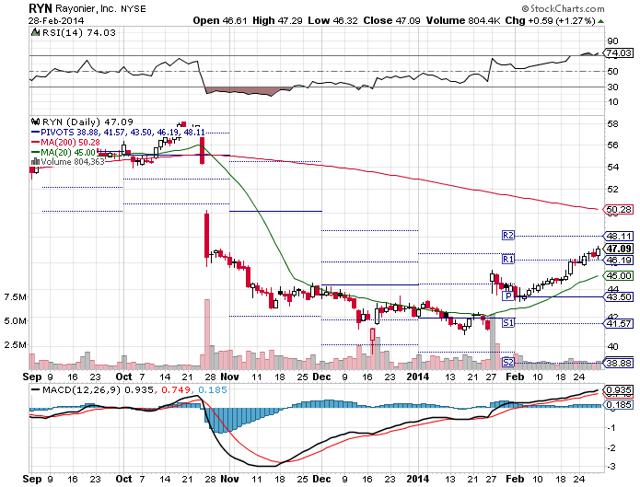 Looking first at the relative strength index chart [RSI] at the top, I see the stock is in overbought territory with a value of 74.03. I will look at the moving average convergence-divergence [MACD] chart next. I see that the black line is above the red line with the divergence bars flattening out in height, indicating the bullish momentum is getting tired. As for the stock price itself ($47.09), I'm looking at $48.11 to act as resistance and $46.19 to act as support for a risk/reward ratio which plays out to be -1.91% to 2.17%.
Conclusion
The company plans to spin off its performance fibers business from the forest resources and real estate operations resulting in two independent companies. Breakup plays tend to unlock exceptional value for shareholders as demonstrated in the introduction of this article. Fundamentally I believe Rayonier to be fairly valued based on 2015 earnings and based on future growth potential while having a great short term story. Long-term however, I plan on selling the stock after the spinoff due to earnings contractions in 2015 unless the story improves. Financially, I'm doubling up on the dividend and getting phenomenal returns on assets and equity. On a technical basis, Rayonier may be hitting a top right now. Because of the overbought technicals, contraction in earnings for next year, and fair valuations, I will not be adding to my position at this point in time. I will provide reports on how each is doing against each other as the future progresses.
Disclaimer: This article is meant to serve as a journal for myself as to the rationale of why I bought/sold this stock when I look back on it in the future. These are only my personal opinions and you should do your own homework. Only you are responsible for what you trade and happy investing!
Disclosure: I am long RYN, ABBV, ABT, COV, FOXA, MNK, NLY, NWSA, PSX, SPY. I wrote this article myself, and it expresses my own opinions. I am not receiving compensation for it (other than from Seeking Alpha). I have no business relationship with any company whose stock is mentioned in this article.