This article supplements my preliminary review of 4Q13 results recently reported by El Paso Pipeline Partners, L.P. (NYSE:EPB). I now evaluate the sustainability of EPB's Distributable Cash Flow ("DCF") and assess whether EPB is financing its distributions via issuance of new units or debt.
DCF and "Adjusted EBITDA" are the primary measures typically used master limited partnerships ("MLPs") to evaluate their operating results. However, each MLP may define these terms differently, making comparisons difficult. In addition, DCF as reported may include non-sustainable items. Evaluating an MLP based on sustainable DCF is an exercise that must be undertaken (in conjunction with an evaluation of its growth prospects) because sustainable distributions coverage provides some protection in a downside scenario. When faced with such a scenario, MLPs that cannot maintain their distributions, or are totally reliant on debt and equity to finance growth capital, are likely to suffer significantly greater price deterioration.
EPB's reported DCF per unit for 2013 was $2.62 ($569 million in total), down from $2.82 ($590 million in total) for 2012. The primary reason for the decline were the higher incentive distribution rights ("IDRs") payments made to Kinder Morgan, Inc. (NYSE:KMI), EPB's general partner, as shown in Table 1 below: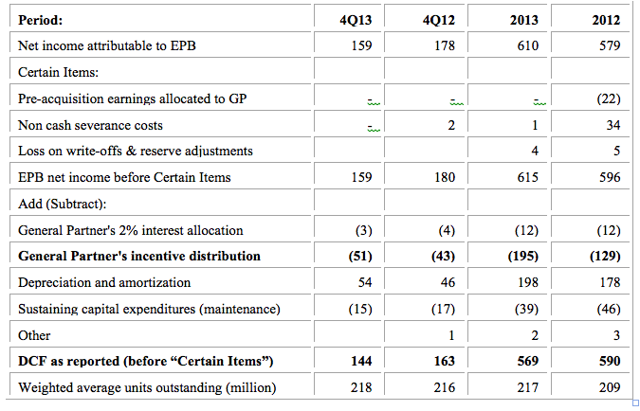 Table 1: Figures in $ Millions
Source: Company 10-Q, 10-K, 8-k filings, author estimates
IDR payments made by EPB to KMI claim a significant portion of EPB's net income and cash flows. They totaled $195 million in 2013, an increase of approximately $65 million vs. 2012 as a result of higher distributions to limited partners and a slightly higher number of EPB units outstanding. KMI's IDRs are currently entitled to ~28% of EPB's total DCF and to 48% at the margin (i.e., to 48% of each incremental dollar of DCF generated by EPB). KMI also owns ~41% of EPB's limited partner units in addition to its 2% general partner's interest. Higher payments to KMI in 2013 more than offset other items, including the much-discussed reduction in maintenance capital expenditures covered in my review of 3Q13 results.
In an article titled "Distributable Cash Flow" I present EPB's definition of DCF and definitions used by other MLPs. The generic reasons why DCF as reported by an MLP may differ from what I call sustainable DCF are reviewed in an article titled "Estimating sustainable DCF-why and how". A comparison between EPB's reported and sustainable DCF is presented in Table 2 below: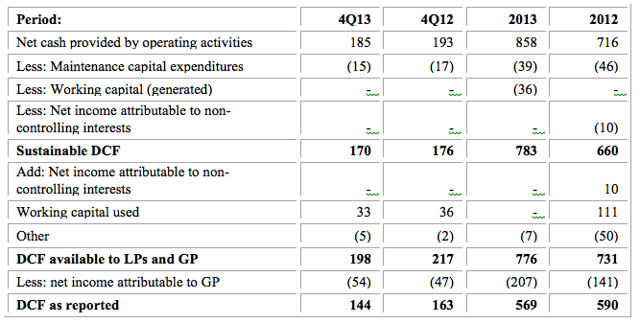 Table 2: Figures in $ Millions
Source: Company 10-Q, 10-K, 8-k filings, author estimates
The differences between reported and sustainable DCF are principally due to working capital and the portion allocated or attributable to KMI, the general partner.
Most of the MLPs I follow exclude working capital changes, whether positive or negative, when deriving their reported DCF numbers. I generally do not include working capital generated in the definition of sustainable DCF, but I do deduct working capital invested. Despite appearing to be inconsistent, this makes sense because in order to meet my definition of sustainability the master limited partnerships should generate enough capital to cover normal working capital needs. On the other hand, cash generated from working capital is not a sustainable source and I therefore ignore it.
Table 2 indicates that liquidation of working capital generated a substantial portion ($111 million) of the DCF reported in 2012. Thus, while EPB reported lower DCF in 2013 than it did in 2012, in my view the 2013 DCF is of better quality. EPB actually increased its sustainable DCF in 2013.
However, the increase did not keep pace with the increases in distributions, thus resulting in lower coverage of sustainable DCF. This can be seen in Table 3 below:

Table 3: Figures in $ Millions, except coverage ratios
Source: Company 10-Q, 10-K, 8-k filings, author estimates
EPB's method of determining DCF differs from most of the non-Kinder Morgan MLPs I follow and is the second major source of difference between reported and sustainable DCF. As shown in Table 2, EPB deducts the general partner's portion of net income in deriving DCF. It thus adopts a narrow definition, one that includes only that portion of DCF that is attributable to limited partners. The more common and broader definition of coverage is one whose numerator is total DCF (available to both LPs and GP) and whose denominator is the total of all distributions made to all the stakeholders, including the general partner.
Coverage ratios based on reported DCF can differ significantly from those based on sustainable DCF, as shown in Table 4:

Table 4: $ per unit, except ratios
Source: Company 10-Q, 10-K, 8-k filings
Table 5 below presents a simplified cash flow statement that nets certain items (e.g., acquisitions against dispositions, debt incurred vs. repaid) and separates cash generation from cash consumption in order to get a clear picture of how distributions have been funded:
Simplified Sources and Uses of Funds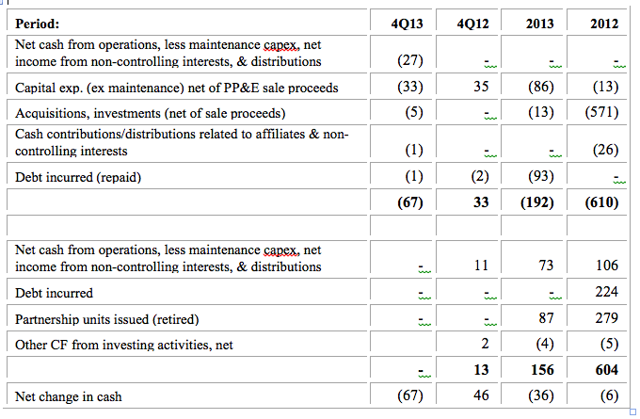 Table 5: Figures in $ Millions
Source: Company 10-Q, 10-K, 8-k filings, author estimates
Net cash from operations, less maintenance capital expenditures, less cash related to net income attributable to non-partners, exceeded distributions by $73 million in 2013 and by $106 million in 2012. However, as noted in the discussion of Table 2, a substantial portion of the 2012 excess is explained by EPB reducing amounts invested in working capital. In any event, in both 2012 and 2013 EPB did not use cash raised from issuance of debt and equity to fund distributions. But 4Q13 numbers certainly present deterioration vs. the prior year period given that cash generated by operating activities was $185 million, $8 million less than 4Q12.
Management plans no increases in 2014 to the current distribution rate of $0.65 per quarter despite the expected drop-downs from KMI of a 50% interest in Ruby Pipeline, a 50% interest (valued at ~$750 million based on analysts estimates) in Gulf LNG Energy, LLC ("GLNG") and a 47.5% interest in Young Gas Storage. This is because management built into its 2014 several factors that will largely offset the positive impact from drop-downs at attractive multiples. These factors include the unfavorable impact of settlements with the Federal Energy Regulatory Commission ("FERC"), pursuant to which EPB reduced tariff rates on some of its pipelines, non-renewal of some pipeline contracts, as well as lower rates expected upon renewal of other pipeline contracts. Management incorporated these developments in its 2014 forecasts. Guidance for 2014 EBITDA is approximately $1.2 billion, an increase of almost $90 million compared to 2013.
Following the December 3, 2013, disclosure that even with the drop-downs EPB expects only a 2% increase in 2014 distributions, the units price declined ~20%, from ~$41.58 to $33.35. It declined a further ~10% following the 80% cut in distributions announced by Boardwalk Pipeline Partners (NYSE:BWP) on February 10. My advice on BWP was to steer clear (see article dated October 31, 2013). While I did express concerns about EPB, I was much less negative and advised merely to reduce positions (see article dated November 16, 2013). I still see important distinctions between the two MLPs, including where the assets are located, types of business they engage in, level of debt (long-term debt at 5x EBITDA for BWP vs. 3.7x for EPB) and sustainable DCF coverage of total 2013 distributions (0.87x for BWP vs. 1.05x for EPB). In addition, EPB has approximately $1.3 billion of expansion projects under contract with customers, which will begin generating cash flow in 2016. BWP's expansion prospects are more limited and more concentrated on a single project. Last but not least, I hold the Kinder Morgan management team in higher regard.
Notwithstanding this high regard, I am still troubled by the conflict issue that arises when several MLPs share the same general partner, as exemplified in KMI's conference call discussing 3Q13 results. It appears that KMI's goal of exceeding its 2013 distribution target was to be achieved "largely as a result of delaying the Gulf LNG drop and that asset staying at KMI for 4 additional months and better performance on other retained assets". Management has a fiduciary duty to act in the best interest of both EPB and KMP, as well as its own (i.e., KMI's) shareholders. This is almost impossible to achieve in a situation where both MLPs vie for the same assets and KMI also wants to retain them for its purposes. In addition, the pricing of such related-party transactions is always an issue because a higher price is advantageous for KMI but disadvantageous for its MLPs.
My concerns regarding EPB center on the negative factors discussed above affecting 2014 performance, on it having grown cash distributions faster than cash generation, on the very significant IDR burden, on the reduced levels of maintenance capital expenditures and on whether EPB is being treated fairly vis-à-vis KMP and KMI. I also expect EPB will issue additional equity to fund a portion of the amount required to fund the drop-downs and that this could put further pressure on unit price.
Table 6 below highlights other factors to consider:
As of 02/27/14:

Price

Current Yield

TTM

EBITDA

EV / TTM EBITDA

2014 EBITDA

Guidance

Buckeye Partners (NYSE:BPL)

$73.96

5.88%

627

17.8

710

Boardwalk Pipeline Partners

$12.47

3.21%

689

9.2

650

El Paso Pipeline Partners

$30.63

8.49%

1,113

9.7

1,200

Enterprise Products Partners (NYSE:EPD)

$67.50

4.15%

4,685

17.2

-

Energy Transfer Partners (NYSE:ETP)

$54.98

6.69%

3,587

10.1

-

Kinder Morgan Energy (NYSE:KMP)

$74.58

7.29%

5,165

10.1

5,900

Magellan Midstream Partners (NYSE:MMP)

$68.20

3.43%

845

21.3

936

Targa Resources Partners (NYSE:NGLS)

$54.38

5.50%

661

13.3

750

Plains All American Pipeline (NYSE:PAA)

$54.21

4.54%

2,168

12.0

2,150

Regency Energy Partners (NYSE:RGP)

$26.97

7.04%

444

19.4

-

Suburban Propane Partners (NYSE:SPH)

$43.38

8.07%

307

12.4

-

Williams Partners (NYSE:WPZ)

$49.40

7.23%

2,291

12.7

-
Table 6: Enterprise Value ("EV") and TTM EBITDA figures in $ Millions
Source: Company 10-Q, 10-K, 8-k filings
A counterweight to the concerns regarding EPB is that management has already incorporated the negative factors affecting 2014 performance into its forecasts. Of course, hindsight may prove it underestimated their severity, but as of today I see no reason to doubt that these forecasts are based on the best information currently available. In addition, as indicated by Table 6, EPB current yield (8.5%) is high and its ratio of enterprise value to trailing-12-months ("TTM") EBITDA is low, relative to other MLPs I follow shown in Table 6. Finally, with KMP's current yield at 7.3% and EPB's at 8.5%, it seems that acquiring EPB at the current level would be accretive to KMP and may increase its valuation, a key objective for KMI. If tax issues and other complexities can be resolved, a purchase of EPB by KMP may help achieve that objective. My conclusion is that further reduction of positions at this price level is not warranted.
Disclosure: I am long EPB, EPD, ETP, MMP, PAA. I wrote this article myself, and it expresses my own opinions. I am not receiving compensation for it (other than from Seeking Alpha). I have no business relationship with any company whose stock is mentioned in this article.