U.S. stock futures opened sharply lower on Sunday night following the news over the weekend that Russia had moved military forces into Ukraine to occupy the Crimean peninsula. The strong initial reaction by stock investors to the news in Ukraine raises an important question. Exactly how should we reasonably anticipate the U.S. stock market to react in the coming days as the situation in Ukraine unfolds? While today's situation is defined by its own unique circumstances, recent history is instructive in providing us guidance as to what we might expect.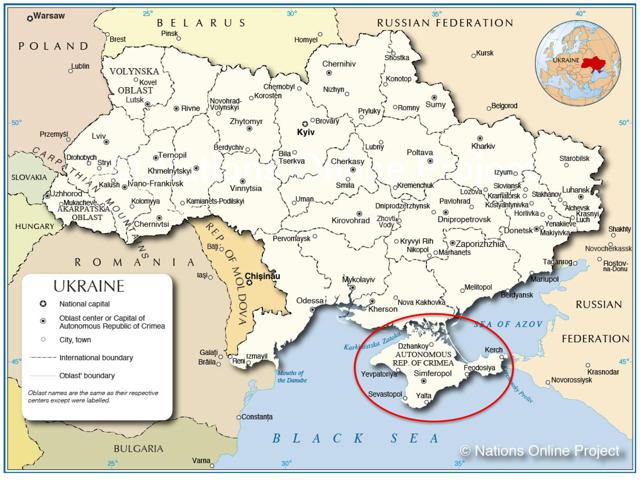 Georgia On My Mind
Comparable circumstances unfolded on the eastern shores of the Black Sea in the summer of 2008. On August 7, Georgia began a military offensive to claim control of South Ossetia a region within Georgia that had been unsettled since the break up of the Soviet Union. Following a two-day advance by the Georgian military, Russia launched a counterattack on August 9 with the stated intent to defend its citizens in the region. At the same time, Russia deployed troops into Abkhazia, another disputed region within Georgia. By August 12 and with Georgian troops in retreat, a ceasefire was announced with Russia maintaining control in these two regions, both of which declared their independence but are still generally recognized across much of the global community as still being a part of Georgia.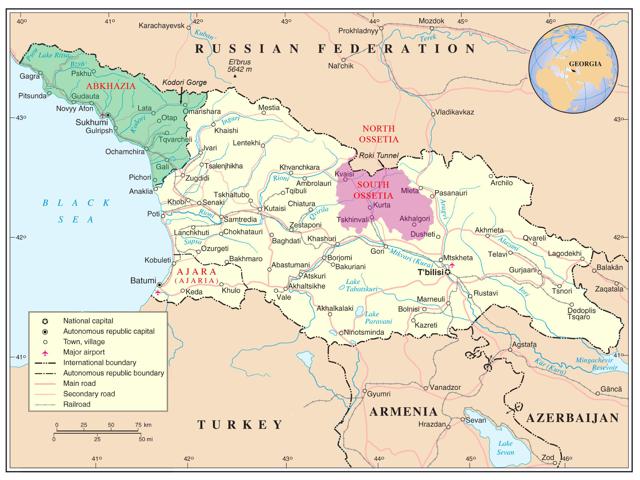 Impact on U.S. Stocks
Given some of the similarities between these two episodes, it is worthwhile to examine exactly how the U.S. stock market reacted as these events unfolded. On the first day of the conflict on Thursday, August 7, U.S. stocks as measured by the S&P 500 Index (NYSEARCA:SPY) dropped by 16 points at the open and drifted lower as the trading day progressed to end the day down 23 points, or -1.79%, on its 100-day moving average support. Stocks dropped another 4 points on the S&P to open the next trading day on Friday, August 8, but once it grazed its upward sloping trend line along with its 200-day moving average support, stocks suddenly reversed and exploded higher. Over the next 12 trading hours into Monday, August 11, stocks advanced by a heady +4% before peaking and rolling back over into the next trading day. But by Tuesday, August 12, stocks were once again finding support at its upward sloping trendline along with its 50-day and 100-day moving averages. At the end of it all, stocks were trading high than they were prior to the conflict and despite the initial sharp drop in stock prices.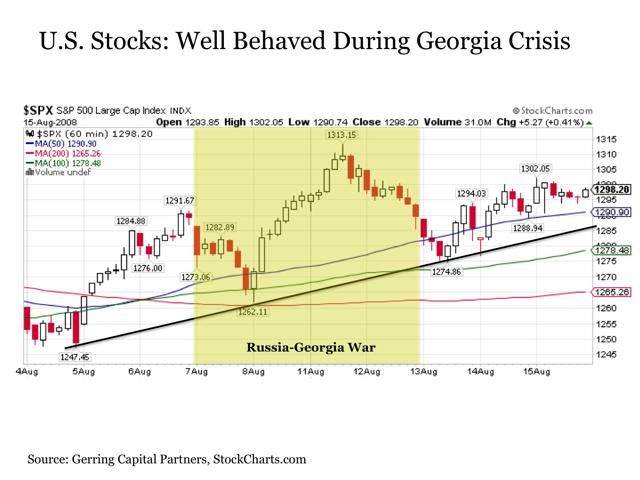 U.S. stocks appear to be having a similar initial reaction to today's crisis in Ukraine. As we head into the overnight hours into Monday's trade, S&P 500 futures are down over 15 points, or just less than -1%. And given that stocks are trading at rich valuations and have recently rallied by +7% from their early February lows, it would not be surprising at all to see investors take some risk off the table and lock in the recent gains over the last few weeks.
But whether the situation in Ukraine has any lasting downside effects on markets remains to be seen. If it turns out that the conflict remains isolated to the Crimean peninsula, any negative U.S. stock market reaction is likely to be fleeting. Even if the situation spreads to some of the regions in eastern Ukraine that are more heavily populated by Russians, the U.S. stock market is still likely to take things generally in stride with some understandable volatility along the way. This will be particularly true if the situation draws to a quick conclusion just as it did in Georgia back in August 2008.
Selected scenarios warrant close attention as the situation unfolds in the days ahead, however. For example, if the crisis starts to drag out or violence starts to spread beyond heavily Russian populated regions in the Ukraine, the reaction by the U.S. stock market is likely to quickly become far more severe. Moreover, if the crisis begins to spread beyond Ukrainian borders, all bets are off for the stock market at that point. It should be noted that these remain low probability outcomes at the present time.
Of course, the situation in Ukraine is different from that of Georgia several years ago. The market mood today also strikes a notable contrast to what existed in the late summer of 2008. And the political leaders engaged in the situation, particularly those in Washington, are different today than they were six years ago. Thus, investors should beware to not become complacent to the news out of Ukraine in the coming days, as any indications of initial calm could swiftly be replaced by bursts of heightened volatility. As mentioned in past articles, monitoring the PowerShares Emerging Markets Sovereign Debt ETF (NYSEARCA:PCY) may be particularly instructive in this regard, as Ukrainian bonds make up 4.3% of the portfolio and any signs of sustained weakness in this product would provide confirmation of building stress in the broader financial system resulting from the crisis in Ukraine.
Disclosure: This article is for information purposes only. There are risks involved with investing including loss of principal. Gerring Capital Partners makes no explicit or implicit guarantee with respect to performance or the outcome of any investment or projections made. There is no guarantee that the goals of the strategies discussed by Gerring Capital Partners will be met.
Disclosure: I have no positions in any stocks mentioned, and no plans to initiate any positions within the next 72 hours. I wrote this article myself, and it expresses my own opinions. I am not receiving compensation for it (other than from Seeking Alpha). I have no business relationship with any company whose stock is mentioned in this article.
Additional disclosure: I am long stocks via the SPLV and XLU as well as selected individual names. I also hold a sizeable allocation to cash at the present time.