3D Systems (NYSE:DDD) announced full year 2013 and Q4 results, and once more the numbers were within market expectations. The company reported EPS of $0.19 which was exactly what the market expected. In addition, the company reported that it expects revenue for 2015 to top $1 billion. For FY 2014, the company reiterated its previous revenue guidance of $680M-$720M and its prior FY 2014 EPS view of $0.73 to $0.85 per share.
If you ask me, it does not matter if the company misses by a penny here or a penny there, because even with these very good results, this stock is still a very expensive proposition.
Many analysts and commentators were upbeat about the company because it forecasted about $1 billion in revenue for the calendar year 2015. While this may be very nice -- with the company continuing to grow and all -- one has to put this into perspective. And the perspective is, that as it stands today, 3D Systems has a market cap about 8 times the revenue the company will generated in 2015 (not today). On a trailing basis the company recorded $513 million in revenue in 2013. And my question is, if the company is worth $8 billion today, with about $500 million revenue, what will it be worth in 2015? Well one could say that if the company is trading at 15 times sales today, it should be worth $15 billion in 2015, right?
I can think of several reasons why this is not going to happen.
To begin with, even if revenue for the company as a whole has been going up about 50% on a year-over-year basis, on a per share basis, it has not been.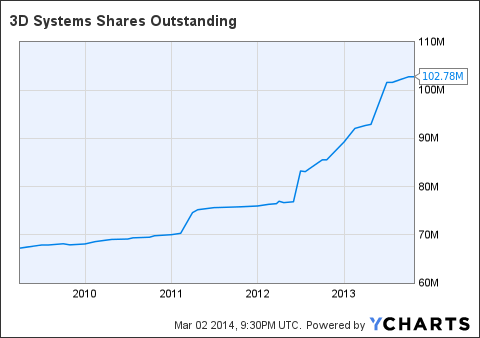 DDD Shares Outstanding data by YCharts
In other words, even assuming that 3D Systems will be worth 15 times sales in 2015 (which I doubt), if it has X amount of additional shares, then that 15X sales will be spread out among more shares. So don't think that the stock will simply double from today's levels in 2015, just because it might double in valuation (which I don't think it will anyway).
Recently 3D Systems' stock nose-dived from its high of around $97 a share to $55 a share. All this in about a month's time. The market does not react like that unless there is a reason. Yes the stock has gained some ground from the recent $55 mark, but for me this means that we are at some kind of turning point.
The turning point might be the first batch of sellers that don't see much upside to the stock anymore, and were aggressively selling based on its valuation.
And if you want my opinion, all the stocks in the sector are starting to show early signs of fatigue. And if we take a closer look at the charts, there are signs that a top has been reached and a downtrend channel has formed, and the stocks in the sector might underperform from now on for several years to come.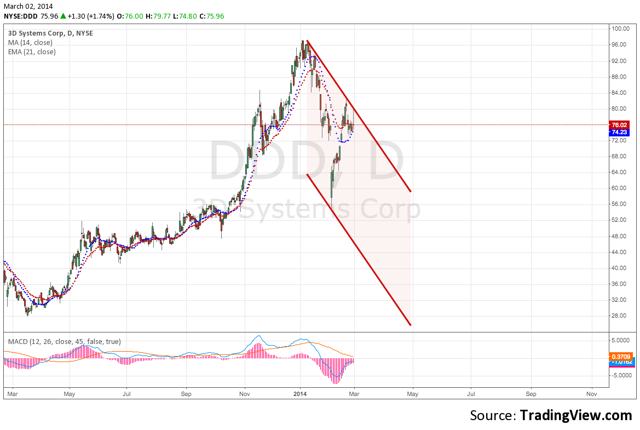 Please note there is no rule that says that 3D Systems' stock will follow this channel, but the recent dive of the stock, is at the very least a warning sign that something has changed from now on (or about to).
And if we look at the other stocks in the sector, we will see similar patterns. Please observe the downward channel forming in Stratasys (NASDAQ:SSYS), Exone (NASDAQ:XONE) and Voxeljet (NYSE:VJET).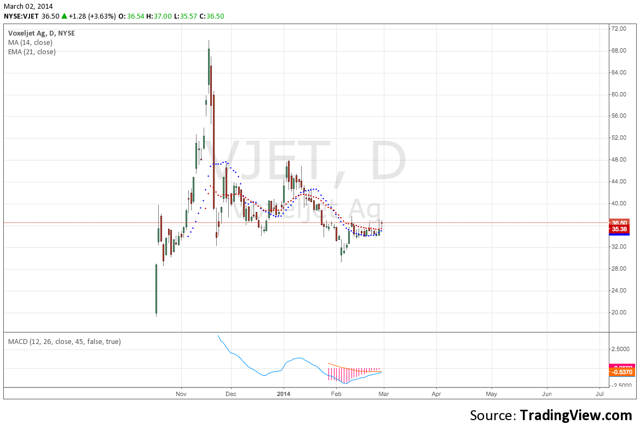 Bottom line
There is no doubt that the 3D space is one of the most exciting and fastest growing sectors out there. However, one has to realize that he is not getting this growth for free. Investors are paying through the nose for it, if the form of very high P/E's and Price/Sales ratios.
I have said in the past that these stocks have too much expectation built into them, and investors can not expect these stocks to perform as they have the past several years.
While I may be wrong and these stocks might continue to perform as in the past, the truth of the matter is that while the companies themselves might continue to grow, the underlying stocks might go nowhere, simply because they have too much backed into the cake already.
And while we do not know if this future underperformance has started as of yet, the charts above are giving us a small clue that underperformance in the space might already be here, and investors might have to lower their expectations from now on, irrespective if the companies themselves continue to perform very well for many years to come.
Disclosure: I have no positions in any stocks mentioned, and no plans to initiate any positions within the next 72 hours. I wrote this article myself, and it expresses my own opinions. I am not receiving compensation for it (other than from Seeking Alpha). I have no business relationship with any company whose stock is mentioned in this article.