Share price of Ambac Financial Group Inc. (ABK) plunged approximately 23.3% on Tuesday to close at $1.12 after the company reported its first quarter 2010 adjusted net loss of $0.68 per share, compared with adjusted net loss of $3.22 per share in the prior-year quarter. The company reported adjusted net income of $195.0 million in the quarter before it took a one-time charge of $495.1 million related to the adoption of a new accounting standard.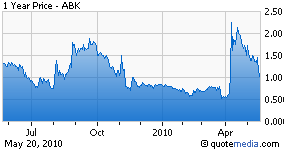 Deconsolidation of a number of variable interest entities due to adoption of the new accounting standard resulted in a one-time charge of $495.1 million in the reported quarter. Including the one-time charge, Ambac recorded a net loss of $690.1 million or $2.39 per share in the reported quarter compared with a net loss of $392.2 million or $1.36 per share in the year-ago quarter. The deconsolidation resulted from the state of Wisconsin taking control of some of the company's most aggravated assets worth $64 billion.
In retrospect, Ambac had earlier expected a loss of up to $750 million for the first quarter based on the accounting impact of the regulators' move in March 2010. The results, however, came in much better than expected.
Net premiums earned were $125.2 million in first-quarter 2010, down 36% from $196.8 million recorded in the year-ago quarter.
Net investment income improved to $117.6 million, up 17% from $100.9 million in the year-ago quarter. Mix of securities moved from primarily tax-exempt to a greater percentage of taxable securities, resulting in an improvement in the average yield of the investment portfolio in the reported quarter. Higher average yield of the portfolio muted the comparatively lower invested asset base. Reduction in the portfolio to pay commutations on collateralized debt obligations (CDO) of asset-backed securities (ABS) transactions, residential mortgage-backed securities (RMBS) claim payments and providing loans to the financial services businesses resulted in a lower invested asset base.
The lower asset base was however salved to some extent through the issuance of Ambac Assurance preferred stock worth $100 million in January 2009 and cash flow from the collection of financial guarantee premiums, tax refunds, fees and coupon receipts on invested assets.
Net loss and loss expenses substantially declined to $89.2 million in the reported quarter from $739.8 million in the prior-year quarter. Losses and loss expenses for the quarter primarily catered to credit deterioration in the second-lien segment of the insured RMBS portfolio and student loan transactions, moderately compensated by a net improvement in certain first-lien RMBS transactions.
Ambac has been neck deep in trouble for quite some time. The company suffered multiple rating downgrades since June 2008. The rating downgrades adversely impacted Ambac's ability to generate new business. In March 2010, the rating agency Standard & Poor's slashed the rating of Ambac Assurance, a unit of Ambac Financial Group, to "R" from "CC" following the rehabilitation announcement by the Office of the Commissioner of Insurance (OCI). Further, to add to its woes, Moody's Investors Service slashed Ambac's senior unsecured debt rating to "C" from "Ca".
In November 2009, Ambac announced that it might file for bankruptcy protection if it fails to pull through its cash position. The company reiterated that warning after Wisconsin took control of some of the company's worst-hit assets.