The iShares MSCI Frontier 100 ETF (NYSEARCA:FM) is an ETF focused on frontier market equities defined by the website as "frontier markets (pre-emerging markets) stocks." Thus, once a country where it has a holding graduates from being defined as a Frontier Market to an Emerging Market, it seems eminently possible - and appropriate - that the fund must reallocate its holdings.
A problem with ETFs that say they represent Frontier Markets globally is that they tend to concentrate holdings in a few countries. The Guggenheim Frontier Markets ETF (NYSEARCA:FRN) is overweight South America with a whopping 44% of holdings in Chile alone, and more than 78% of holdings in Chile, Colombia, Argentina and Peru.
The iShares MSCI Frontier 100 ETF has instead chosen to overweight the Middle East with 20.58% of holdings in Kuwait, 19.03% in Qatar, 17.52% in the United Arab Emirates and 3.46% in Oman, a total of 60.59%.
James Kynge in the Financial Times beyondbrics blog recently wrote Are frontier markets overvalued? Therein he writes:
There are grounds, however, to think that the FM rally may not have run its course. For one thing, countries in the Gulf Co-operation Council [GCC], especially the UAE and Qatar - which are due to graduate from the FM to the EM index later this year - are performing strongly, driving up the aggregate valuation of FM equities. [Bold added.]
Holders of iShares MSCI Frontier 100 ETF should read Mr. Kynge's article and research this issue further. However, the simple math is that if Qatar and the United Arab Emirates graduate from Frontier Market status to Emerging Market status, the iShares MSCI Frontier 100 ETF will need to move 36.55% of its holdings out of Qatar and the United Arab Emirates to Frontier Markets. In the meantime, as Mr. Kynge notes, these countries are the leaders of the iShares MSCI Frontier 100 ETF's performance year-to-date and since its inception.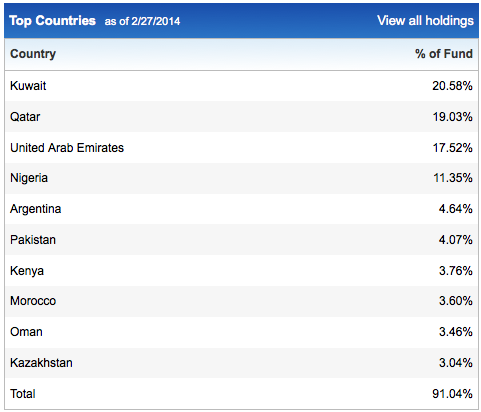 iShares MSCI Frontier 100 ETF top holdings by country as of February 27, 2014. Source: iShares.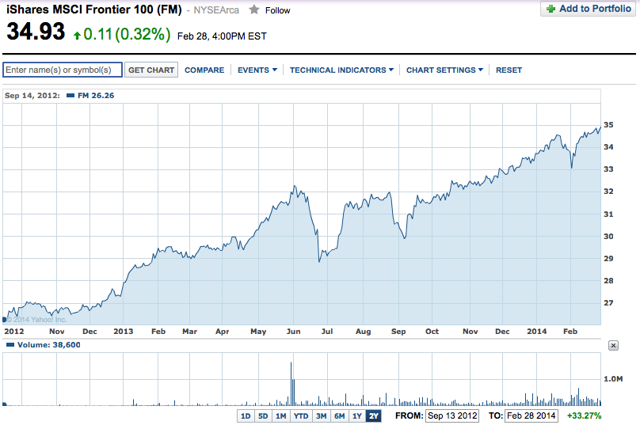 iShares MSCI Frontier 100 ETF performance since inception in September 2012. Source: Yahoo! Finance.
Disclosure: I have no positions in any stocks mentioned, and no plans to initiate any positions within the next 72 hours. I wrote this article myself, and it expresses my own opinions. I am not receiving compensation for it (other than from Seeking Alpha). I have no business relationship with any company whose stock is mentioned in this article.