The Powershares NASDAQ Internet Portfolio ETF (NASDAQ:PNQI) has had a historic run since its inception in June 2008. Armed with Internet stalwarts such as Amazon (AMZN) and Groupon (GRPN), this ETF mimics the Nasdaq Internet Index and gives potential investors a significant amount of exposure to the ever-expanding information superhighway. As we can see in the chart, the NASDAQ Internet Portfolio has expanded in conjunction with the continued expansion of the Internet itself.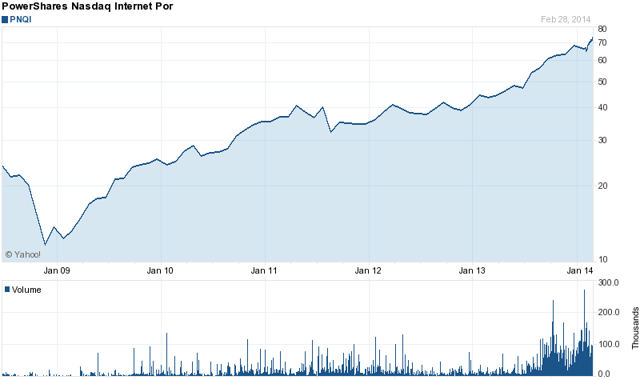 The reputation of this ETF cannot be understated. The 3 year Morningstar rating, 5 year Morningstar rating and current rating of this ETF is five stars. This ETF has outperformed the Morningstar Technology Category in total return in nearly every single category.

The superiority of this ETF can also be seen in the comparison of its upside and downside capture ratio to other ETFs in its category. Upside/Downside Capture Ratios show whether a fund or ETF has outpaced a key benchmark during times of market strength and decline. If an ETF has outperformed the benchmark, the capture ratio can determine how significantly the fund has done so. Here is how you know that an ETF has outperformed a particular benchmark with an upside or downside capture ratio:
1. Upside Capture Ratio over 100 = Shows a fund has outperformed the benchmark during times of positive returns.
2. Downside Capture Ratio Less than 100 = Shows that a fund has lost less than the benchmark during times of negative returns.
As you can see in the next series of charts, PNQI has outperformed the benchmark on the market's upside and lost less on the market decline. On the 1-year segment on the downside capture ratio chart, you can even see that PNQI has managed to gain during periods of market decline.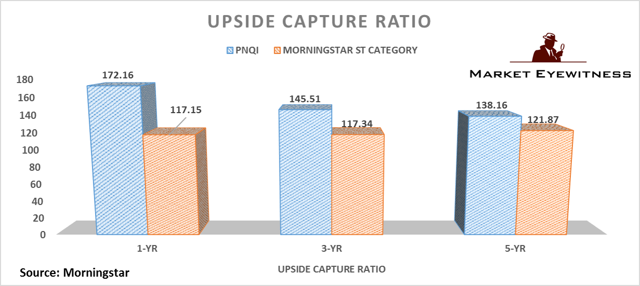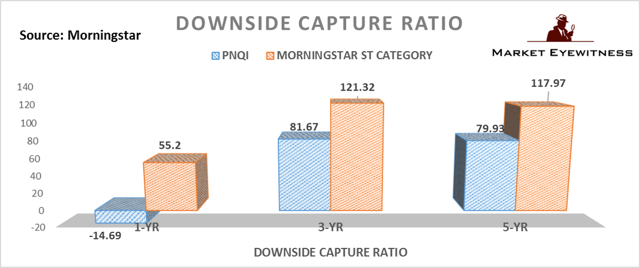 As of 2/28/14, PNQI has an YTD return of 6.41%. This outpaces the Morningstar Technology Category's YTD return of 4.17% and the MSCI World NR USD of 1.12%.
The top four holdings by PNQI are Facebook Inc.(NASDAQ:FB), eBay Inc. (NASDAQ:EBAY), Google Inc. (NASDAQ:GOOG) and Priceline.com, Inc. (NASDAQ:PCLN). The YTD returns of the aforementioned equities are 25.27%, 7.12%, 8.47% and 16.04% respectively.
Now let's take a look at PNQI's top three equity holdings that have had the best YTD returns so far this year. (As of 2/28/14)
| | | |
| --- | --- | --- |
| PNQI EQUITY HOLDING | YTD TOTAL RETURN | % PORTFOLIO WEIGHT |
| YY Inc. (NASDAQ:YY) | 49.74% | 0.57% |
| Pandora Media Inc. (NYSE:P) | 40.68% | 1.82% |
| Orbitz Worldwide (NYSE:OWW) | 34.54% | 0.25% |
YY. Inc. operates a social media platform online in China. Founded in 2005, the firm operates a product called YY Client. YY Client is a software-based program that allows users' real-time access to online social activities that are user-created. The firm has had a strong year and is anticipating strong 4th quarter results to be released on March 4th. Analysts predict that YY. Inc. will see a triple-digit profit increase for the fourth consecutive quarter.
Pandora Media Inc. is one of the premier Internet radio stations in the U.S. Listeners are allowed to create up to 100 personalized stations of music and comedy. In spite of surging competition in the Internet Radio Space, Pandora Media just announced that it had reached the 250 million user mark.
Orbitz Worldwide is a travel company that operates online. Its direct competitors are Expedia Inc. (NASDAQ:EXPE) and Priceline.com . On Friday, Orbitz Worldwide announced that it was purchasing some assets and contracts from the Travelocity Partner Network. This transaction only serves to optimize Orbitz's efforts to provide private label travel technology solutions to some of the world's biggest airlines and travel agencies. In its recent fourth quarter results, Orbitz Worldwide's net revenue increased by 4% year-over-year. Their key revenue driver is the standalone hotel revenue segment. Orbitz's standalone hotel revenue increased by 18% overall in year-over-year revenue for the fourth quarter. The prevailing opinion amongst analysts is that Orbitz Worldwide is a Hold as it has already surpassed its median price target of $9.50.
Bottom Line:
There is nothing in the atmosphere to suggest that the upward momentum of this ETF is going to stop anytime soon. According to a stock trend analysis report by MarketClub, the sky is the limit for the Powershares NASDAQ Internet Portfolio ETF. Based on a proprietary algorithm used by MarketClub, they have determined that this ETF is headed upward for the short term, medium term and long term. The ETF has managed to post a solid return during a period in which Internet stocks usually experience a seasonal decline. With the spring season fast approaching, flowers will grow and so will the Powershares NASDAQ Internet Portfolio ETF.
Disclosure: I have no positions in any stocks mentioned, and no plans to initiate any positions within the next 72 hours. I wrote this article myself, and it expresses my own opinions. I am not receiving compensation for it (other than from Seeking Alpha). I have no business relationship with any company whose stock is mentioned in this article.