BreitBurn Energy Partners L.P. (NASDAQ:BBEP) released fourth quarter and full-year 2013 results on February 27, 2014 which caused quite a minor sell-off which I think was unwarranted. Specifically, BreitBurn Energy Partners reported:
Total oil, natural gas and NGL sales came in at $193.6 million in the fourth quarter compared to $197.4 million in the previous quarter (a q-o-q decline of 1.9%) and $113.2 million in the fourth quarter a year ago (a y-o-y jump of 71.0%).
Total revenues increased to $177.3 million vs. $143.4 million in the third quarter 2013 and vs. $117.6 million a year ago. Sequential gains were largely driven by lower losses on commodity derivative instruments.
Total production fell slightly from 3,098 MBoe in Q3 2013 to 3,086 MBoe in Q4 2013 (a slight decrease of 0.4%) but increased 39.5% from last year's 2,212 MBoe.
Average daily production also decreased marginally from 33.7 MBoe per day in Q3 2013 to 33.5 MBoe per day in Q4 2013 (a decline of 0.4%). Average daily production in the fourth quarter of 2012 stood at just 24 MBoe per day.
BreitBurn Energy Partners achieved an average realized sales price of $61.10 per Boe in Q4 2013 -- down 6.2% from the $65.16 per Boe achieved in the third quarter 2013 and up 19.1% from last year's $51.29 per Boe.
The average realized sales price for oil declined 12.1% to $88.77 per Bbl in the fourth quarter 2013 compared to $100.94 per Bbl in the third quarter.
Total lease operating expenses increased during the most recent quarter to $24.22 per Boe compared to $23.63 per Boe in the third quarter 2013 and compared to $23.84 per Boe in the fourth quarter of 2012.
The net loss of the partnership widened to $58.8 million ($0.52 per unit) compared to a net loss of $25.0 million in Q3 2013 ($0.25 per unit) and $10.3 million ($0.13 per unit) in Q4 2012.
BreitBurn Energy Partners' adjusted EBITDA, however, only declined marginally on a sequential basis: Its third quarter 2013 adjusted EBITDA stood at $112.1 million which compares against $109.4 million for the fourth quarter 2013 -- a decrease of 2.4%. BBEP's fourth quarter 2012 adjusted EBITDA stood at $72.9 million: A still respectable y-o-y increase of 50%.
BreitBurn Energy Partners currently pays a monthly distribution of $0.1642 which translates into annual shareholder payments of $1.97 or a forward dividend yield of 9.86%.
What ticked investors off and largely contributed to the 6% decline in unit price after BreitBurn Energy Partners released its fourth quarter results, was the decline in distributable cash flow. The company reported a distributable cash flow per unit of $0.46 which compares against $0.64 in the previous quarter (down 28.1%) and against $0.45 in the fourth quarter of 2012. Over the same time period, BreitBurn Energy Partners' distribution coverage ratio worsened from 1.31x in Q3 2013 to 0.93x in Q4 2013. The distribution coverage ratio stood at 0.95x in the year ago quarter.
Fourth quarter results hit by weather conditions
BreitBurn Energy Partners' conference call revealed that a combination of severe winter weather conditions in Texas and production delays impacted its fourth quarter operational performance (Source: Conference Call Transcript). Operational delays because of weather conditions should be treated by investors as non-recurring events and shouldn't affect the long-term value proposition of the company. From its conference call [emphasis added]:
Now let's move to Texas. Net production for the quarter came in at 369,000 barrels of oil equivalent which was below our forecast, but relatively flat compared to the prior quarter. Production was significantly impacted by the delay in reaching peak rate on our new drill wells and by downtime from severe winter weather in the region. On the new wells, we're finding that it takes 2 to 3 months longer than originally forecast for the wells to clean up and reach peak production after they've been completed. As we have a very active drilling program, the increased time to peak rate impacted several wells hurting fourth quarter production by about 700 barrels of oil equivalent per day.

Additionally, severe winter weather in November and December caused freeze-offs and power outages that accounted for about 175 barrels of oil equivalent per day of lost production in the fourth quarter. So it was a difficult quarter for production in Texas but the weather issues are temporary and we've included a more accurate ramp-up for production from the new wells in our current models. Texas was another area where our differentials widened during the fourth quarter increasing by more than $2 per barrel compared with the third quarter. We did see the NGL differentials improve by about $11 per barrel compared to Q3. Texas NGLs comprised 2% to 3% of total company production.
Share performance
Units of BreitBurn Energy Partners declined 6% after the company announced fourth quarter results; even though short-term setbacks shouldn't affect BBEP's long-term production growth prospects.
(Source: Yahoo Finance)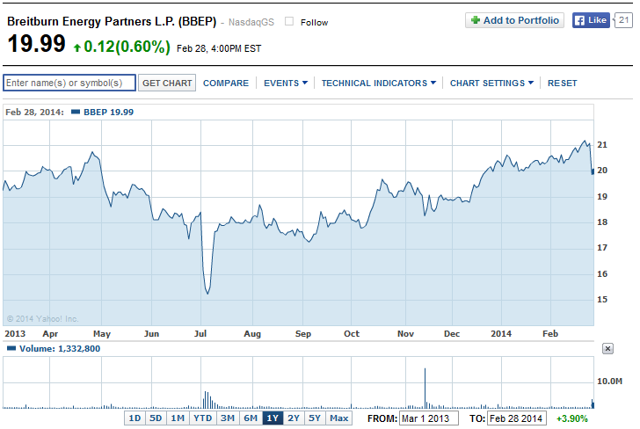 Conclusion
I cannot help but still like BreitBurn Energy Partners. The company had a great run in 2013 and invested $1.2 billion in acquisitions throughout the year. Many exploration companies were affected by storms and extreme winter cold in the fourth quarter which caused an unexpected hurdle to an otherwise impressive growth story - in fact, even companies outside the oil- and gas exploration sector reported sales impacts (for instance, J.C. Penney (NYSE:JCP) reported a weather influence on its sales performance, too).
BreitBurn Energy Partner also issued an upbeat production guidance for 2014 which suggests that production delays indeed are only a short-term issue: BBEP forecasts total production of 13,600-14,400 MBoe in FY 2014 (FY 2013: 10,983 MBoe) driven by liquids and an adjusted EBITDA of $500-510 million (FY 2013: $370 million). With a near 10% current distribution yield, BreitBurn Energy Partners might even be an alternative for MLP investors who usually seek out midstream investments such as Kinder Morgan Energy Partners (NYSE:KMP). Long-term BUY.
Disclosure: I am long BBEP, KMP, JCP. I wrote this article myself, and it expresses my own opinions. I am not receiving compensation for it (other than from Seeking Alpha). I have no business relationship with any company whose stock is mentioned in this article.