It's the first week in March and that means that there are just a few more games remaining until college basketball really gets started. I'm an ACC fan and my bias for East Coast basketball is rooted in the fact that my oldest daughter is a Tar Heel and also because I simply love the game of basketball.
With just two regular-season games remaining before the ACC tournament begins, No. 1 Florida looks like a "sweep" but don't rule out my Tar Heels (22-7, 12-4) now enjoying an 11-game winning streak and the legendary Roy Williams who hasn't won these many games in a row since opening the 2008-09 season with 13 straight wins.
With "Selection Sunday" nearly two weeks away and conference tournaments starting next week, I'm tuning into my favorite sport and watching my Tar Heels fill up "nothing but net." (I played a little college b-ball and actually played at the Dean Dome many moons ago).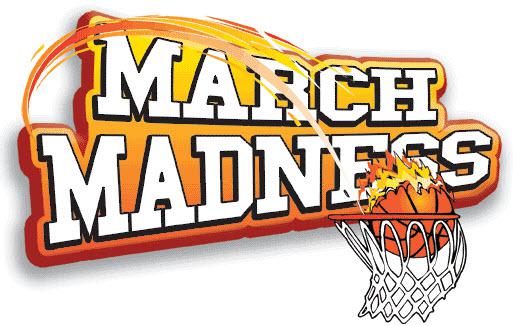 American Realty Capital Properties: Nothing But Net
Another team I have been watching closely is American Realty Capital Properties (ARCP). This New York-based Free-Standing Triple Net Lease REIT has been nothing but a "Cinderella Story." It seems like only yesterday that I wrote my first article (on September 13, 2011) that was anything but a "puff piece." I came out of the box swinging at ARCP as I explained my dislike for the company's highly concentrated investment strategy. As I explained:
The biggest issue that I have with the IPO is that the assets are highly concentrated with just two tenants, and one of the two tenants is a troubled bank with minimum lease term remaining. Furthermore, like many banks, branches are being reduced in size and, as a result, the "brick and mortar" model is becoming less important (to the banking model).
ARCP's founders essentially launched the REIT with a portfolio of legacy bank branches and all of the properties were leased to one tenant, Citizens Financial Group. The source of repayment was not as much a question since the Royal Bank of Canada backed (guaranteed) the leases; however, my biggest issue had to do with the shorter-term leases with a weighted lease average of 6.9 years. Simply put, the risk of owning shares in ARCP was high as the start-up REIT had virtually no diversification and a portfolio of leases with no well-laddered maturities. I summed my first article as follows:
In the case of the new IPO, management appears to be solely focused on paying off (or bailing out) its previously arranged secured debt and not on providing a diverse, long-term triple net lease portfolio for investors.
Who would have ever guessed that a little known bank landlord would have grown - in around 2 ½ years - into a gigantic REIT? That's simply an amazing accomplishment and the transformation has been incredible to witness.
Some may also recall another less flattering article that I wrote on ARCP back in August 2013. At the time, ARCP was attempting to acquire Cole Real Estate Investment (NYSE:COLE) in a hostile takeover bid. Back then, ARCP was attempting to acquire COLE for around $9 billion broken down into $5.7 billion of cash/stock and $3.4 billion of debt assumption. It seemed clear to me that ARCP's management team was "bullying" COLE into combining the two competing brands and COLE was not interested in the least.
COLE's board quickly rebuffed ARCP's offers and as I explained in my article the special committee suggested that the company "continues to be disappointed by ARCP's mischaracterizations of the thorough and independent process undertaken by the special committee to carefully review and consider ARCP's proposals."
At the time I wrote that article, my biggest concern with ARCP had to do with the company's externally-managed platform in which I felt like ARCP's management team was motivated more by growing assets under management (or AUM) than building long-term shareholder value. It's quite clear that externally-managed REITs have significantly underperformed their peers and I had to "call foul" on ARCP for using shareholder resources to wage an attack on COLE's successful net lease investment model.
I used the "bully" analogy to convey the point that suggests that "children who bullied were often motivated by a desire to increase their popularity and that they chose generally unpopular victims to avoid losing social status. In addition, bullies aren't looking to be loved; they are looking to be noticed."
American Realty Capital Properties: Getting Lots of Attention
As I said, I love basketball and my favorite player of all times is Michael Jordan ("MJ"). Yes, MJ is a Tar Heel, but he is arguably one of the most talented athletes in history. In his prime, he could take any player to the hole and score, almost without breaking a sweat. Yes, MJ is, at least in my book, the best "baller" I have ever watched play the sport.
Another player who has become almost legendary in his own right is LeBron Raymone James ("LeBron"). At 6'8" LeBron plays both small and power forward positions, and his nickname of "King James" is a testament that the 19-year-old kid from Akron rules the rim.
LeBron played high school basketball at St. Vincent-St. Mary's High School, and after a highly promoted senior season, he jumped right into the spotlight by being selected as the first round pick in the 2003 NBA Draft. LeBron was immediately elevated to superstar status and he has lived up the hype and is now considered (by many analysts) to be the best physical specimen in sports today.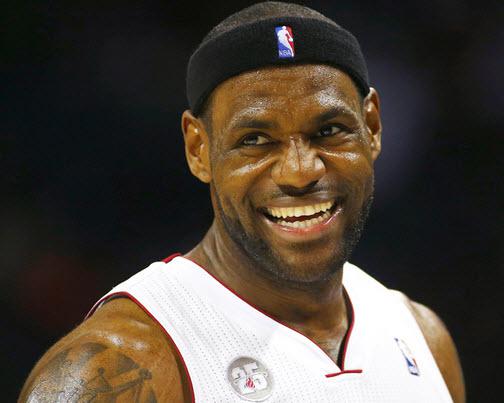 Similarly, ARCP has risen far and fast. Much like LeBron, ARCP has built its stock on power and persistence. As noted above, the company commenced as a small bank landlord and over the course of 30 months, the company has bulked up with astonishing size and power. Over the past year, ARCP has successfully acquired portfolios owned by Caplease (NYSE:LSE), American Realty Capital Trust IV (ARCT4), Inland , GE Capital, and Fortress.
Also, as matter of persistence and patience, ARCP was finally able to convince COLE to merge and the "playground bully" started to impress investors by demonstrating the power behind the largest, most diversified and strongest investment grade net lease REIT in the industry.
Also, of note, ARCP successfully completed its transition to self-management on its previously indicated schedule, and within three business days of completing its acquisition of ARCT4.
However, on February 7th, ARCP jumped from the playground to the big leagues when the Triple Net REIT closed on the COLE deal valued at $11.2 billion ($2.2 billion higher than the original offer last year) becoming one of the leading publicly traded REITs, and the dominant net lease REIT, 61% larger than the closest net lease competitor. As of February 10th, ARCP has gross assets of around $20.4 billion, over two times the size of Realty Income (NYSE:O).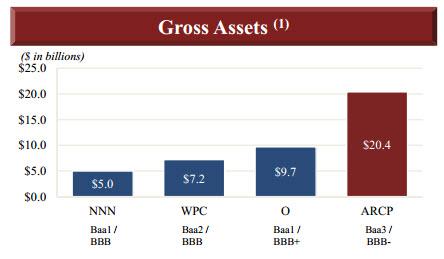 So much for lack of diversification, over the course of around 30 months, ARCP has mushroomed into a "monstrous" REIT with over 3,771 properties and over 102.8 million square feet. Much like "King James," ARCP has become a beastly player and although the "bully" tactics (I suggested in a previous article) didn't work (the first time), the persistence paid off in the form of a highly strategic evolution of a "best in class" Net Lease portfolio.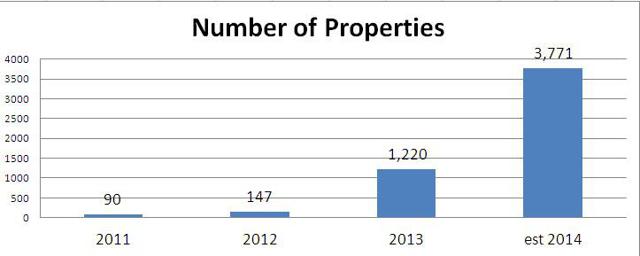 Let's Examine the Power Behind the All-Star Brand
On ARCP's most recent earnings call co-founder and CEO, Nicholas Schorsch remarked:
We see the net lease sectors transforming itself in an accelerated pace and we believe we're at the forefront of defining this sector. On day one this industry -- of this industry transition we have already built the largest most diversified and strongest investment grade net lease REIT in the industry. Being the best net lease REIT is not all we want to accomplish. We want to be one of the best REITs in the entire industry regardless of sector or property type and we believe we have assembled the team and the portfolio to make that happen.
Schorsch suggested that ARCP's "size now gives the company a strategic advantage but it's not just size," He adds:
…it's what we have done inside of that scale that really matters. We have strengthened our balance sheet, a balance sheet that compares favorably to our peers. We have lowered our leverage while reducing floating rate debt exposure with an eye towards continuing de-levering and terming our balance sheet as we grow the company. We have shown the ability to build the portfolio to accretive acquisitions and we have built an acquisition machine like no other.
ARCP has evolved into one of the most diversified REITs in the world. The company has an Enterprise Value in excess of $22 billion with around 50% of its portfolio leased to investment grade tenants. The company's occupancy is 99% with a net lease weighted average remaining lease term of 10.8 years.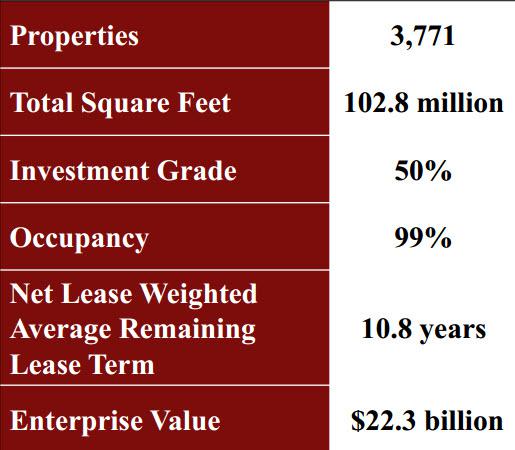 By strategically acquiring both Caplease and Cole Real Estate, ARCP has also evolved into a broadly diversified platform that consists of office (23%), industrial & distribution (15%), retail (48%), and multi-tenant (14%).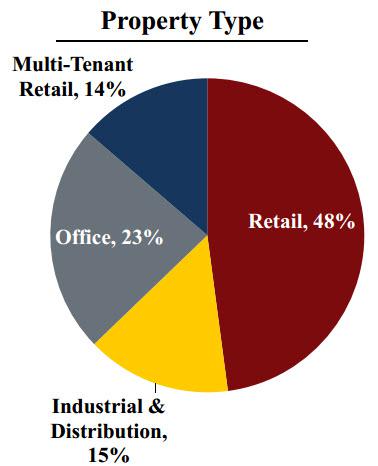 ARCP's top tenants include Walgreens (WAG), AT&T (NYSE:T), CVS Pharmacy (NYSE:CVS), and Dollar General (NYSE:DG). The company's top 10 tenants account for around 23.6% of revenue and around 76% of the top 10 tenants are investment grade rated.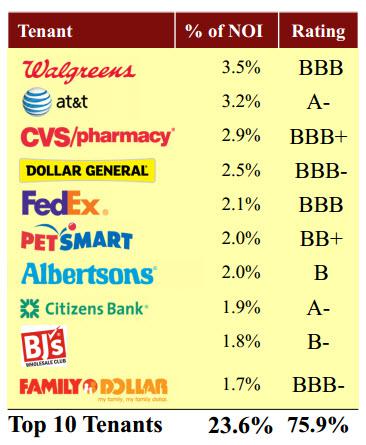 As I mentioned previously, ARCP commenced operations with a bank tenant that accounted for around 99% of the company's tenant concentration, and today the company's top 10 tenants account for just 24% of concentration. In just 30 months, ARCP has blown by the peer group and now has one of the most diverse operating platforms in the REIT sector.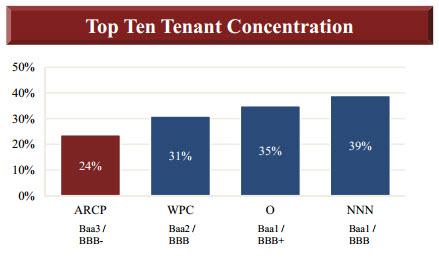 Compared with the peer group, ARCP has a dominant percentage of investment grade tenants of over 50%. Conversely, Realty Income has continued to forge a strategy of increasing its number of investment grade rated tenants (now at around 40%).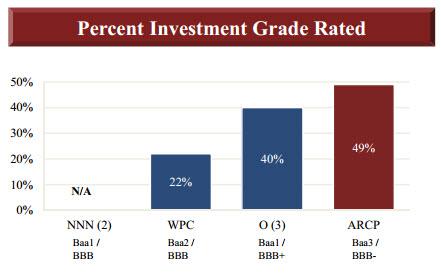 Also, in the course of 2½ years, ARCP has assembled a portfolio with longer lease maturities. As mentioned above, ARCP's legacy portfolio of leases were maturing in around 6.9 years and now the portfolio's weighted average lease maturity is 10.9 years.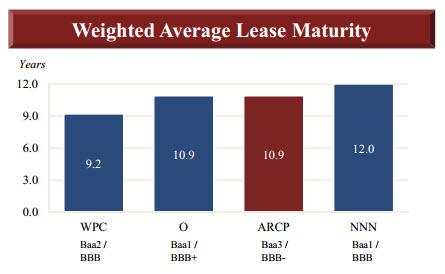 ARCP Is Becoming a Power Forward That Can Score
It's true, ARCP is "King of the Net Lease Jungle," but can the company continue to score points? It's quite clear that the REIT has assembled a large-scale, well-diversified portfolio with attractive characteristics, but can it keep up the pace?
ARCP has executed on over $3.9 billion of high quality paper including one of the largest unsecured bond deals ($2.55 billion) in REIT history. The company added a flexible balance of convertible notes and long-term preferred stock to its capital structure. In addition, ARCP upsized the senior corporate unsecured credit facility to allow for total financing capacity of now more than $3 billion.
As of February 27th (2014) ARCP had a Total Capitalization of around $22.4 billion that includes $11.75 billion in equity value, $1.073 in preferred (Series F), and total unsecured debt of around $5.6 billion. Upon closing on the COLE deal and repayment of CMBS debt, ARCP had around $1.08 billion of capacity on its $2.97 billion credit facilities.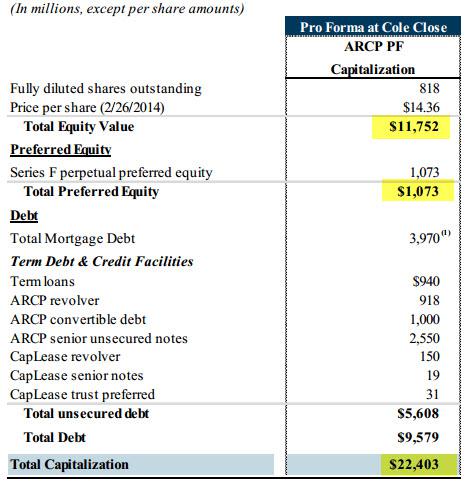 By significantly de-leveraging the balance sheet with recent COLE closing, ARCP has lowered leverage by around 20% and also lowered its interest cost to a 3.5% weighted average interest rate.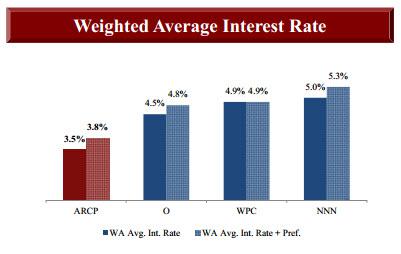 Also, ARCP now has over 91% of fixed rate debt, a higher percentage than many of the leading peers. As of the first quarter 2014, ARCP successfully obtained investment grade ratings from both S&P at a BBB- and Moody's at Baa3, further evidence of a de-risked balance sheet strategy.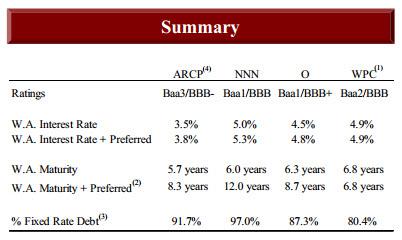 ARCP has lowered its secured debt level to around 21% and is now considered to enjoy a much safer capitalization level:

In addition, ARCP's secured debt level is anticipated to drop to around 18% when the company pays off certain secured debt identified with the proceeds from the $2.55 billion bond deal (in the next 20 day). Here 's how ARCP compares with its closest direct peer group: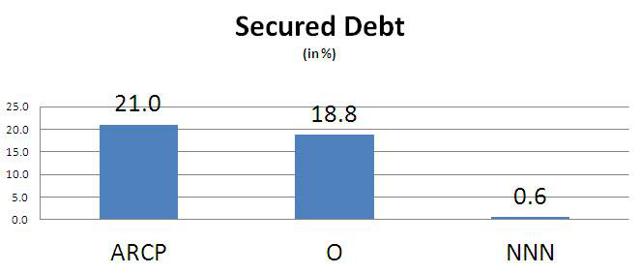 ARCP's debt to total capitalization is (as of Q4-13) around 54% ranking the company average as compared with the broader peer group.

Although ARCP has moderately more leverage (based on debt to total cap), the higher percentage of fixed rate debt (around 92%) and more recent $1.2 billion 10-year money gives me comfort that the balance sheet is becoming much stronger with a lower cost of debt and improved matched funding.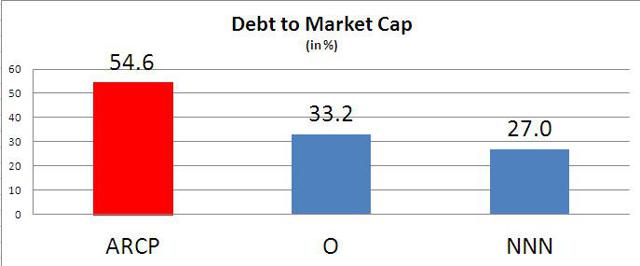 Can ARCP Continue to Score?
ARCP now has the largest acquisition team in the industry that has proven their ability to acquire high quality, high yielding assets. In the first quarter of 2014, ARCP will underwrite nearly $10 billion worth of net lease assets, submit LOIs for half of that amount and close on just 10% (source: earnings call).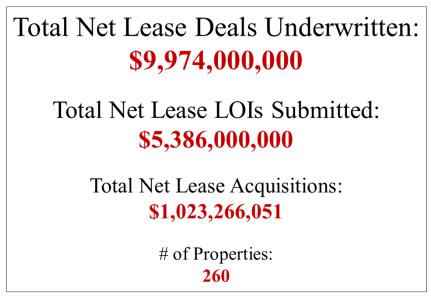 In 2013 ARCP acquired around $2 billion with a blended cap rate of around 7.7% and the company has acquired around $818 million year-to-date (2014). In addition, ARCP has around $205 million under contract for current Q1-14 acquisitions of around $1 billion (at a blended cap rate of 8.3%).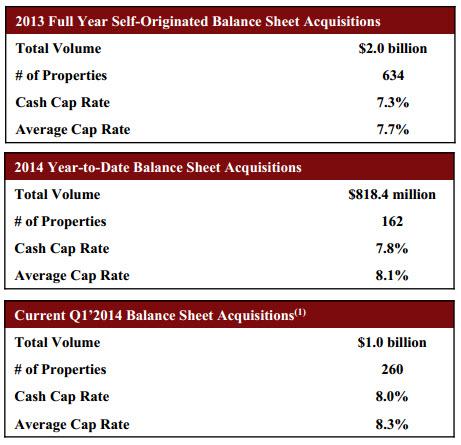 In addition, ARCP's build-to-suit business has already completed around $120 million year-to-date and the company has approximately $800 million of additional assets in the pipeline (per earnings call). David Kay, the company's new president remarked on the recent earnings call:
Given the strength of our acquisition team, we are well positioned to surpass the high end of the Company's projected $2 billion to $3 billion of self-originated acquisitions targeted for 2014. In addition to our property-by-property acquisitions we are actively looking to grow through large scale sale/ lease back portfolios as well as looking at other strategic opportunities we are privy to.
A few weeks ago I wrote an article outlining a few strategies for Darden Restaurants' (NYSE:DRI) real estate portfolio. With a massive portfolio of around 2,138 stores in the US and Canada I explained that "as a C-Corporation, Darden does not trade as well as a REIT (does), and any seasoned company with a lot of real estate in a REIT structure should trade better (than a C-Corp.)."
Given the large size of Darden's real estate holdings, I argued that the company has "around $2.7 billion of "un-tapped" value. That inefficiency translates to around negative 58% corporate efficiency and un-captured value per share of around 45%."
But now that the "King of the Jungle" has become a beastly player, ARCP is the only REIT that could possibly take down ALL of the real estate without exposing itself to increased concentration risk.
As a matter of financial strength, ARCP has strategically upsized its senior unsecured corporate risk credit facility to allow for total financing capacity today of over $3 billion. The combined impact of the balance sheet initiatives and the reduced interest rate cost of a very advantage weighted average interest rate of 3.5% compares particularly well to the net lease peers.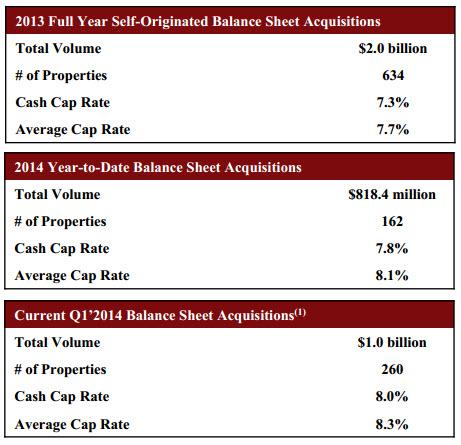 One Key Differentiator is the Private Capital Management Business
2013 was a record setting year for Cole Capital, ARCP's exclusive net lease non-traded REIT platform. Cole Capital was able to record $3.7 billion in 2013 with $1.1 billion raised in the fourth quarter which included the successful closing of Cole Credit Income Trust ("CCIT"), a net lease office and industrial product that finished with $1.9 billion of equity. According to SNL Financial, CCIT's largest tenant is Amazon (NASDAQ:AMZN).
A second non-traded REIT offering, Cole Credit Income Trust II ("CCIT2"), intends to raise around $2.5 billion and the fund has been launched with current inflows. CCIT2 expects to raise approximately $950 million during the first quarter of 2014 with $865 million already raised. Also, Cole Credit Property Trust IV ("CCPT4) has completed the capital raise with over $2.9 billion of equity raised. According to SNL Financial, CCPT4's major tenants include BJ's Wholesale, Home Depot (NYSE:HD), LA Fitness, and Walgreens. CCPT4 is a bid fund and the series will soon follow.
Cole's Private REIT acquisition team acquired $3.8 billion of real estate assets on behalf of the managed funds in 2013 and has purchased nearly $300 million year-to-date. In total, managed funds owned 496 properties comprised to 29 million square feet occupied by nearly 50% investment grade corporate tenants with a weighted average remaining lease term of 12.3 years. These properties are located in 46 states and include 464 tenant concepts, operating in 36 distinct industries with a total of $4.9 billion of gross real estate assets.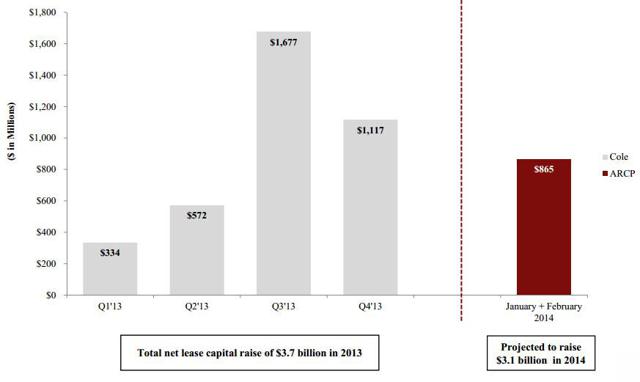 With the inclusion of the Cole businesses, ARCP has become a dominant aggregator of net lease assets. On the latest earnings call, BMO's Josh Patinkin asked ARCP's management team "what inning do you think we are in, in terms of consolidating at least real estate in this country?" ARCP's CEO Nicholas Schorsch replied:
You've also got more non-traded REITs that are looking for liquidity that are in the net lease space, which throw an additional $15 billion or $20 billion of assets into the market over the next four years. And not just from the ARCP Cole platform but from many others that have been accumulating assets over the last five years. And those assets are going to come to market also, so lots of opportunities.

The question is who dances with what partner, and I think it can we're very exciting few years for all of us. But we certainly don't need more scale, and we don't need to do a transformative deal. We've done that. But we are focused on roads based on organic and the granular acquisitions as well as the opportunistic ones, where we can get the right price for the right assets that make our portfolio better. But I think there's other people that are going to look for dance partners and they are going to stretch to see those deals work.
Will ARCP Spin Off the Multi-Tenant Centers into Another REIT?
ARCP owns around 14% of its assets in the form of Multi-Tenant Retail properties. Although there are synergies providing a meaningful and cost of capital advantage, I believe that it's likely that ARCP will "spin off" the Multi-Tenant assets into a separate REIT. Of course, I would not rule out a merger with another Shopping Center REIT either.
Nick Schorsch (ARCP's CEO) has demonstrated his acumen for scale and I believe that ARCP could be the first of many large scale REIT rollups. I have not met anyone who has the capacity to engineer such an evolutionary model of connecting investors, capital, and management together.
Last week American Realty Capital group of entities made yet more significant moves - outside the net-lease arena, notably - as the group's first Non-Listed, New York City-dedicated REIT, American Realty Capital New York Recovery REIT Inc. The New York City-dedicated REIT plans to offer up to 30 million shares of its common stock in a best-efforts offering. It is a "milestone" liquidity event and a significant new opportunity for "pure play" NYC office investors.
Is ARCP Valued Like LeBron?
According to Forbes, LeBron will make an estimated total of $42 million this year from endorsements with his biggest benefactor, Nike, now a $26 billion company. Forbes adds that "two straight NBA titles have sent James' popularity and fortunes soaring" and he is now one of the highest paid athletes in pro basketball.
ARCP is trading at $14.69 a share with a Price to Funds from Operations (P/FFO) multiple of 13.2x. Comparatively speaking, ARCP is not the highest valued player in Triple Net REIT-dom, and based upon the broader peer group, ARCP is considerably undervalued.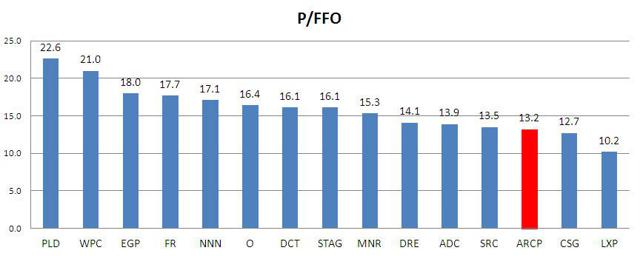 Over the last two-year period, ARCP has returned 50.54% ranking in the upper one-third of best performers.

Even after the market sell-off that began in May 2013, ARCP has clocked in an above total return of 19.31%.

More recently, and as influenced by the latest COLE merger, ARCP has rebounded strongly with a 90-day Total Return of 13.2%.

On the latest earnings call, Nicholas Schorsch commented:
Our dividend yield is higher and our AFFO multiple is lower than our peers. Yet we compare favorably on multiple fronts including quality, diversification, leverage profile, the discrepancy is where the value of stock squarely lies.

Our current share price represents a tremendous buying opportunity as we see it. As we perform, we believe the value of our stock will become realized and our multiple will go up and we will continue to strive everyday towards that goal.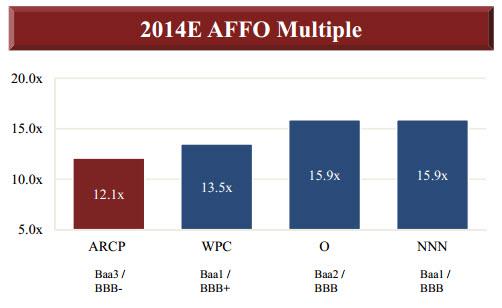 ARCP has one of the highest dividend yields in the broader Net Lease sector:

Also, compared to the direct peer group: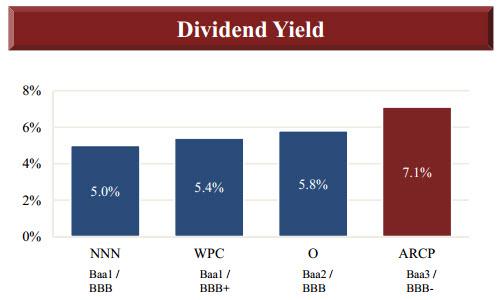 So Which Is It? Monster or Machine?
Conclusively, ARCP is a monster REIT. I would like to take credit for providing the company with my initial investment advice which was to diversify. Of course, I'm not that smart. It's clear that Nick Schorsch had a mission 30 months ago and he has clearly turned his dream into an amazing success story.
Much like LeBron James, ARCP has evolved at light speed into a fortress brand that offers dividend investors an incredible opportunity. I don't see much fat (risk) with ARCP and in fact, after researching the latest earnings results, I can conclusively say that ARCP is an incredibly fit REIT. I am re-initiating a BUY recommendation at $14.75.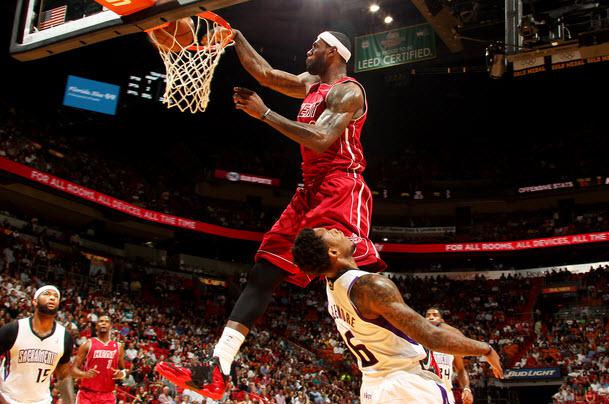 Keep in mind that ARCP has only been around for 2½ years. Like LeBron, ARCP is not as "battle tested" as the peer group and for that reason, I cannot concentrate too heavily in the shares. ARCP pays monthly dividends and here's a history of dividend performance:

Just because I am increasing my selective exposure in ARCP, I am not reducing my exposure to other Triple Net REITs. As most of you know, I began over-weighting Triple Net REITs late last year and I am comfortable with an over-weight profile for the Net Lease REITs that I own today.

Notably, I'm not backing away from Realty Income. I believe competition is good for the market and investors don't have to pick one over the other. As I see it, Realty Income remains one of the most stable and time-tested REITs with one of the best management teams in the REIT sector. I liken Realty Income to a dividend machine that has the consistency that other REITs only dream about.
In summary, I can own LeBron and MJ and by having them both on my team, I feel highly confident that I can win any game. That's what I call a "stacked deck" and as you know, I don't like losing. I always want to win by "protecting my nest egg at ALL costs."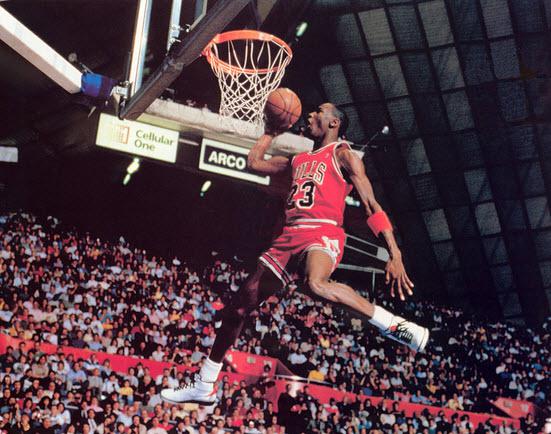 In my upcoming newsletter, I plan to feature ARCP's CEO, Nicholas Schorsch, in an exclusive interview. For more information on my newsletter, click HERE.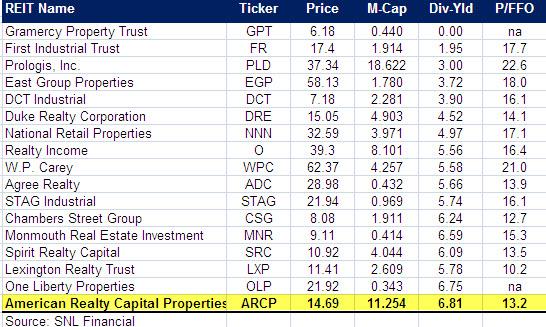 My REIT Newsletter: Only $99 a year. Subscribe HERE.
Source: SNL Financial and ARCP Presentations.
Other REITs referenced: (NYSE:GPT), (NYSE:PLD), (NYSE:EGP), (NYSE:DCT), (NYSE:NNN), (NYSE:WPC), (NYSE:ADC), (NYSE:STAG), (NYSE:CSG), (NYSE:MNR), (NYSE:SRC), (NYSE:OLP), (NYSE:LXP), and (NYSE:EPR).
Disclaimer: This article is intended to provide information to interested parties. As I have no knowledge of individual investor circumstances, goals, and/or portfolio concentration or diversification, readers are expected to complete their own due diligence before purchasing any stocks mentioned or recommended.
Disclosure: I am long O, DLR, VTR, HTA, STAG, UMH, CSG, GPT, ARCP, ROIC, MPW, HCN, OHI, LXP, KIM. I wrote this article myself, and it expresses my own opinions. I am not receiving compensation for it (other than from Seeking Alpha). I have no business relationship with any company whose stock is mentioned in this article.